Body Cardio
Clinically tested
A cardiovascular check up at every weigh-in.
Heart Health & Body Composition Wi-Fi Smart Scale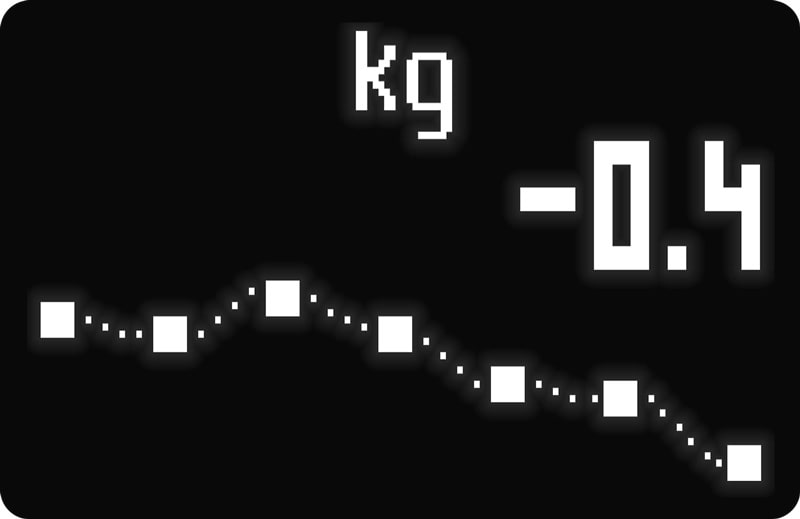 The only smart scale to also weigh heart health.
Body Cardio is the first scale to provide a cardiovascular
check up in less than 30 seconds.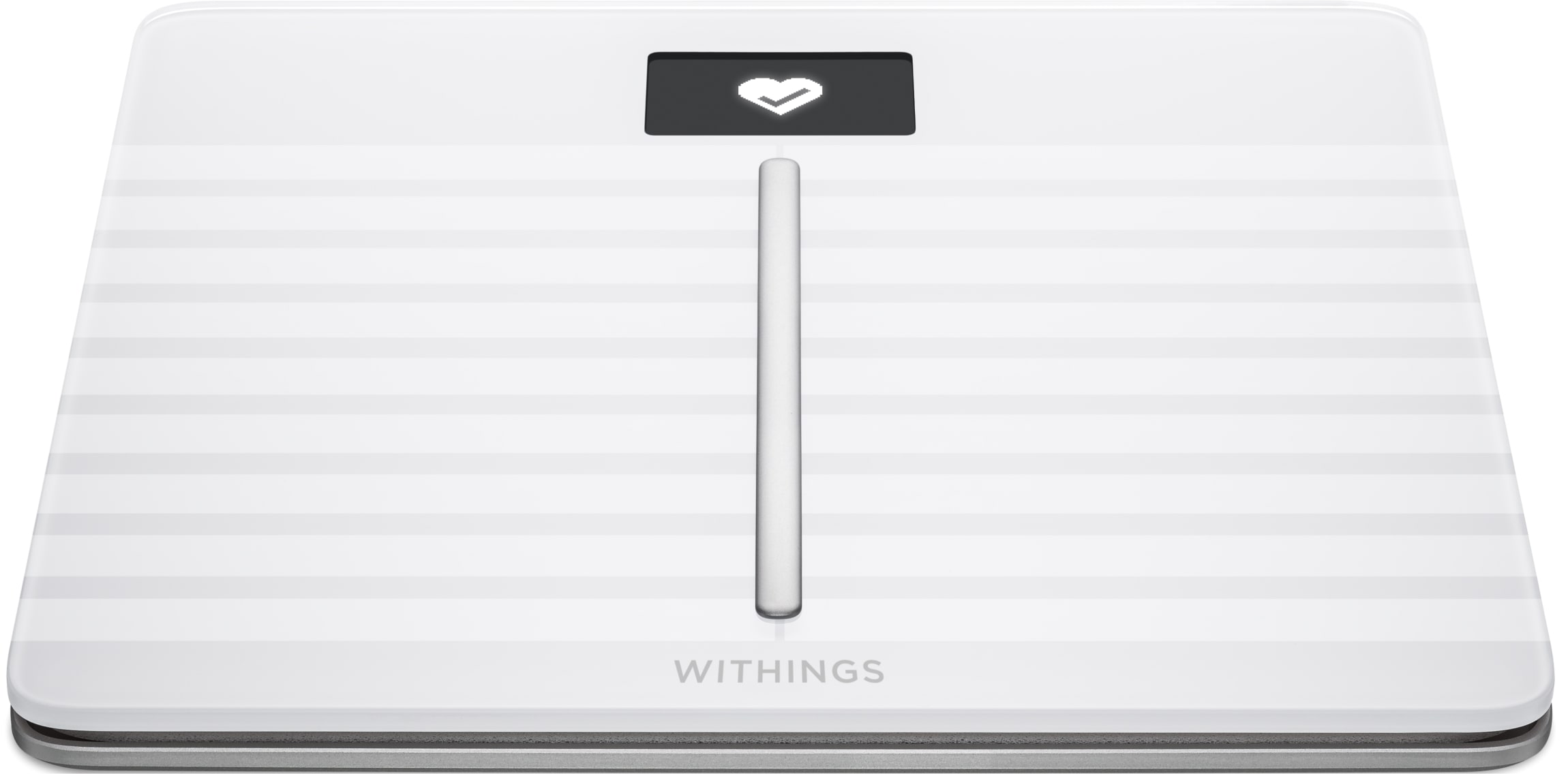 Developed with cardiologists. Included in several validation studies conducted at renowned hospitals in the EU & in the US:
@richddr
Body Cardio user on Twitter
The Body Cardio from Withings does offer those measurements and I've found them pretty useful as long as you consistently use that same scale for your measurements. Definitely helps with measuring your progress despite seeing the same weight on the scale.
Read more user reviews
The Best Smart Scales of 2020: Most features

An ideal health companion and at the limit of the indispensable

The best smart scale of 2020
Cardiovascular check up
Arteries can age more or less depending on your lifestyle. Based on years of research, our exclusive algorithm estimates the age of your arteries to give you a clearer picture of your overall cardiovascular health.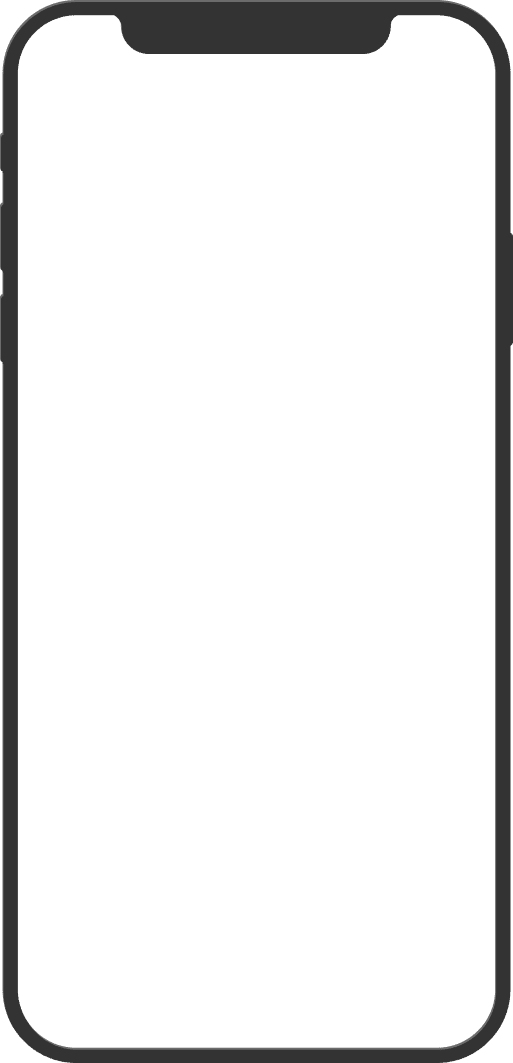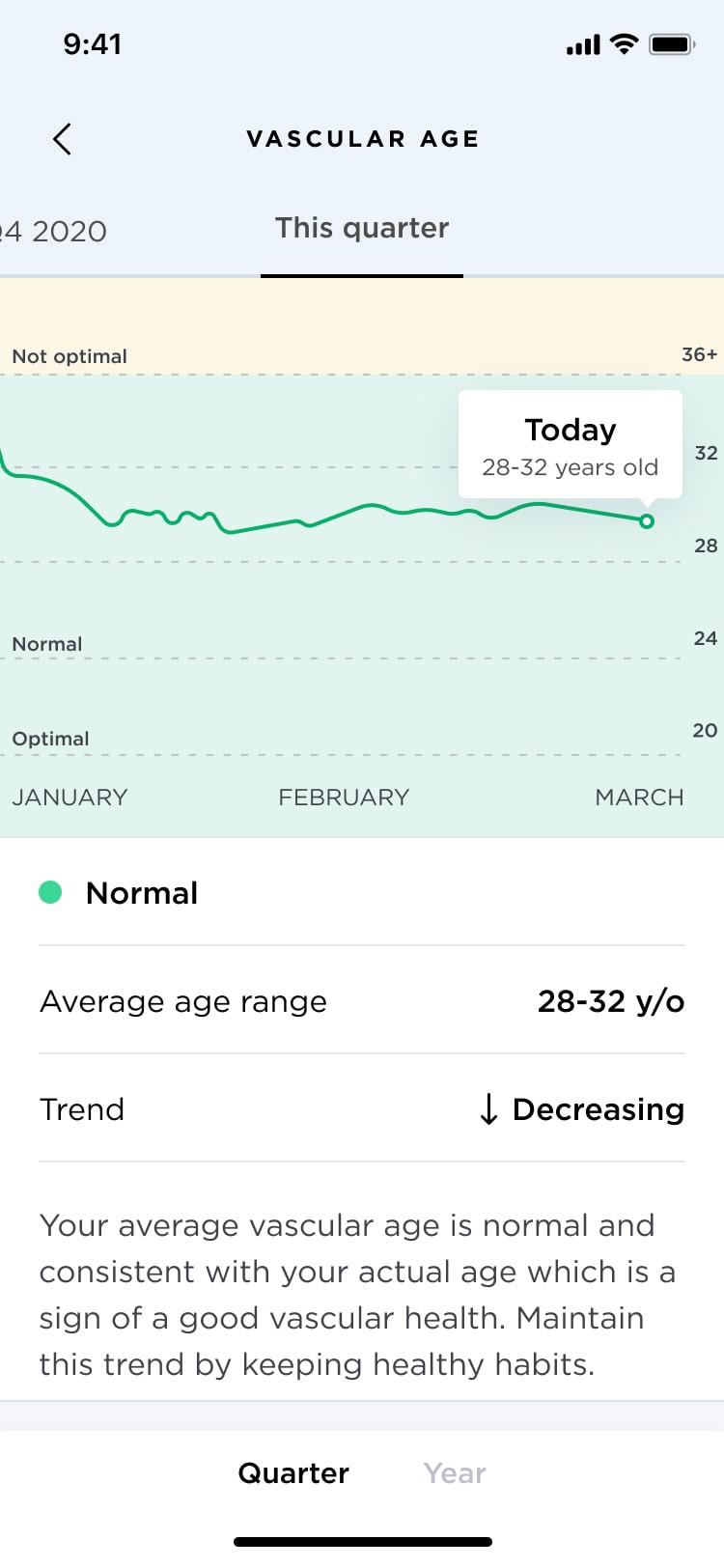 Know the state of your arteries
If your vascular age is assessed to be less than your chronological age, you may be less at risk for developing vascular disease later in life.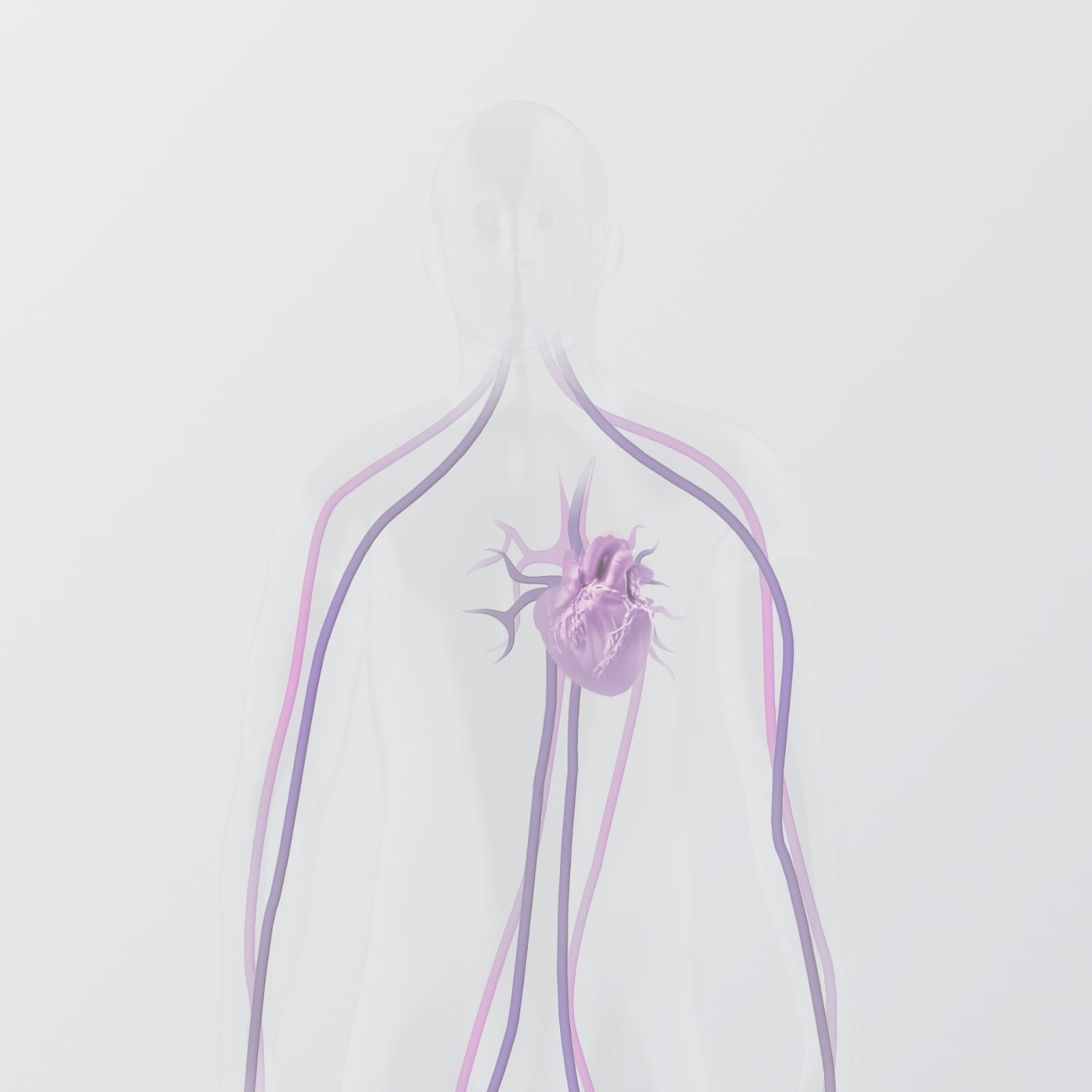 What is your vascular age?
We think of chronological age as our "real" age, but rarely do we consider how old we are on the inside.
Vascular age is a health metric that provides a measurement of your arteries' age compared to others of the same chronological age. Based on pulse wave velocity (PWV), an innovative metric used by the medical community to assess arterial stiffness, vascular age is a key metric to give you a clearer picture of your heart's health.
Your vascular age is displayed within a range, and color-coded feedback will let you know if it's optimal, normal, or not optimal.
How is vascular age measured?
Body Cardio measures the time difference between blood ejection by the heart in the aorta and the arrival of blood flow in the feet. The time it takes for the pressure wave to travel along the arterial tree is used by Body Cardio to compute pulse wave velocity.
Our exclusive algorithm developed with cardiology specialists takes your PWV measurements and computes your Vascular Age in comparison to other Withings Body Cardio users.
What are the different results I can get?
Optimal Your vascular age is lower than your chronological age. You are doing better than 90% of Withings users of the same age group. Maintain this trend by maintaining healthy habits.
Normal Your vascular age is aligned with your chronological age. You are in the same range as 80% of Withings users of the same age group. You can try to improve your long-term trend by reinforcing healthy habits.
Not optimal Your vascular age is higher than your chronological age. This reading does not diagnose you with a health condition. Try to lower your Vascular Age in the long term by establishing healthier habits, or talk to your doctor about what you can do to improve.
Why does vascular age matter?
Vascular age is a metric recognized by the scientific community: if your vascular age is assessed as significantly greater than your chronological age, you may be more at risk of developing vascular disease later in life.
There are several things that can help you decrease the aging of your vascular health. A healthy diet, daily exercise, and positive relationships all work together to create smoother vascular aging. However, unhealthy foods, non-stop stress, smoking, and other physical/mental factors can increase the aging rate of your vascular health.
Heart Rate Tracking at every weigh-in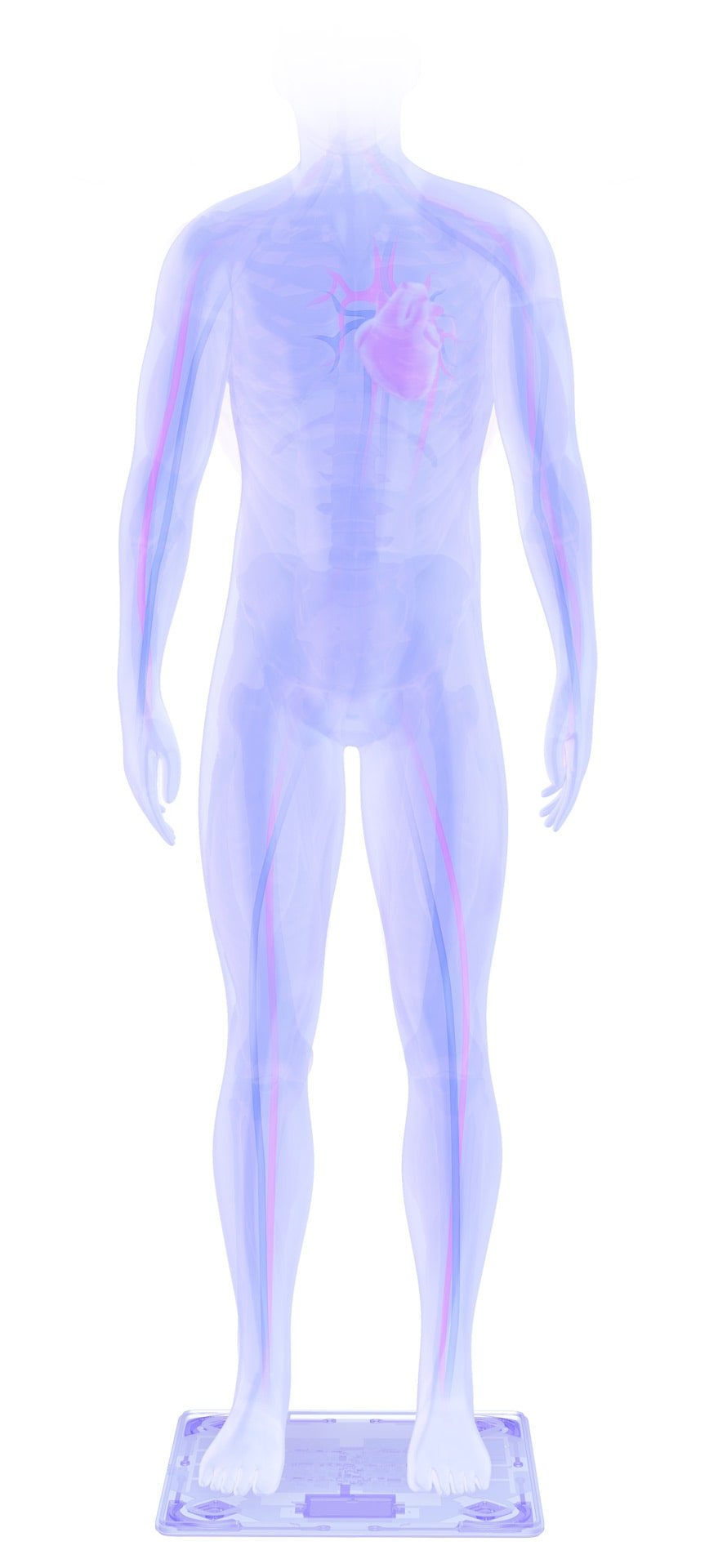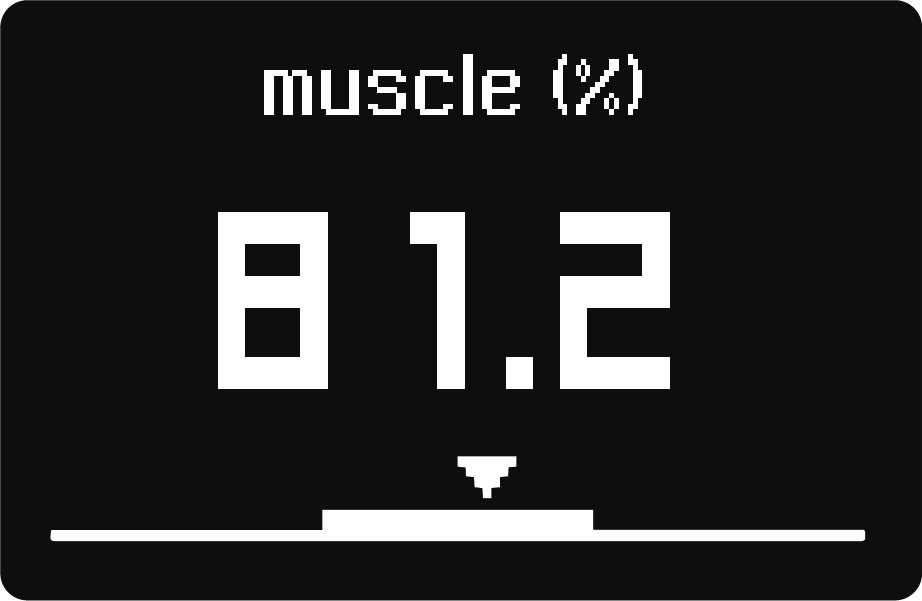 The number behind weight is even more dynamic when you can track muscle mass. Basal metabolism increases with muscle mass, and this helps to reduce your fat mass. Tracking muscle mass is also important to identify muscle atrophy.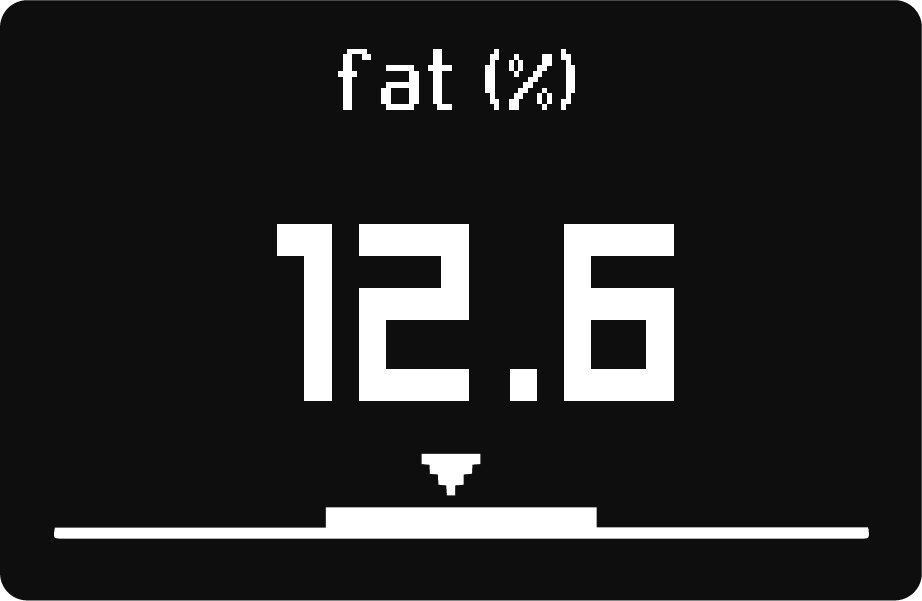 Your body needs fat, but excess fat can be a risk factor for diseases like heart disease, type 2 diabetes, and high blood pressure. Understanding your weight's relationship to body fat puts you at an advantage in your journey to better health.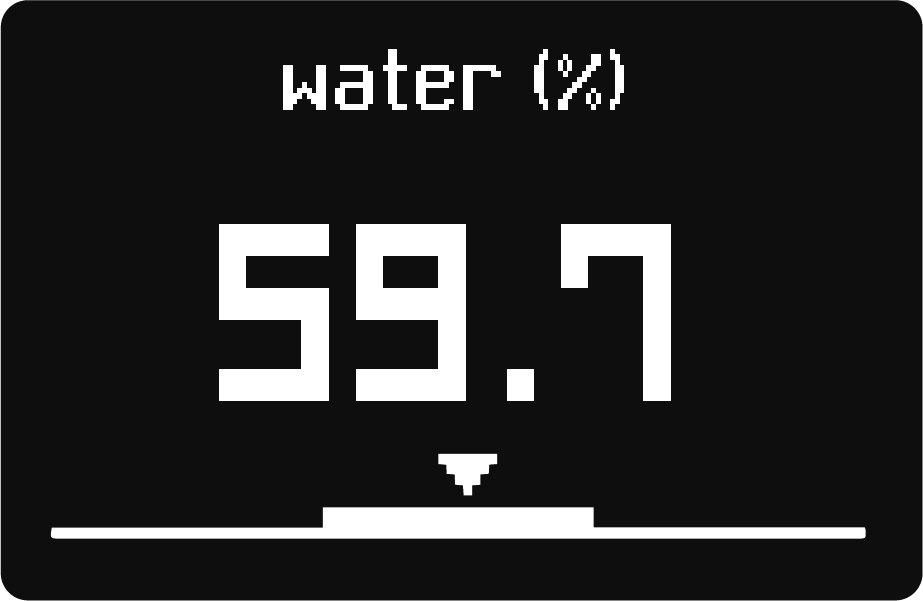 Your body temperature, organs, and brain all share one thing in common: water. Check your water levels to make sure you stay hydrated.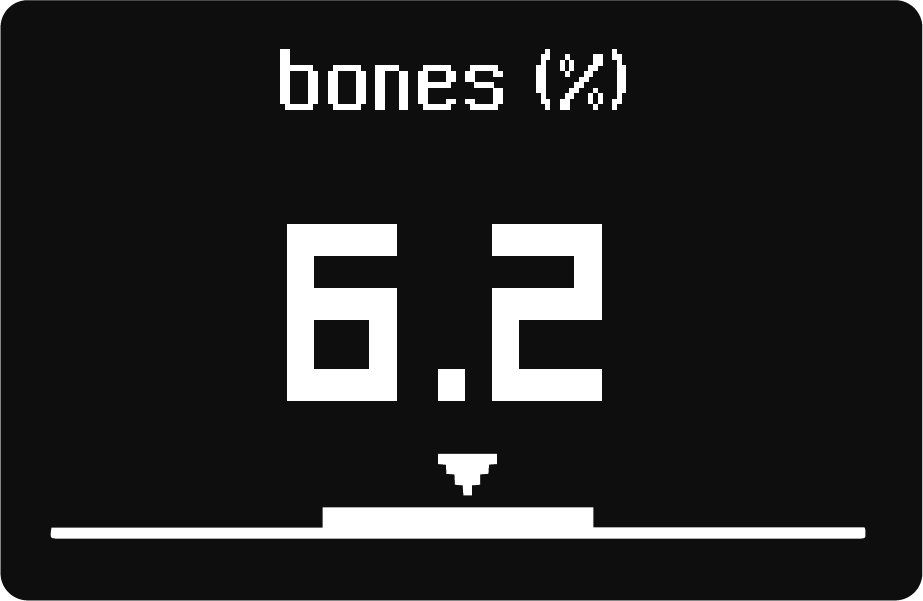 Bone mass is a critical health indicator. Keep on top of your density levels to make sure you're where you need to be.
Bioelectrical impedance technology
Advanced sensors work via an undetectable current that can compute body composition using our exclusive algorithms.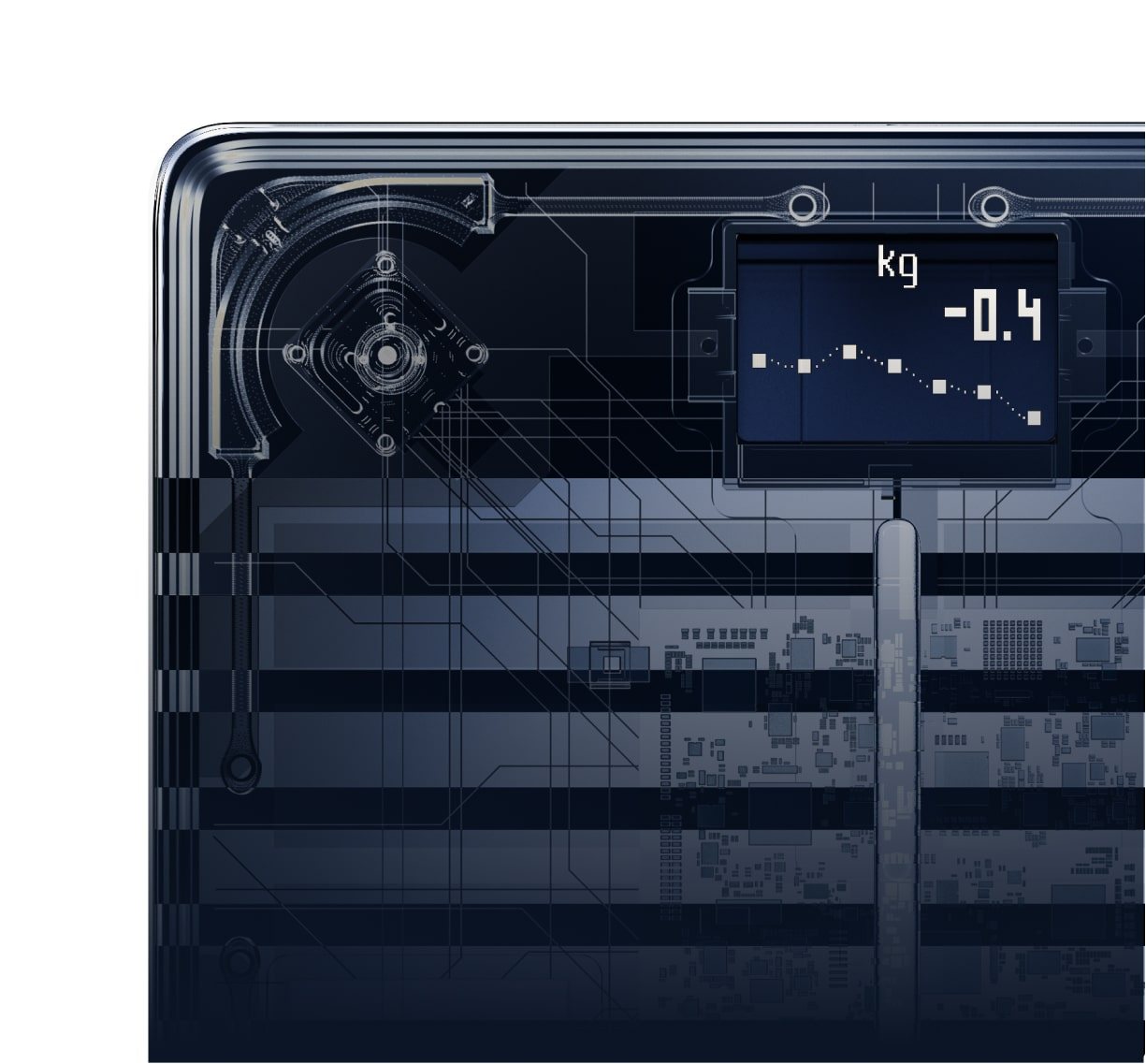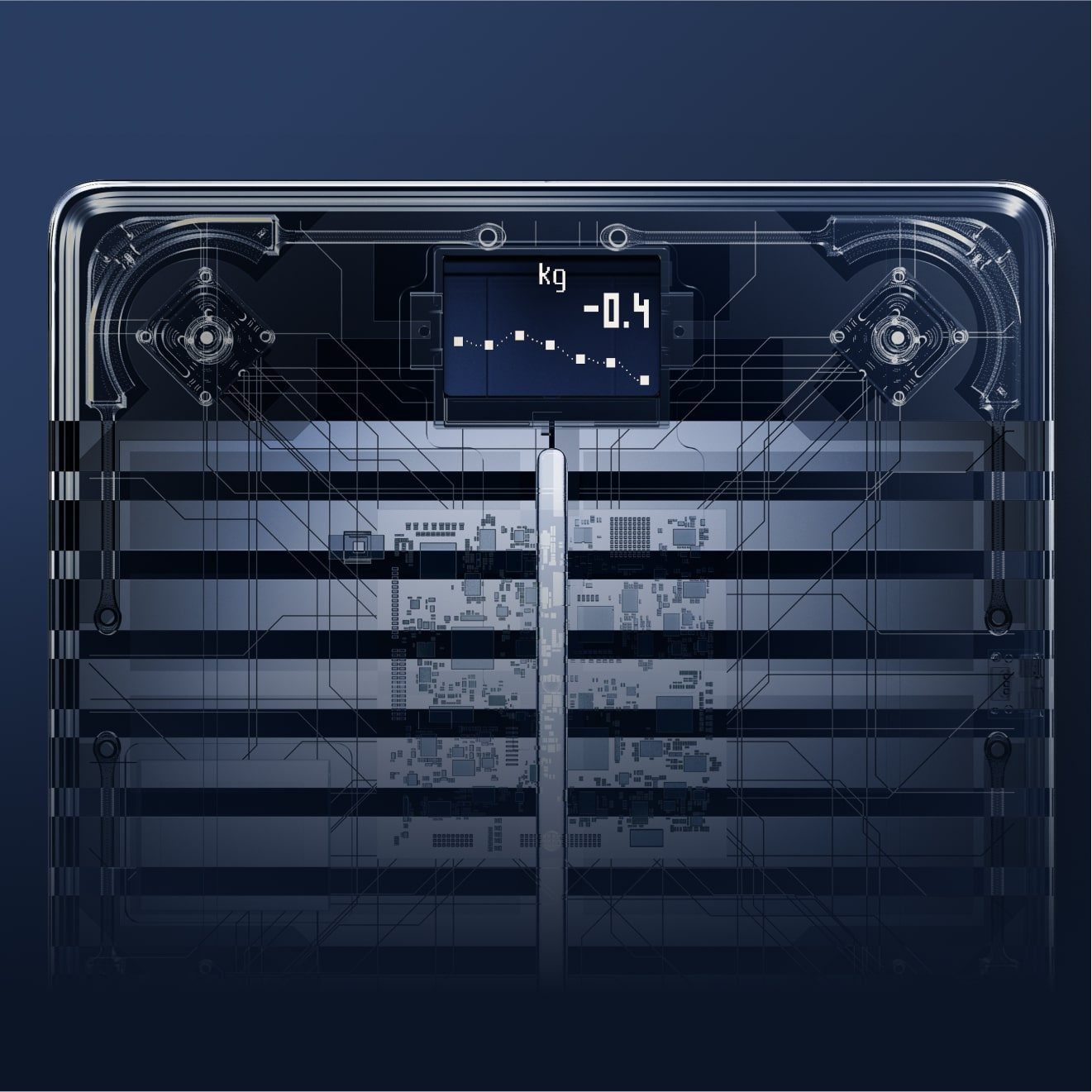 Bioelectrical impedance technology
More than just weight
Withings Body Cardio uses bioelectrical impedance analysis (BIA) to estimate body composition.
The scale assesses body fat and water percentage, as well as muscle and bone mass, to help people take steps toward a healthier lifestyle.
All of these measurements are taken automatically each time someone steps on the scale.
How it works
In BIA, the scale sends a safe, low-amplitude electrical current through the body, measuring the resistance of biological tissues to the flow of this current. In this way, the scale can assess body composition using scientifically validated equations.
By measuring the voltage drop between the other two electrodes, located at the heels of the left and right feet, the scale can measure impedance, which can then be used to calculate an estimate of fat-free body mass and, by difference with body weight, fat mass.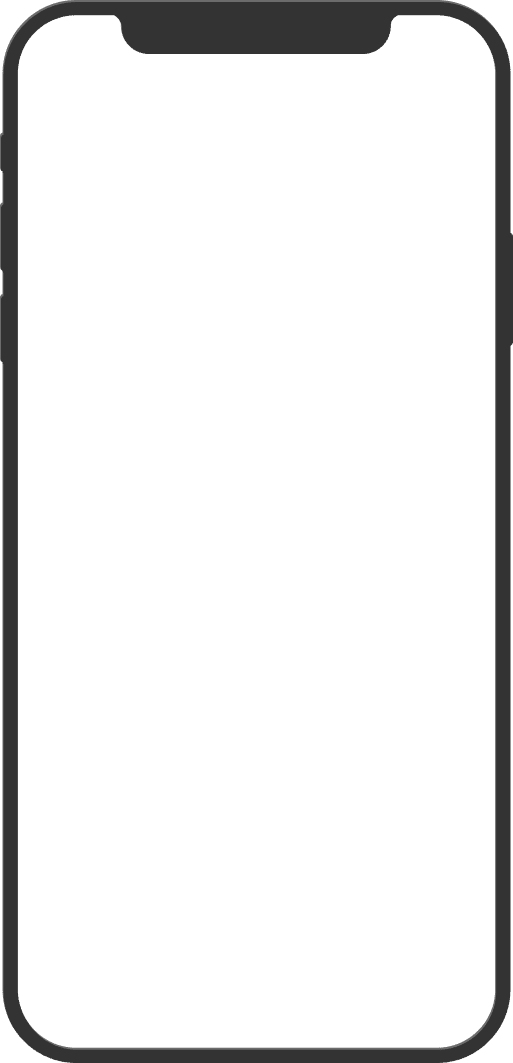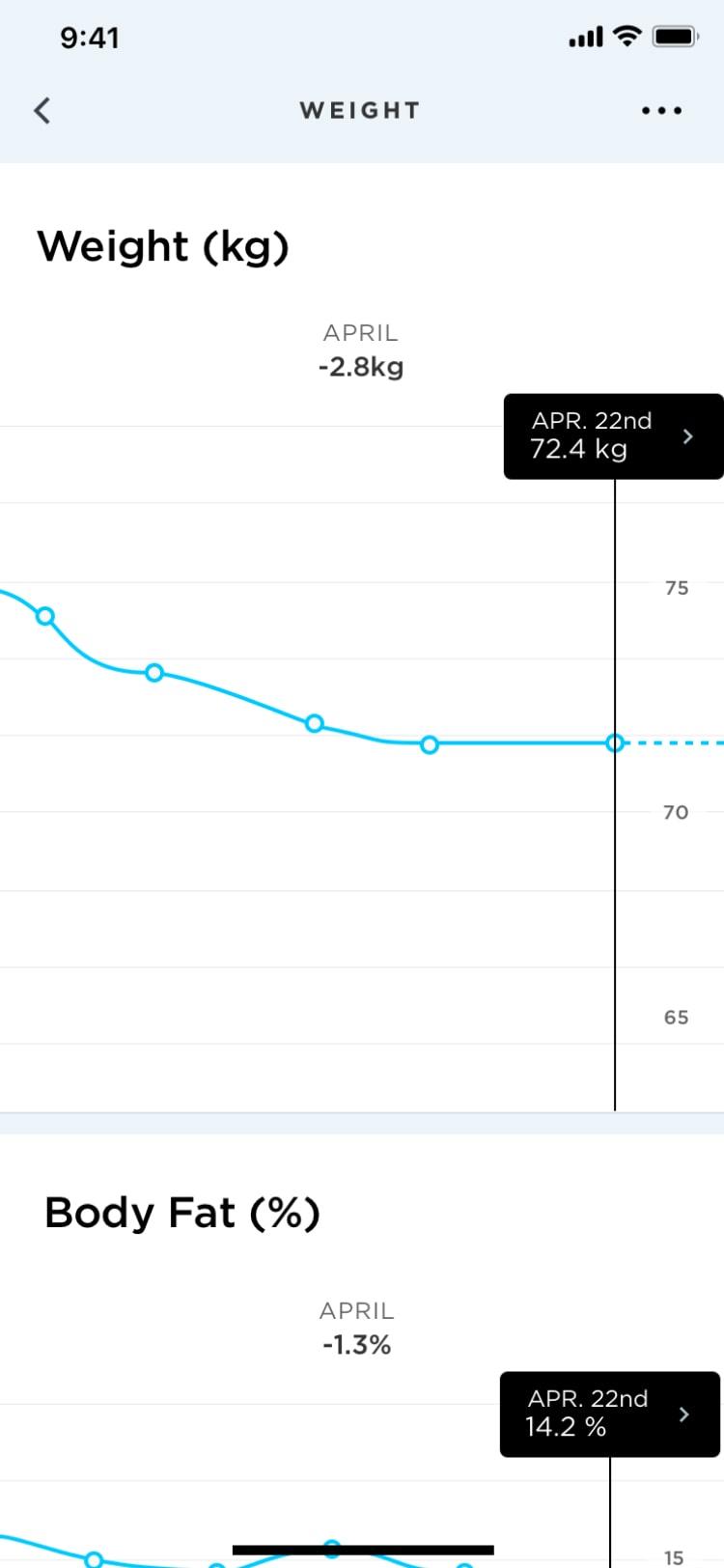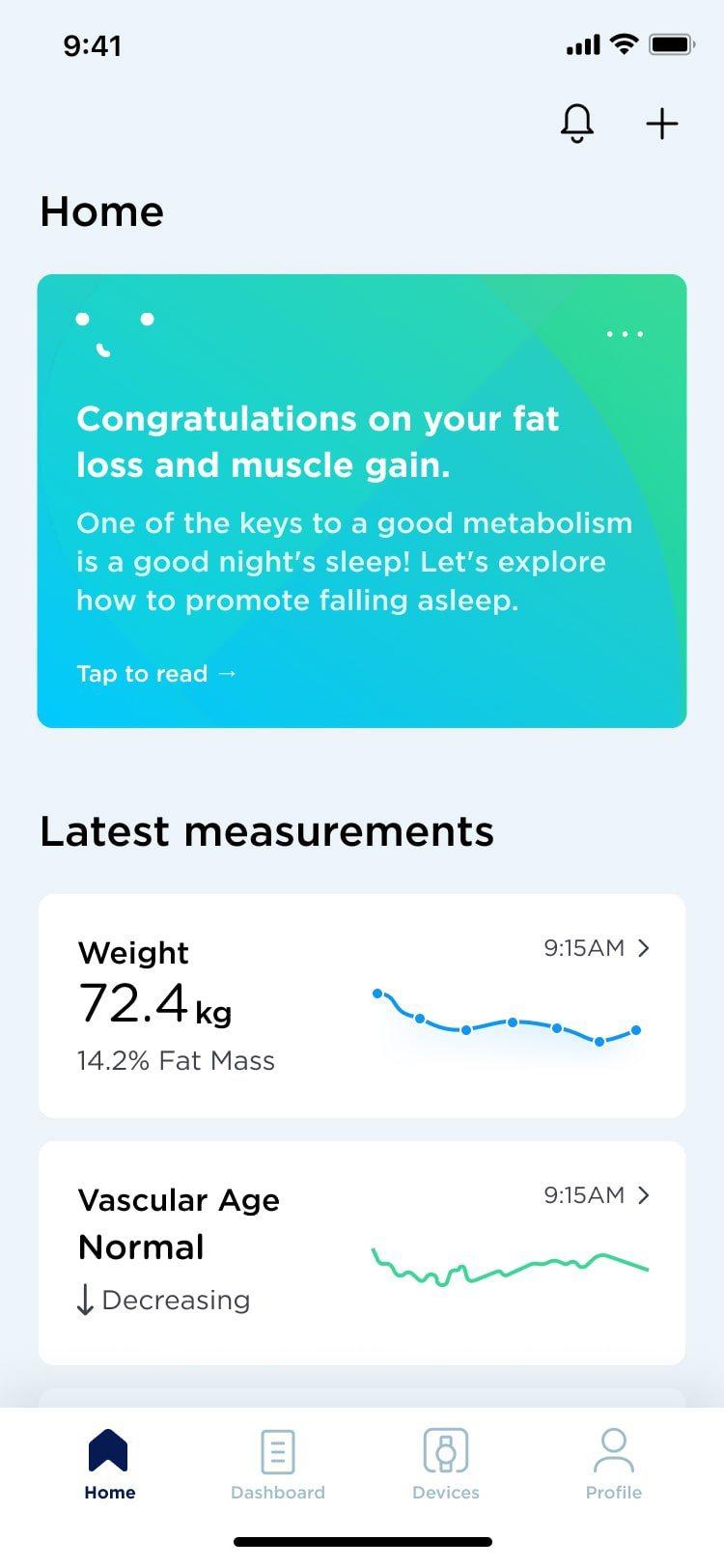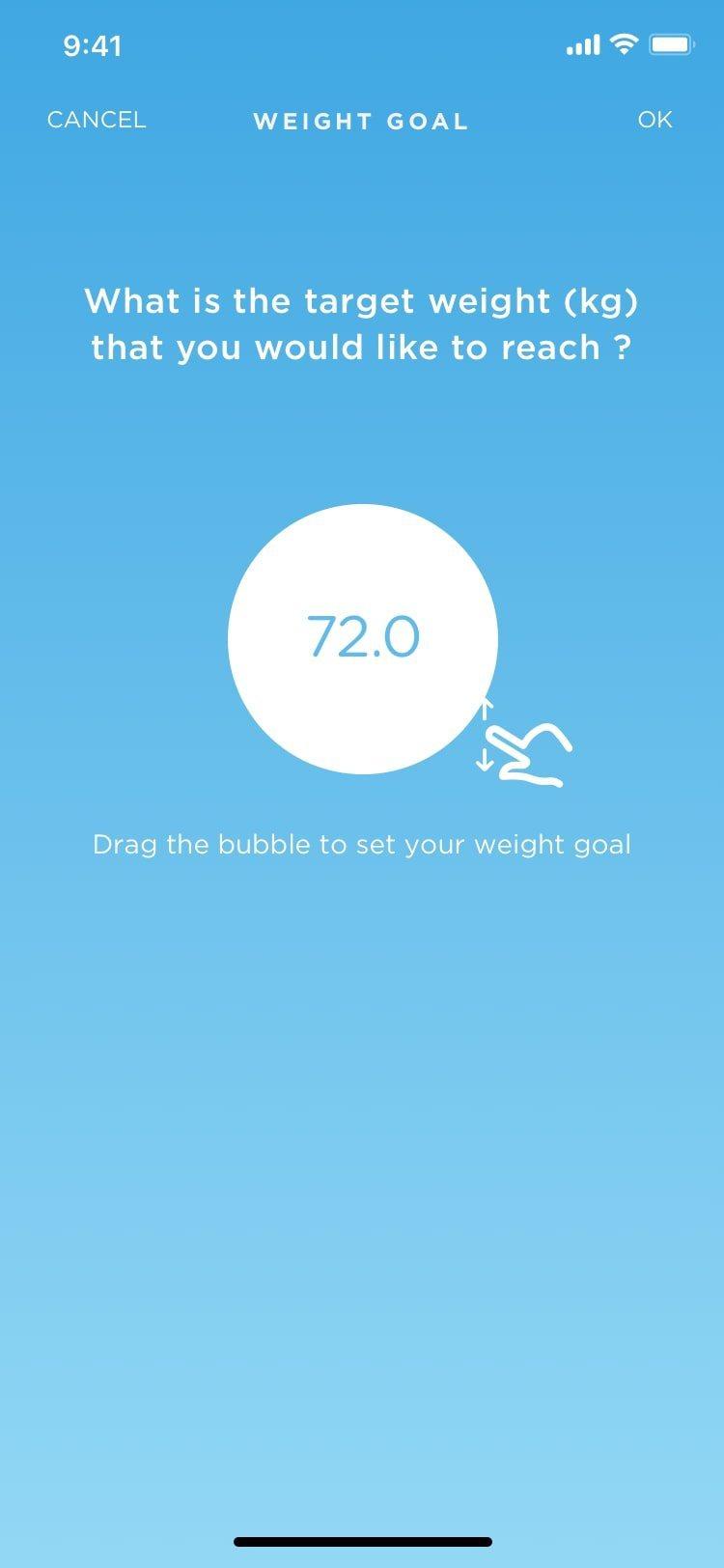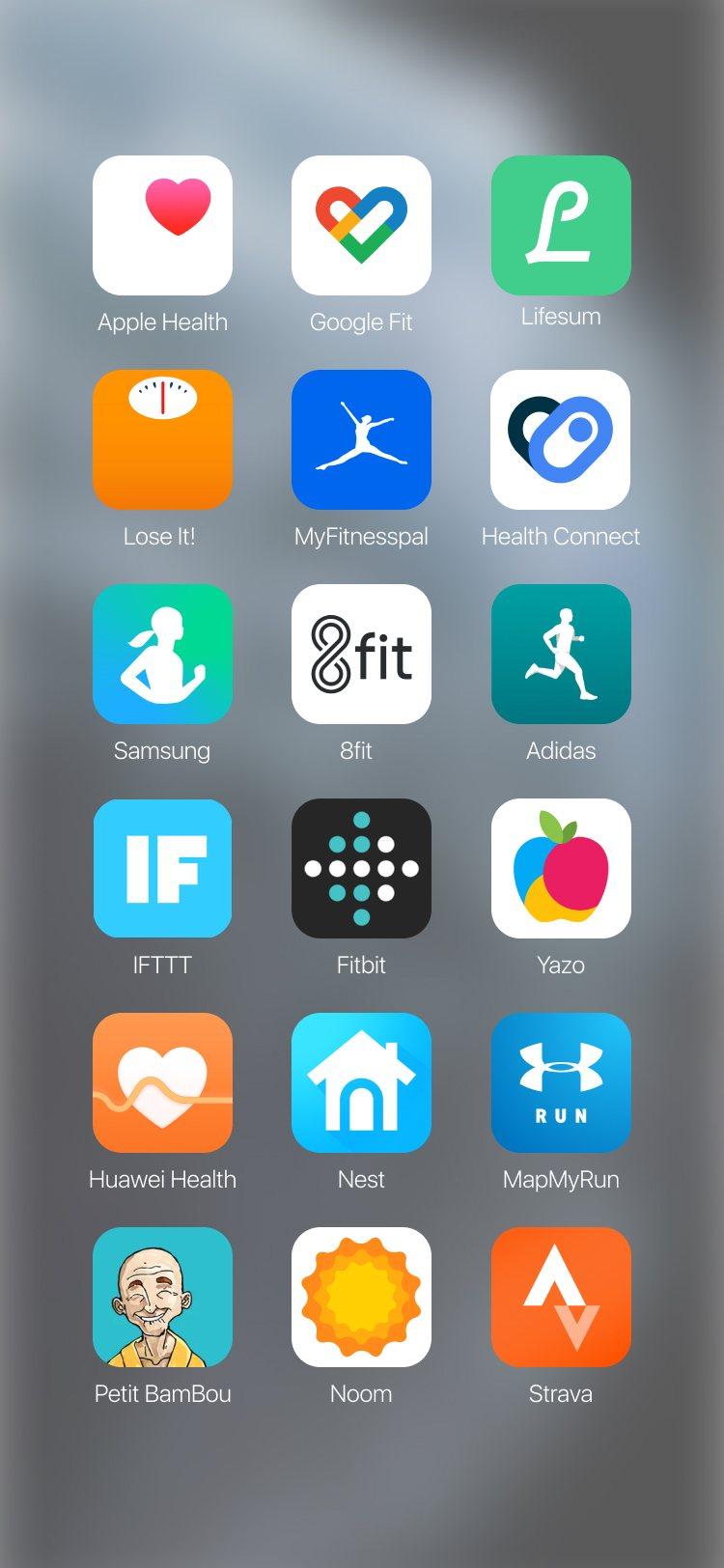 Made to motivate
Numbers are nice, but Body Cardio goes above and beyond by pairing with Withings Health Mate app to display your weight trends and reveal insights.
Technology you can trust
Withings was the first company to bring smart scales to market. However, being first is only part of the success. We've spent twelve years enhancing smart scales with user feedback, development, and advanced research so that you can benefit from an easy-to-use and long-lasting device.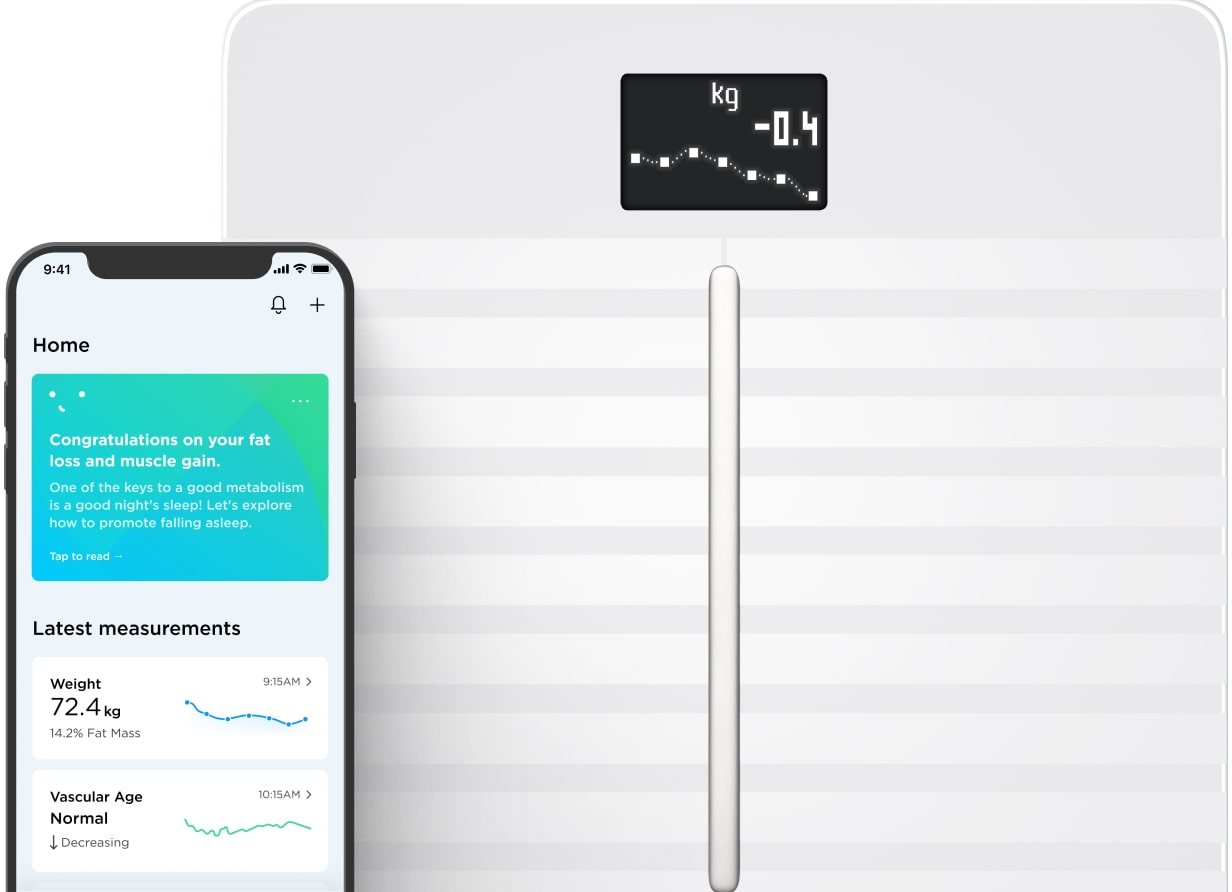 Why Wi-Fi matters
Weigh yourself without worrying about having your phone charged or even nearby. Withings Wi-Fi enabled Body Cardio means you don't need Bluetooth to take measurements, so your weigh-ins are synchronized immediately to the Health Mate app.
Gravity is different depending where you're located, and Body Cardio adjusts your weight accordingly for incredibly accurate measurements via Wi-Fi location. Our patented Position Control technology also helps you balance your weight for even distribution using on-screen visual cues.
Automatic user recognition
The more the merrier as Body Cardio can identify and log up to 8 different users' weigh-ins automatically no matter how small the weight difference.
Body Cardio provides measurements of up to 0.1 kg in accuracy using performing load cell circuits.
No batteries to replace and 12 months of use before you need to recharge it make for a stress-free routine.
Built for real life
Bodies change in real life, so Body Cardio is designed to adapt to your evolving self with dedicated programs and modes.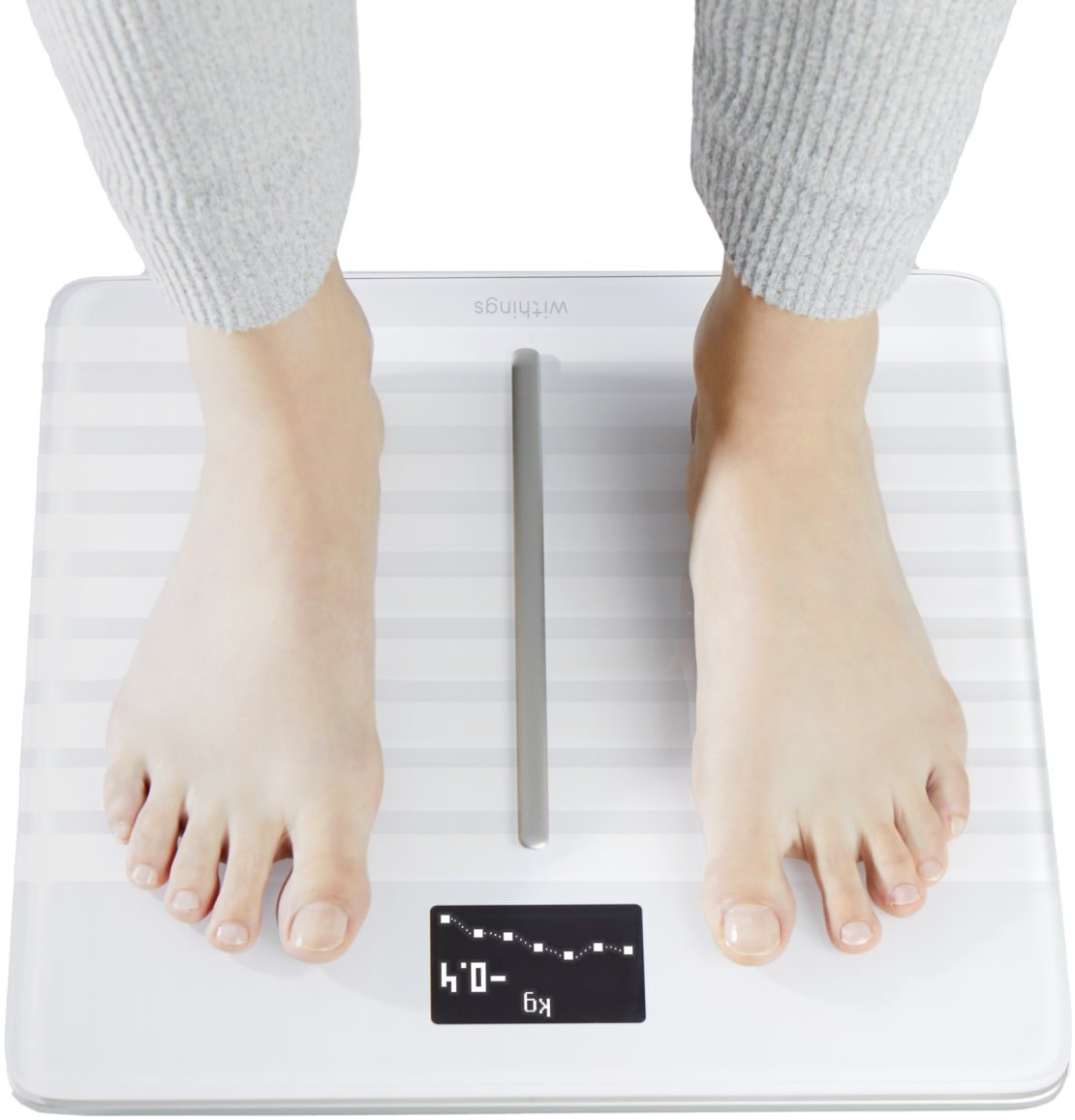 Body Cardio
Wi-Fi Smart Scale with Body Composition & Heart Rate
Compatible with iOS & Android
Browse the latest user testimonials about Body Cardio.
Reviews
Withings body cardio unity measurements gives an ever growing productivity
+1 for withings body cardio. It's a bit pricey, but worth every penny. I charge like every 6 months or so.
The Body Cardio from Withings does offer those measurements and I've found them pretty useful as long as you consistently use that same scale for your measurements. Definitely helps with measuring your progress despite seeing the same weight on the scale.
The Body Cardio is our favourite smart scale for the sheer number of stats and handy info like how much weight you've lost or gained since your last weigh-in.
The Withings Body Cardio does pretty much everything a smart scale can.
I've used the Withings body cardio for 5 years or so. It's not perfect, but I've got a wiggly chart on my health app.
Let's cut to the chase right away. Scales produced by Withings are our pick of the bunch. They look great and do the job extremely well.
If you have a Withings smartwatch, this scale is a no-brainer, but it still makes sense if you're not in the system.
An ideal health companion and at the limit of the indispensable.
If you have been looking for the perfect way to monitor your weight, health and body mass, Withings Body Cardio is probably the answer to your prayers.
ExpertReviews
The best smart bathroom scale of 2020
Read more
CNET
The Best Smart Scales of 2020 : Most features
Read more
What sets the Body Cardio apart is that it has modes for pregnant women, babies and athletes, each tailored to specific needs.
VerywellFit
The Best Smart Scale of 2020 for Cardiovascular Health
Read more
With the Vascular Age, Withings has created an instantly recognizable index to help users better understand their health and maintain or change behavior to live a healthy lifestyle.
I have a Withings Body Cardio scale, amongst other things, it can give you stats on body composition, so again, it shows a drop in body fat, which is motivating to see. I realise it's probably going to be an 18-24 month effort to get back to optimal health 5/n
Great scale, durable, and sturdy! Does the job it's supposed to do, my first one lasted 7 yrs, I just bought my second one, good luck figuring out how to contact with if's to service your devices!
So far I have used different scales of the same kind, I find Withings scale superior to any, one of a kind
Hands down bloody brilliant. The best scales I have ever bought. Has helped me with my weight loss journey and I would be lost without it.
Great device. Does exactly what it says. Easy to have multiple people and links to apps. Highly recommended. Sometimes the pulse wave velocity doesn't work because it doesn't detect heart rate.
Way more just a bathroom scale. Easy to use and a real motivator to keep weight on track, with lots more features beside.
Works perfectly and I check my weight daily for weight loss, big achievements!!! and showing the trend is a great way to commit even more!
I love my device! It helps me to understand what is going on with my body depending on foods and doing workouts.
I looked for an all-in smart weight scale & before Withings I purchased GARMIN Index S2, the quality & user experience was horrible, when I contact GARMIN they told md because the product is new the issues are going to be solved through the time, so I return the GARMIN & start to look for other brand & I come a crossed Withings I did my research & I decided to give it a try, from the unboxing to setup the device I couldn't be more satisfied, the quality is on the Apple product side, you can compare to unbox an iPad or a MacBook. Overall 10
Body Cardio is a very well-made scale which gives convincing weight measurements and integrates very smoothly with the Health Mate app. It seems to be a significant upgrade on the older Withings scale I had previously; the rechargeable battery and possibly better wi-fi connection as well as the more robust construction address all of the biggest problems I had with my previous device.
I've owned a few connected scales, including a previous Withings scale - but this seemed like a particularly well featured scale. It has certainly lived up to expectations, and in many areas exceeded them.The fact that it is rechargeable is great, and can sit on a carpeted floor. The variety of measurements is certainly nice, and they seem pretty accurate. You can connect via wifi for best results (as well as bluetooth). But it the associated app which really makes a difference.It doesn't only connect to Apple Health, but it also gives you a neat regularly updated piece of advice or information - which generally seem very appropriate. This raises it above just giving you the numbers and really adds value.All in all, I can really recommend this scale. It does all that it claims to do, has a very neat app and is fun to use. What more could you ask for?
Scale looks good, large enough for large sizes feet, weighted and seems to be accurate. Wifi saves from having to log into app when using and cut one step out the process.
Great scale. Easy and quick to use but very professional. Offers a lot and more than you need.
Excellent scale I always wanted something like this. It's great and it gives you hope On what changes you need to make.
Really good app and scale. Gives you all the data you need and is very accurate for a bathroom scale
Extremely good looking and reliable. Very good features are rechargable battery with good endurance and 2.4 ghz wifi
With this simple device, I've found a way to easyl control the way to monitoring my health
Accurate and easy to use.
The app is excellent with little coaching and encouragement and explanation of how tp read body composition and what might cause fluctuations.
Very pleased with my scales. Impressed with the packaging and it looked great when I unpacked it. Very slim and elegant looking. I love the scaling on the weight display. Shows even minute gains and losses as do all of the sections. Easy to respond accordingly. Would thoroughly recommend as a partner for the wonderful Worthing's steel HR. Don't hesitate, get yourself one!
Have already owned a set of Bluetooth scales for years complete with its own problems. I have not found any problem with these so far. They are amazingly easy to set up and use and linked with the app they are superb. Far far better than expected.
I've had my Withings body cardio scale for 4 weeks and I've already lost 8 lbs. I feel healthier understanding my body and I think I will now live longer. Thanks!
Great scale and really keeps you motivated by plotting graphs in the app of your progress so you can see how you are doing on a weekly and monthly basis. Highly recommend.
A fantastic product for tracking of overall fitness; is robust & reliable with a great companion app maintaining a history of your health.
We have had the withings scale for a while now, and absolutely love it. The app is really intuitive and all the information you need is at your fingertips. The insights are really useful
Just awesome products!I have the Cardio scale and the Scanwatch and both are awesome, in design, functionality and ease-of-use. Highly recommendable.
I absolutely love this scale. I have tried two other Smart scales, and this model is no comparison. It is accurate weight-wise and provides other relevant information such as body fat percentage. It optionally shows your a weight-timeline every time you weigh yourself, along with heart rate, bone mass, and even the weather outside. The Wi-Fi connection is simple, and the app integrates reasonably well with Samsung Health and Google Fit. Definitely a great way to monitor progress, regardless of what direction you are trying to move in.
Best investment I ever made on this product
Best looking app on the market with a scale that records everything you need. It even tells you about the weather - in a subtle way - can you ask for more? 😍
This scale is LEGIT. I was recommended this scale by Matt Moreman of Obsessed Garage and I was not disappointed. This scale is like if Apple made scales. The packaging, setup, and build quality is unlike any other scale I've ever used. Very very impressed and satisfied.
Wonderful app and feature rich scale.I was in the gym a lot before Covid, but then everything closed down. I bought the scale to track my progress when the gyms reopen. So far I am amazed with the functionality of the app. Combined with the Body Fat % and Muscle Mass %, this scale will help me get an accurate picture of my progress when the gyms reopen.
I am happy I went with the Withings Body Cardio when purchasing a smart scale.Easy to navigate app, integrates with my Fitbit account so the scale data can be viewed in either app. Very happy with Body Composition & Heart info measurements.Battery life is good, and it's not a bad looking scale either. Only 1 issue so far,it dropped off the wireless once (have it 3+months) but was easy to reconnect. Bought one for a sibling already...would deff recommend.
I purchased my Withings scale a month ago. It has really helped me learn more about my body composition and motivated me to lose more weight.I like that it links to MyFitnessPal and Fitbit too.
I did massive research among competitors. Withings - pure winner. Good app, lots of integrations, multiple profiles and all possible measurements. Good battery!ow I know much more about myself and how some activities or food affect my body.ood job! Thank you!
Connectivity
WiFi 802.11 b/g/n, compatible with WEP/WPA/WPA2-personal networks
Bluetooth connectivity (Bluetooth Smart Ready)
Body Cardio can be installed on a smartphone or a tablet, via the Health Mate app available on iOS (iOS 10 and higher) and Android (6.0 and higher).
Cannot be set up from a computer
Device
Weighing range: 5 -> 180kg (9 -> 396lb)
100g (0.2lb) graduation
Units: kg, lb, st lb
Patented body position detector
Highly-accurate weighing via Position ControlTM technology
Large, high-strength tempered glass platform
Flat aluminum base
Ultra slim design
Dimensions: 12.8 x 12.8 x 0.7 in. / 327x327x18mm
Large, easy-on-the-eye graphical display (2.4"x1.6"), 128x64 pixels
High-contrast lighting
Free and unlimited online storage of weight readings
Stores up to 16 readings if scale cannot sync wirelessly
Rechargeable li-ion battery (micro USB, included)
Average battery life: up to 12 months
Metrics tracked
Four weight sensors
Patent-pending body position detector
Highly accurate weighing
Bioelectrical Impedance Analysis
Athlete and non-athlete mode
Unit: body fat %, total body water %, muscle mass kg or lb, bone mass kg or lb
Patented heart rate measurement technology
Unit: bpm (beats per minute)
Unit: m/s (meters per second)
Automatic user recognition