Knowledge is health power
Body+ high precision smart scale sets you on track for better health as it provides detailed insights about the impact on body fat, muscle mass, and total body water, with every lifestyle change you make.
56.3%

22.9

79.2%

16.6%

4.2%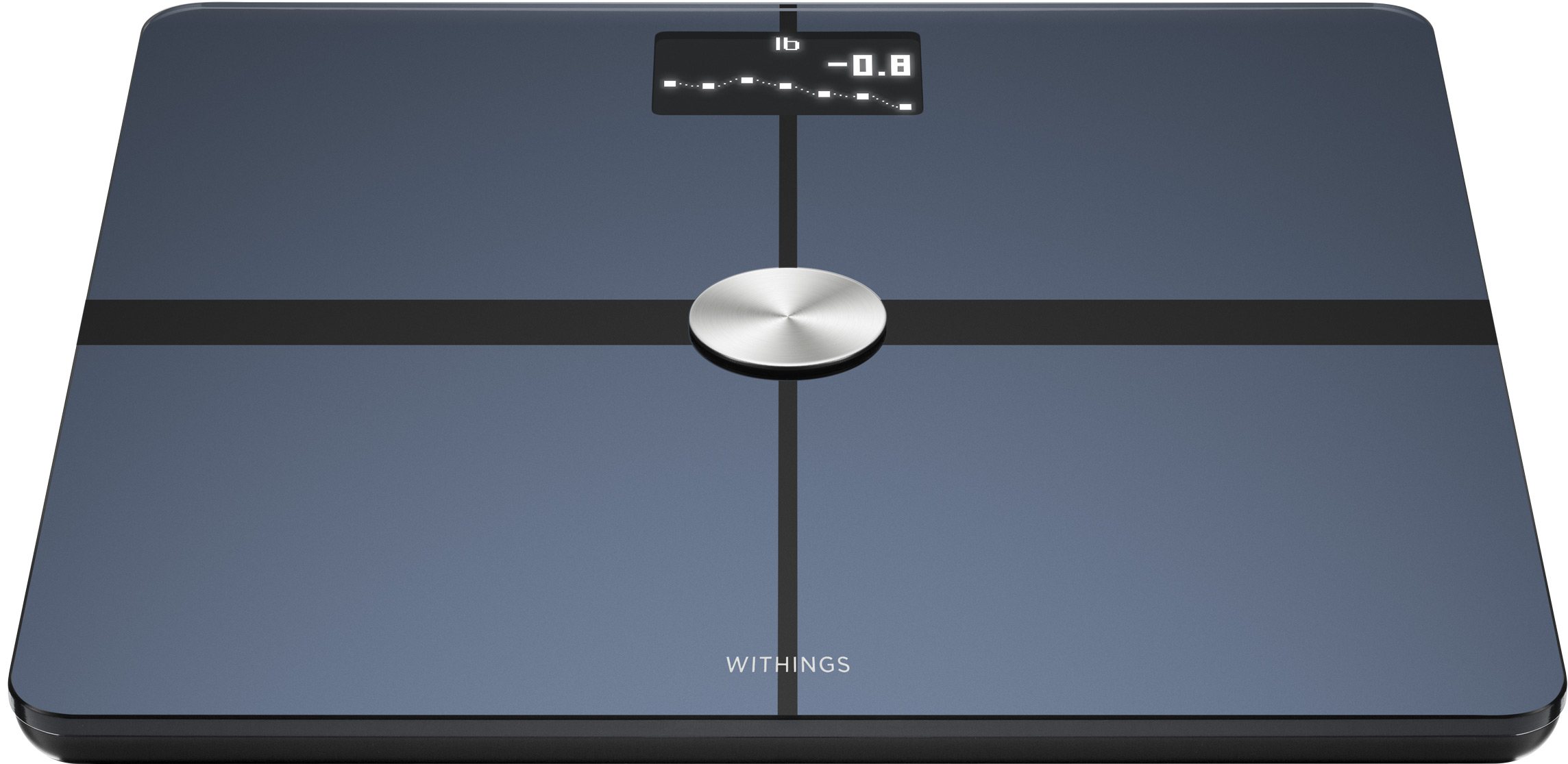 Best Smart Scale Overall in 2020

Best Bathroom Scale in 2020
FitRated
Best Smart Scale Overall in 2020
Most user friendly smart scale

Best Smart Scale 2019 for Bonus features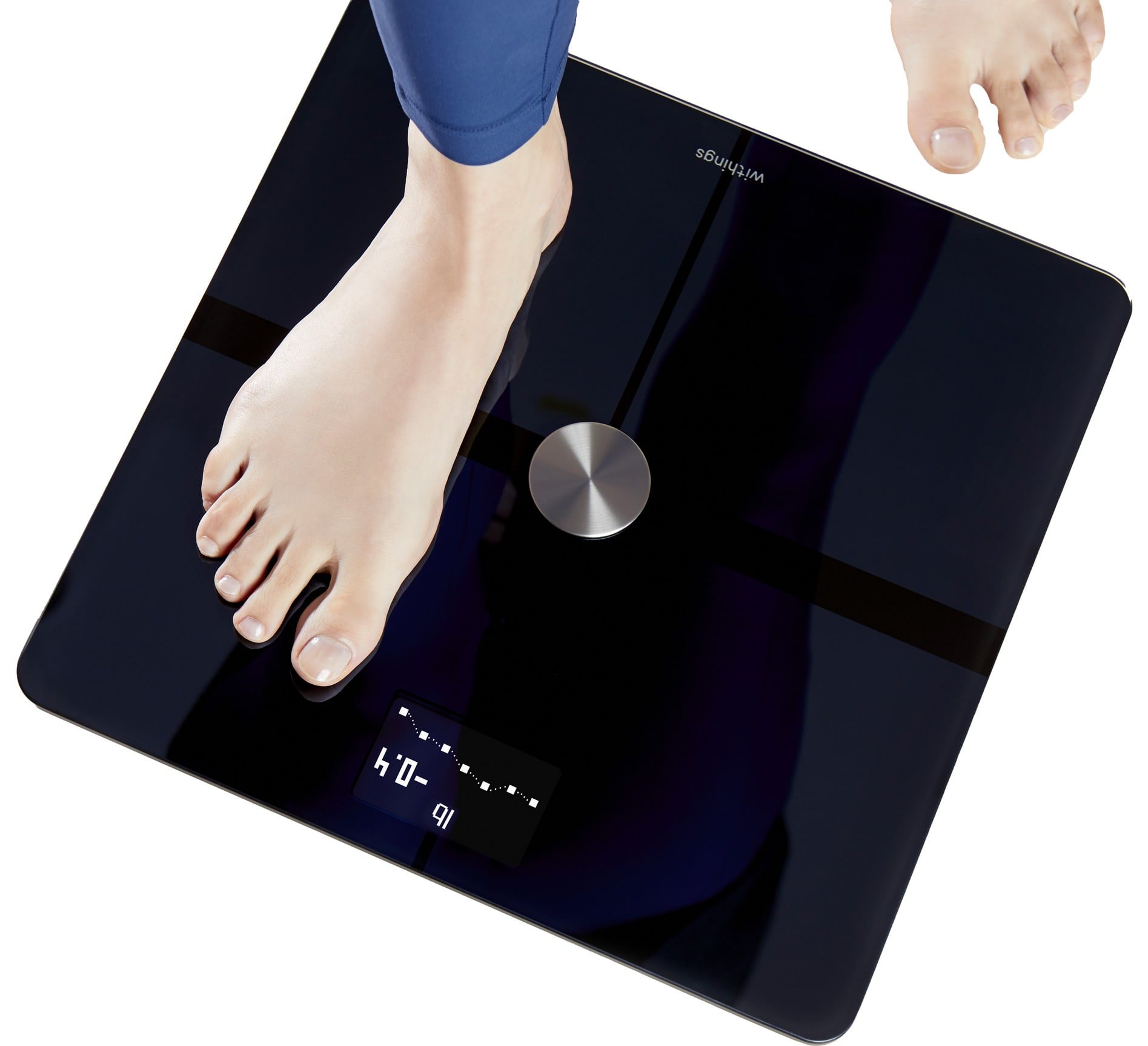 Smart Health works
"The takeaway for me isn't that I hit those numbers. Instead, the scale — and most of all, the app that pairs with it — provided not only data but a sense of accountability and momentum."
Elisabeth Millard, 52
@MikeTM
Body+ user
Works perfectly, easy to set up and has given me the kickstart I needed to lose weight.
Read more user reviews
Easy to partner up
Connect with 100+ partners to leverage your Withings data in your favorite apps
Health companion
An ideal health companion
High-accuracy weight and full body composition is just the beginning. Get to know a scale that coaches you, rewards you, and records all data automatically. And with tools at hand such as trend screens and nutrition tracking, you can set goals — and achieve them.
Best scale for accuracy
Technology you can trust
Monitoring your weight doesn't work if you can't trust your readings. Body+ is the best scale for accuracy.
High accuracy
Body+ gives highly precise measurements of up to .2 lbs
Position control
A balanced position is necessary to get a good measurement. Body+ uses Position Control technology to help you center your weight easily, with on-screen visual cues.
Gravity compensation
Fun fact: the Earth's gravity actually varies according to where you are on the globe—up to 400g! Body+ adjusts its measurement to compensate for this phenomenon.
More than weight
More than weight
Body+ lives up to its name by providing insights on more than just weight.
Fat mass
View your fat mass percentage to easily get an idea of your overall health.
Muscle mass
Pinpoint the results of your efforts to get stronger or lose fat.
Water
Stay hydrated and watch out for water retention.
Bone mass
See your bone mass for a more complete picture of your body composition.
Trend
See your weight trends from the last few measurements so you can see the big picture.
For the whole family
Up to 8 users can be recognized automatically, and each will have their data independently synced to their Health Mate profile.
More reasons to step on
Provide a daily local weather forecast and display the previous day's step (if you use a Withings activity tracker or the app's built-in tracker).
Goes the distance
Body+ will operate for up to 18 months using four standard AAA batteries (included).
Get support during pregnancy
Pregnancy Tracker guides expecting mothers through their pregnancy with health-related, obstetrician-reviewed advice, tips, and personalized weight tracking.
Track your child's growth
Baby Mode empowers parents to easily keep an accurate diary of their child's growth simply by stepping on the scale while holding their baby in their arms.
Body+
Body Composition Wi-Fi Scale
Compatible with iOS & Android
Browse the latest user testimonials about Body+.
Reviews
FitRated
Best Smart Scale overall
Read more
When it comes to its functionnailty, the Body+ is anything but quiet and retiring
The Withings scale is worth every penny I swear! It measures way more than weight so even when I have a bad week I'll still be motivated by other gains. I don't think I've ever been so consistent with my workout
I'll like my numbers, right now do a daily weigh in on the Withings Body+ scale. Also interesting to see patterns overtime in terms of diet and routine. Easiest assessment is looking in the mirror though 😅
I've been using a withings scale for like 10 years now, and it still works. It just uploads my weight and (inaccurate impedance-based) body fat percentage to a cloud account, and there's an app to chart it.
My husband got me a Withings scale for my birthday one year and I love it!
Newsweek
The Best Products of 2020 —Wi-Fi ensures that your measurement is accurate anywhere in the world.
Read more
One of the coolest features is the Position Control Technology, which lets you know how to stand correctly to achieve the most accurate reading.
Users can trust that this device provides accurate measurements.
Good looking bathroom scale with a supreme display.
What's better than a smart scale? A smart scale that works with Alexa.
Let's cut to the chase right away. Scales produced by Withings are our pick of the bunch. They look great and do the job extremely well.
The Withings Body+ is one of the best smart scales money can buy.
High-accuracy weight and full body composition is just the start of what it can do.
Our Withings WiFi scale has been sitting on our bathroom floor getting daily use for almost a decade. Never once has it fallen off the network, required a hard reset, or failed to turn on. About once a year it politely asks for new batteries and it still looks great.
I also use a Withings scale (I think I've had it 4 years now?) and have been happy with it for the app tracking.
So shot in the dark but if you want something fancy I used the Withings Smart Scale cuz it sends every weigh-in to my health app so if you're really into tracking progress it's pretty nice!
After 3 intense months and significant weight loss, I've hit plateau, got frustrated ... bought @WithingsEN amazing Body+ scale, helped me understand what's happening, make adjustments and keep going. Amazing product Thumbs up
Connectivity
WiFi 802.11 b/g/n, compatible with WEP/WPA/WPA2-personal networks
Bluetooth connectivity (Bluetooth Smart Ready)
Body+ can be installed on a smartphone or a tablet, via the Health Mate app available on iOS (iOS 10 and higher) and Android (6.0 and higher).
Cannot be set up from a computer
Device
Weighing range: 5 -> 180kg (9 -> 396lb)
100g (0.2lb) graduation
Units: kg, lb, st lb
Patented body position detector
Highly-accurate weighing via Position ControlTM technology
Large, high-strength tempered glass platform
Paint-free satin white casing
Ultra slim design
Dimensions: 12.8 x 12.8 x 0.9 in. / 327x327x23mm
Large, easy-on-the-eye graphical display (2.4"x1.6"), 128x64 pixels
High-contrast lighting
Free and unlimited online storage of weight readings
Stores up to 16 readings if scale cannot sync wirelessly
4x 1.5V Alkaline cells (AAA)
Average battery lifetime of 18 months
Metrics tracked
Four weight sensors
Patent-pending body position detector
Highly accurate weighing
Bioelectrical Impedance Analysis
Athlete and non-athlete mode
Unit: body fat %, total body water %, muscle mass kg or lb, bone mass kg or lb
Automatic user recognition
Real People. Real Results.
Our smart scales have been helping people for more than a decade. Meet a few of the people who found success using a Withings scale.
"My favorite thing about my Withings smart scale is it tells me more than just my weight."
—Jamie Bell
Fitness Instructor
"I started moving more and I tracked my weight every day with a Withings scale."
—Michael Daggett,
Podcaster
"When I started tracking my weight with a Withings scale I knew that I just had much more information."
—Dr Shuhan He,
Emergency Physician
Find the perfect product for all your needs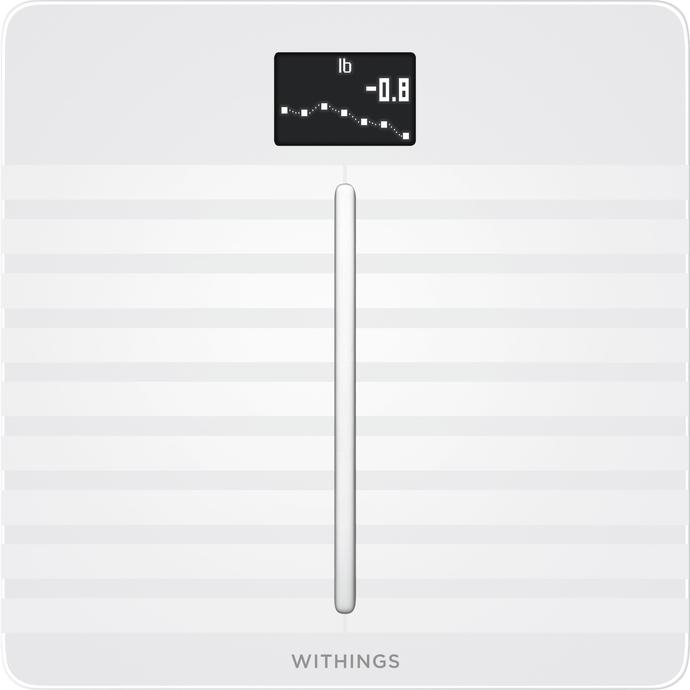 Body Cardio
An advanced Wi-Fi scale that delivers full body composition, exclusive heart health metrics, and seamless tracking in the Health Mate app.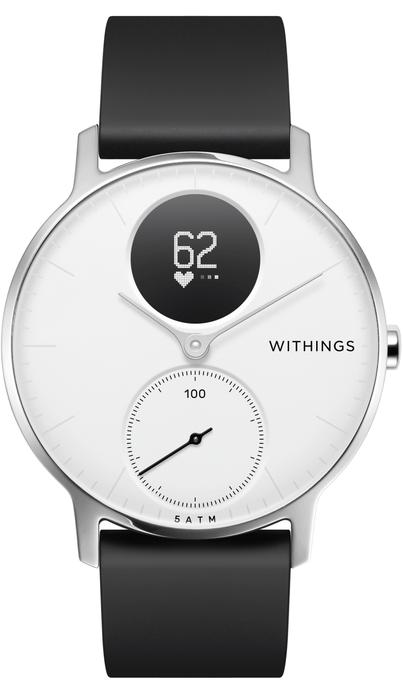 Steel HR
The watch that tracks activity, sleep, and heart rate for up to 25 days.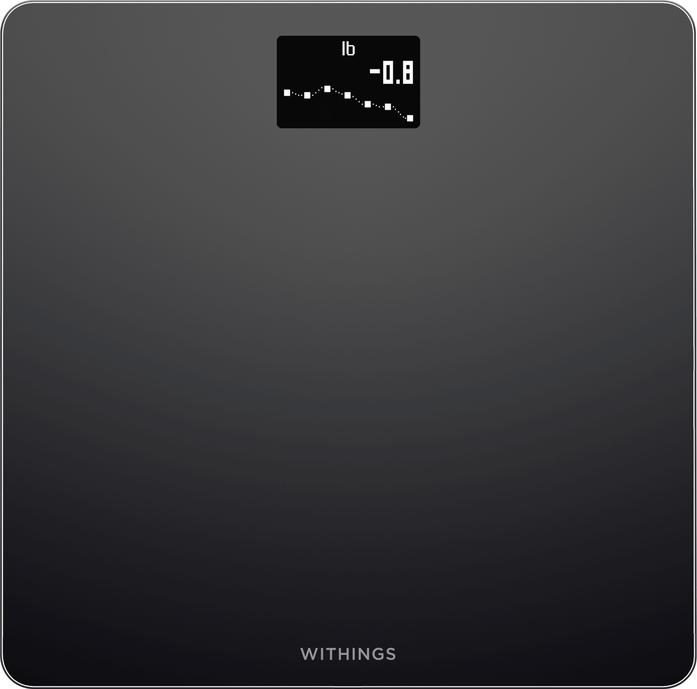 Body
A Wi-Fi scale that features weight, BMI, and automatic sync to the Health Mate app, where you can view trends and find extra motivation to reach your goals.