Pulse Wave Velocity
Know more about your cardiovascular health
What is Pulse Wave Velocity ?
An innovative metric used by the medical community to assess cardiovascular health
Each time your heart beats, it induces a wave along the aorta and the arterial tree. This wave leads to blood-volume changes in the vessels that expand and contract in response to these changes. Pulse Wave Velocity is the propagation speed of this wave along the arteries.

Pulse Wave Velocity is usually measured between the carotid and the femoral artery using applanation tonometry. However, this technique requires an advanced equipment and a well-trained operator.
Discover Pulse Wave Velocity on Body Cardio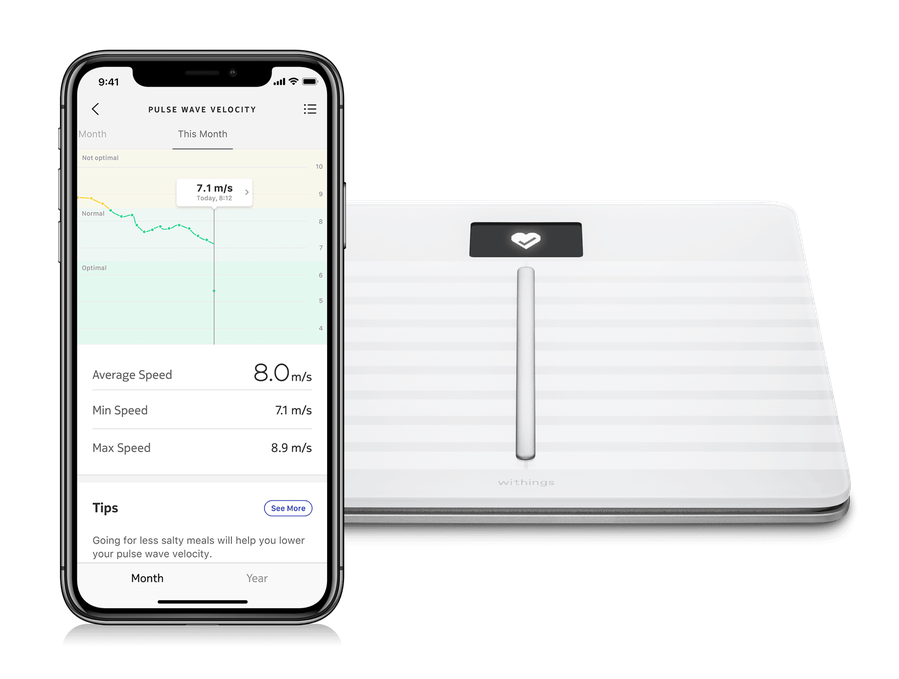 Anyone can lower Pulse Wave Velocity
Lifestyle changes such as a healthy diet and exercise, controlling blood pressure and diabetes, and managing cholesterol levels can help improve Pulse Wave Velocity measurements and consequently improve your overall cardiovascular health.
Health Mate provides educational in-app content that can empower you to make the lifestyle changes to improve long-term health.
This device is not a medical device and is not intended for use in the diagnosis of disease or other conditions, or in the cure, mitigation, treatment, or prevention of disease. Do not attempt self-diagnosis and always consult with a physician before starting any treatment.