Much more than meets the eye
Steel HR is a high-quality hybrid smartwatch crafted with 316L stainless steel that moves with you—office, gym, pool, and everywhere in between. It features HR monitoring 24/7, multisport tracking, connected GPS and sleep tracking. Steel HR will go the distance with a long-life rechargeable battery that lasts up to 25 days and water resistance up to 50 meters.
24/7 Heart rate monitoring
Knowing your heart rate is good, but using it to improve your health is even better. Your HR can show you what you need to do to achieve your goals. With its 25 days of battery life, Steel HR takes readings around the clock to give a holistic view of your heart.
Activity tracking
Fact: People who regularly walk 10,000 steps a day are 2.1 times more likely to hit their target weight, strengthen their heart, and get a better night's sleep.
Steel HR is a comprehensive activity tracker that automatically recognizes and records walk, run, swim, and sleep. Additionally, you can easily activate workout mode right on your wrist by choosing from over 30 sports—from soccer to Pilates to ping pong.
Sleep tracking
Fact: People who experience quality sleep are better able to manage their weight, be more active and have lower blood pressure than those who don't.
And because better sleep is more than just how long you sleep, every day, wake to your Sleep Score in the Health Mate app, where you can also view your light & deep sleep stages, overnight heart rate, interruptions and more. Plus, wake with a gentle vibration at the optimal point in your sleep cycle. Even better? Steel HR also supports multiple alarms, to help keep you on time.
Multisport Tracking
Steel HR enhances workouts and training sessions, providing useful information at any time. Afterwards, you can follow your progress over time, and view your accomplishments on a map, thanks to the recap shown in the Health Mate app.
Instant feedback
With a simple long-press on the button, you can start to log a sport session. Steel HR will time and record continuous heart rate, calories burned, as well as distance, location and elevation with connected GPS. All of this info will be on your wrist in real time.
Learn, improve & brag
Health Mate shows a complete recap of your session, with location and time data, and a detailed breakdown of time spent in heart rate zones (light, moderate, intense & peak). You'll also get a map of your path that you can add a photo to, or just share with all associated data.
Note: to use Connected GPS, your smartphone must be connected in Bluetooth with location settings enabled.
Lifeproof
Steel HR is designed to work for you as a daily companion. With its impressive water resistance to 50m, a long-life rechargeable battery that lasts 25 days (plus another month in energy-saving mode), and fully customizable notifications, it's as office friendly as it is sport ready.
Water-friendly & pool ready
The watch is water resistant up to 50m (5ATM), so you can shower, do dishes, and enjoy automatic swim tracking.
On-demand info
The discreet OLED display can provide steps, distance, calories, heart rate, alarm times and more.
Smart notifications
You can stay in-the-know on the go with a vibration and smartphone notifications right on the embedded digital screen. Steel HR supports calls, texts, events and all your favorite apps. Choose which notifications will be displayed on the watch.
Citymapper
Uber
Health Mate
Whatsapp
Citymapper
Uber
Health Mate
Whatsapp
Life with Steel HR
See how our range of fitness trackers and hybrid smartwatches can fit any lifestyle.
Customize your watch
Choose from a variety of bands to complement any style. Our bands have a quick-release system, so you can easily change them to match an outfit, or if you wear leather, swap them out for a swim.
Collector Watchboxes
Save $30
Get the Withings watch of your choice, plus two premium bands, in an impressive, highly giftable package.
Browse options
Technical Specifications
Connectivity
Metrics tracked
Device
In the box
iOS compatibility (iOS 10 and higher)
iPhone 4S and more recent
iPod touch 5th generation and more recent
iPad 3rd generation and more recent
Android compatibility (6.0 and higher)
Requires a Bluetooth Low Energy device
Bluetooth connectivity
Bluetooth Low Energy needed.
Cannot be set up from a computer
Find the perfect product for all your needs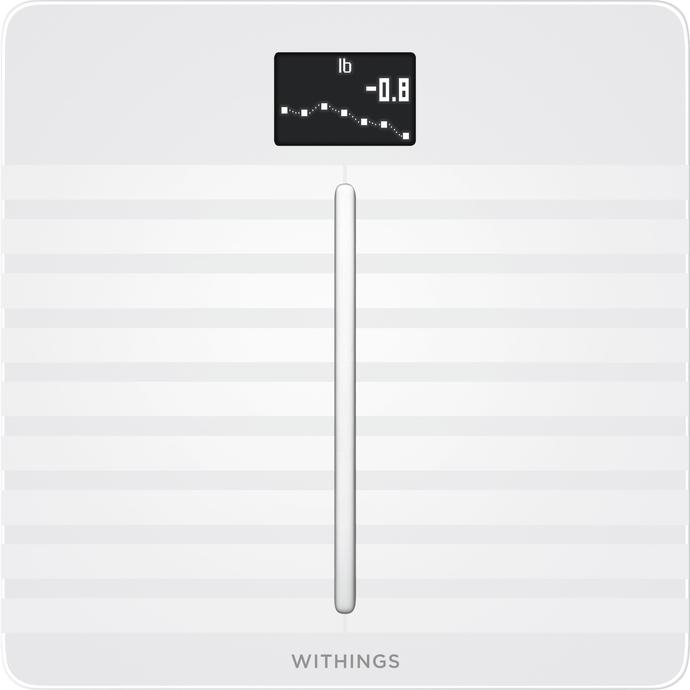 Body Cardio
An advanced Wi-Fi scale that delivers full body composition, exclusive heart health metrics, and seamless tracking in the Health Mate app.
Steel
A stylish watch that automatically tracks activity and sleep and never needs charging.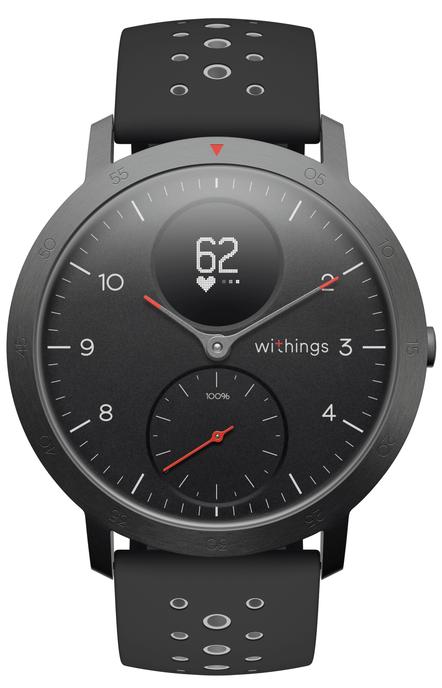 Steel HR Sport
A hybrid smartwatch specifically designed for your workout, featuring heart rate monitoring, multi-sport tracking, connected GPS and a Fitness Level assessment via V02 Max estimation.