An easier, better way to take anyone's temperature.
Thermo is a game changer. Now, a fast, simple, no-contact gesture yields medical-grade results right on the device and provides an automatic sync with the free Thermo app, available for iOS and Android. In the app, you can track temperature readings, set reminders, and input related symptoms & medications for advice right on your smartphone.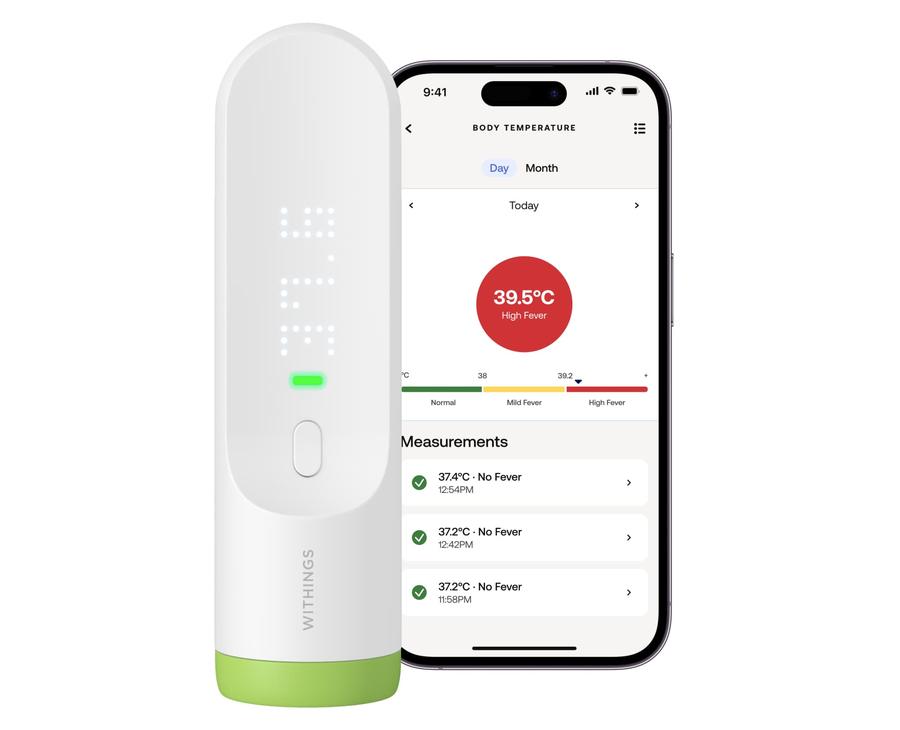 Highly accurate
Thermo measures from the temporal artery, considered an ideal place to detect temperature changes, as the blood that circulates there comes from the core of the body.
16 infrared sensors take over 4,000 measurements—a revolutionary advancement, and what we call HotSpot Sensor Technology.
No contact with skin required
Enjoy a contactless scan up to 1 cm from the forehead. Unlike other thermometers, Thermo does not need to come into contact with any body fluids, such as saliva, perspiration, or earwax. It is the most hygienic way to take anyone's temperature, as Thermo does not need to be cleaned between each measurement.
Instant feedback
Readings appear illuminated on the device along with a color-coded LED indicator to tell you if the temperature is normal, elevated or high based on the age of the user.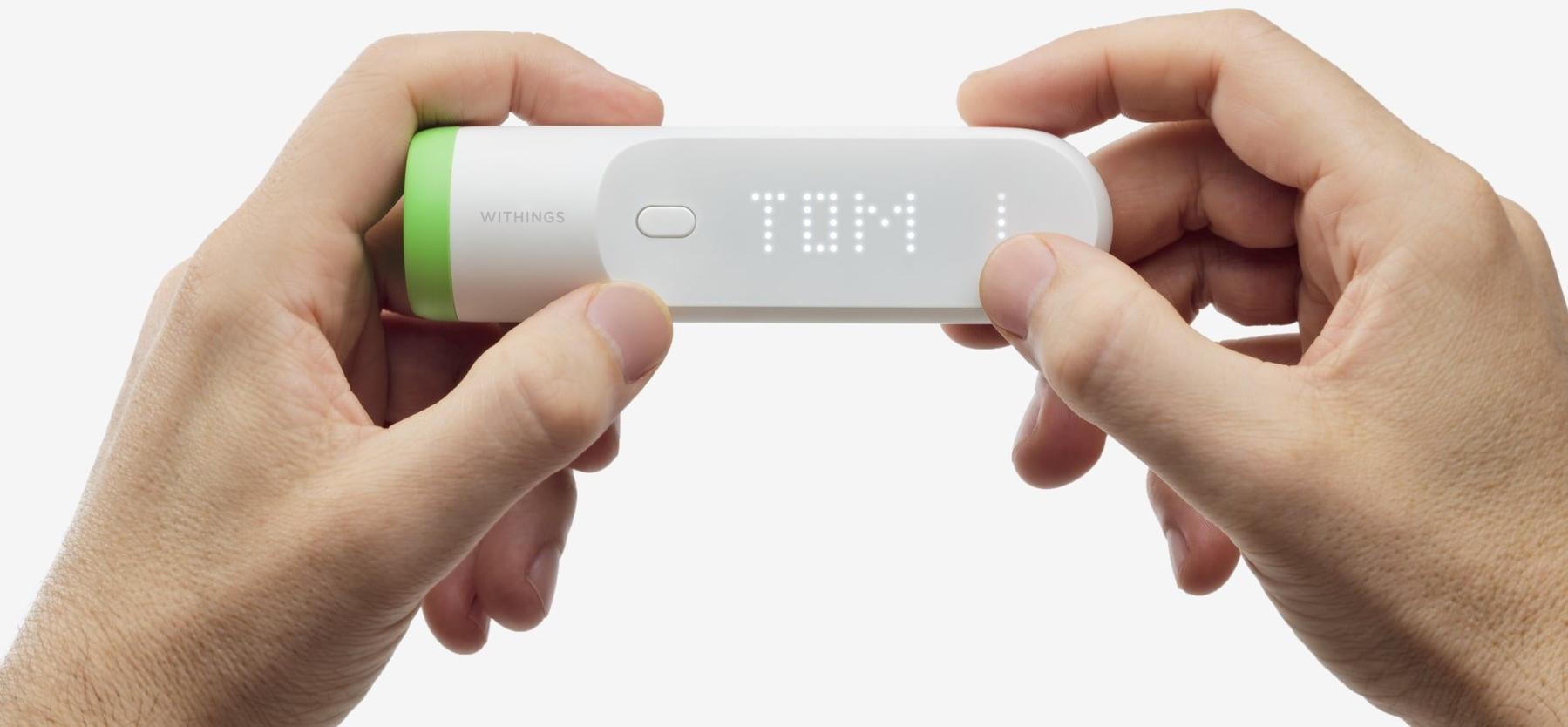 Thermo
Smart Temporal Thermometer
Connectivity
Wireless sync
Bluetooth Smart Ready
Wi-Fi b/g/n 2.4 Ghz (WEP, WPA, WPA2-personal encryptions)
Requirements
Thermo can be installed on a smartphone or a tablet, via the Withings app available on iOS (iOS 14 and higher) and Android (10.0 and higher).
Cannot be set up from a computer
Device
Sensor
Thermopile array sensor (infrared sensors)
Display
20x5 LEDs matrix display
Button and touch sensitive slider
Dimensions and weight
Length: 116 mm (4.57 in.)
Diameter: 33.2 mm (1.31 in.)
Weight: 75g (0.165 lbs), including batteries weight
Operating environment
Temperature: 10°C - 40°C (50°F - 104°F)
Humidity: Between 15% and 95%
Storage conditions
Temperature: -25°C to +55°C (-13°F to 131°F)
Humidity: Between 15% and 95%
Power supply
2x 1.5V LR03 AAA alkaline cells
Metrics tracked
Metrics
Clinical accuracy: ±0.2°C (±0.4°F) | Display of rectal equivalent temperature
Temperature range: 35°C - 43.2°C (95°F - 109.8°F)
Resolution: 0.1°C / 0.1°F
Free shipping
30-day trial
Environmental features
Quis excepteur laboris ut dolor anim do adipisicing cillum eu ipsum nisi. Nisi
Deserunt laborum ex quis do est.
Nostrud fugiat officia ullamco aute sit eu eiusmod ad eiusmod.
Sint commodo ad consectetur occaecat nulla quis dolore anim anim esse nisi.
Cillum ullamco minim laborum duis incididunt ut ex elit excepteur commodo consectetur esse.
Excepteur sunt deserunt tempor officia nostrud cupidatat pariatur eiusmod irure ullamco.
Velit magna reprehenderit deserunt aliquip reprehenderit do ea deserunt qui consequat.
Qui excepteur cillum in Lorem cupidatat occaecat consectetur labore cillum.