U-Scan
The first hands-free connected home urine lab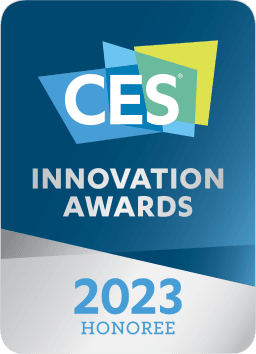 Coming soon
Be the first to know
Be the first to know
Sign up for the U-Scan launch alert.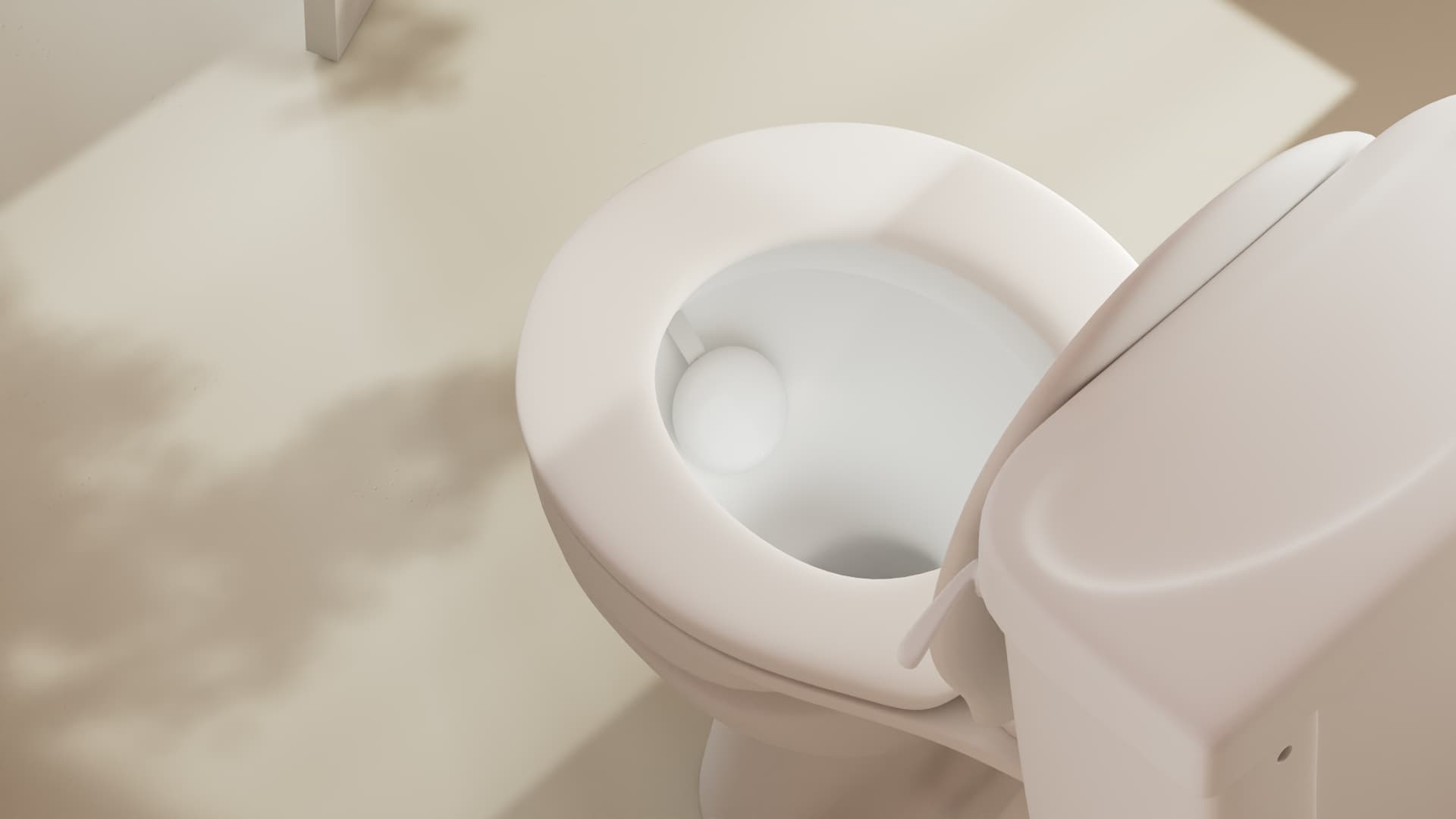 A precise snapshot of new health metrics—from home.
Just 90 mm in diameter, this health lab sits within any toilet bowl. It provides an immediate snapshot of the body's balance by tracking and detecting a large variety of parameters found in urine while also offering alongside actionable advices for living better.

Welcome to a new era for urinalysis
With more than 3000 metabolites, urine is an extraordinary witness to our health. It gives an immediate snapshot of the body's balance and can help detect and monitor a large variety of health information. While urinalysis is typically performed only once a year, U-Scan opens the door to regular access to these metrics from the comfort and privacy of one's own bathroom.
Data capture made easy
U-Scan is a technologically advanced pebble-shaped reader and interchangeable analysis cartridges designed to assess specific parameters without the need for external sample capture or strips.
Multiple Biomarker Analyses
Each cartridge is made of a dozen test pods containing specific types of parameters tests. When placed in the reader, this versatile system can support multiple health use cases simply by adapting the test pods.
Versatile cartridge system
The ultimate cycle syncing guide—from home.
With U-Scan Cycle Sync, we aim to relieve women of the mental load that comes with monthly hormonal fluctuations. U-Scan is the world's first hormonal-based cycle sync guide. In addition, we will provide key hydration and nutrition parameters analysis, recommended actions based on cycle phases, and data correlation for an optimized menstrual cycle.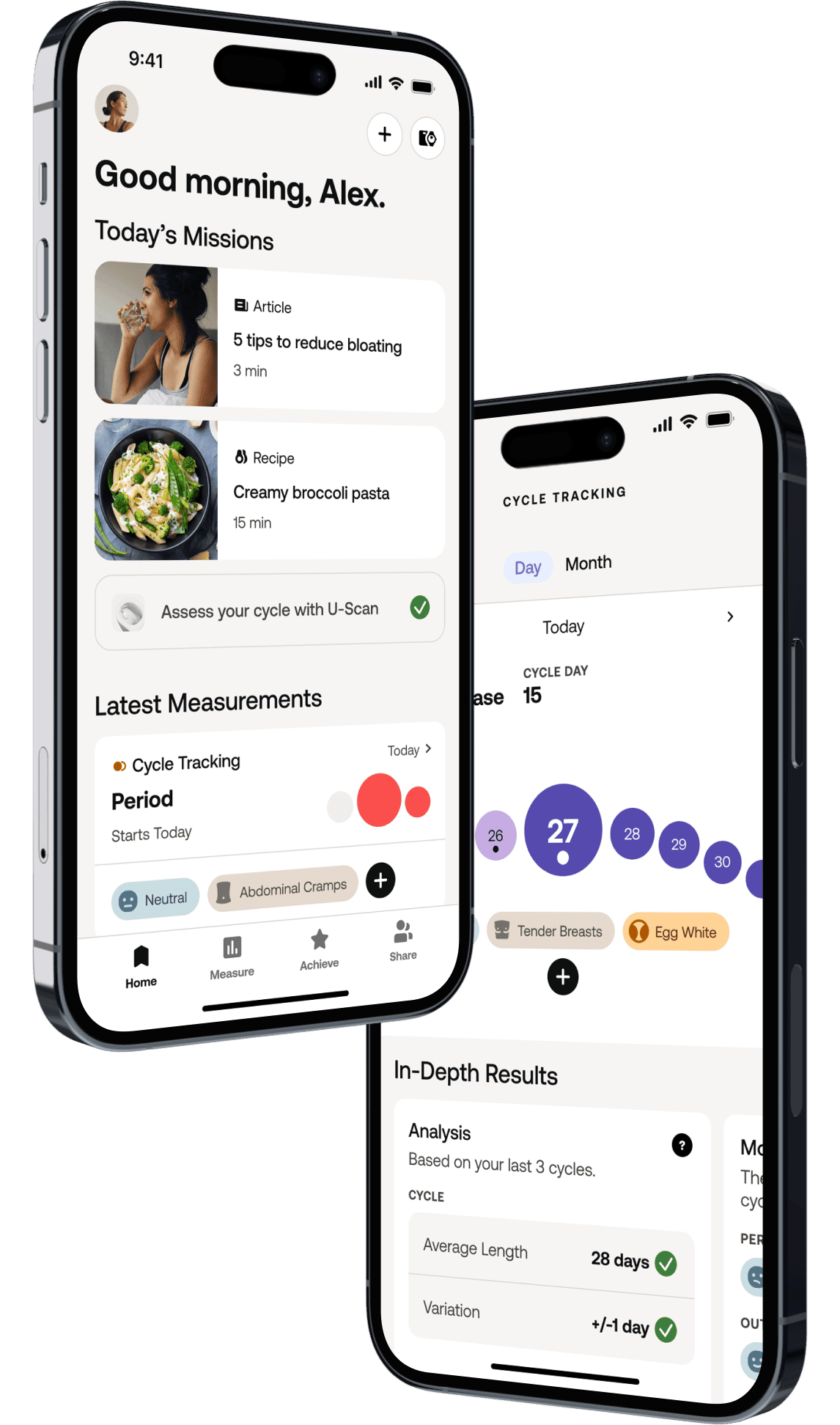 The ultimate nutrition & hydration health guide—from home.
With U-Scan Nutri Balance, we aim to make healthy eating a keystone of preventive health. U-Scan Nutri Balance is the first non-invasive solution to evaluate the impact nutrition and water intake have on our metabolism. Depending on one's objectives and results, actions—such as advice, recipes, and activities—will be recommended on a daily basis in order to help anyone find their balance.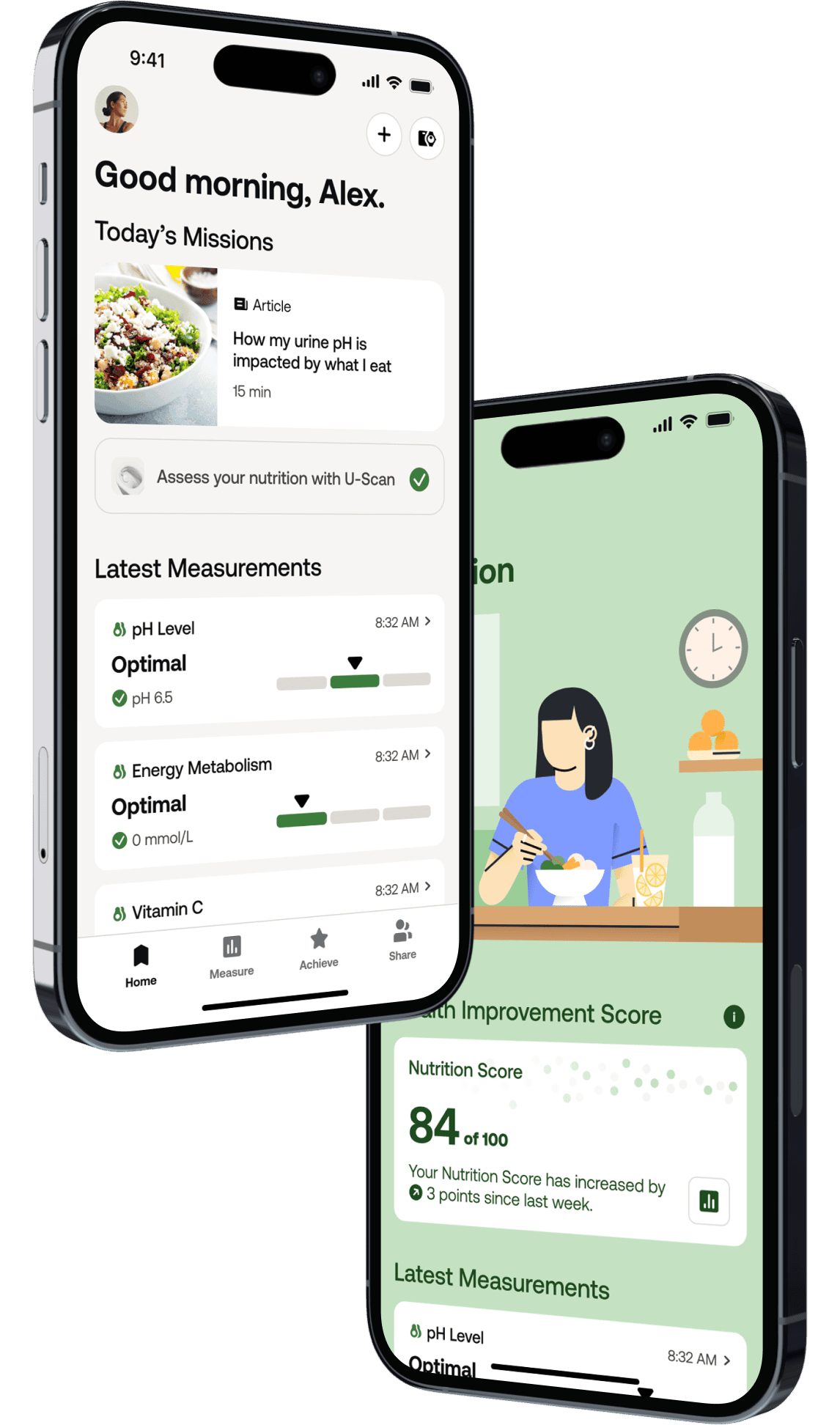 U-Scan is coming soon!
U-Scan will be launched in the second half of 2024. Subscribe to get updates and be the first to know.
U-Scan is a new product category at Withings which aims to unlock the wealth of health information to be found via regular at-home urine analysis. It is a versatile cartridge-based platform able to detect, measure, and track multiple parameters found in urine.
Are the U-Scan Cycle Sync and Nutri Balance medical devices?
The U-Scan Nutri Balance and Cycle Sync cartridges are not medical devices, both cartridges are intended to encourage and/or help the user maintain a healthy lifestyle.
What is the U-Scan Cycle Sync cartridge intended for?
U-Scan Cycle Sync will be a wellness assistant designed for women, consisting of an app, a connected reader, and disposable cartridges which will allow the follow-up and the prediction of menstruation and the duration of a menstrual cycle. Based on hormonal measurement (LH) and the evolution of certain urinary parameters (water balance, acid-base balance), U-Scan Cycle Sync will bring personalized recommendations (e.g. sleep, nutrition, physical activity) depending on the different menstrual cycle phases.
LH (Luteinizing Hormone) to precisely predict periods
Specific gravity to determine water balance
pH to determine acid-base balance
Can I use U-Scan Cycle sync?
U-Scan Cycle Sync will be suitable for women who, within the last three months, have met the following criteria:
Menstrual cycle is between 21—35 days
Not under the age of 18
Not on hormonal treatment such as birth control, fertility treatment or hormonal therapy
Not diagnosed with PCOS (polycystic ovary syndrome)
Not currently or recently pregnant (in the last 3 months)
Not breastfeeding or having breastfed recently (in the last 3 months)
Not experiencing menopausal symptoms (such as hot flashes)
U-Scan Cycle Sync can't be used as a contraceptive method.
U-Scan Cycle Sync can't be used to control or assist conception.
U-Scan Cycle Sync can't predict ovulation/fertile period.
U-Scan Cycle Sync will not be a medical device, and is not intended for the diagnosis, treatment or control of disease.
The data will be provided for informational purposes only, and will not replace the results of medical laboratory tests.
What is the U-Scan Nutri Balance intended for?
U-Scan Nutri Balance is a wellness assistant, consisting of an app, of a connected reader and consommables (cartridges) which will allow the follow-up of the evolution of certains urinary parameters (water balance, acid-base balance, vitamin C levels and energy metabolism) to provide personalized lifestyle recommendations (e.g. sleep, nutrition, physical activity).
U-Scan Nutri Balance can detect and measure the following parameters:
Specific gravity to determine water balance
pH to determine acid-base balance
Ketones for energy metabolism
Vitamin C levels
Can I use U-Scan Nutri Balance?
U-Scan Nutri Balance was designed for anyone who is interested in balancing their nutritional health by analyzing key parameters alongside expert-reviewed and actionable insights (e.g. workouts, recipes, tips) to achieve their goals.
Because urine parameters reference ranges are very different for babies, children and teens, we don't recommend that people under 18 use the Nutri Balance cartridge.
U-Scan Nutri Balance and the Withings App will not be medical devices, and will not be aimed to deliver a diagnostic, to cure or to control diseases.
The data are only given for information, and will not replace results from test conducted in a medical laboratory.
When will U-Scan be available?
U-Scan will first be made available in Europe starting at the end of the second half of 2023 with the two consumer cartridges: Nutri Balance and Cycle Sync
What is U-Scan For Professionals?
Withings Health Solutions, the company's division serving the professional health market, is making the device available to partners for research and tailored use case purposes to extend the possibilities offered by the U-Scan platform.
More information on U-Scan's professional applications can be found via
this link.
Performance has been validated by a third-party lab accuracy study.
What are the technical features (size / weight / components) of U-Scan?
U-Scan is composed of 2 parts:
The Reader: This technologically advanced pebble-shaped device contains all the components required for urine sample collection, analysis by optical means, and data transfer by Bluetooth or Wi-Fi connection. Reader dimensions are ⌀ 90 x 28.5 mm, and the weight is 110 grams
The Cartridge: This interchangeable component is a cylindrical plastic part inserted in the Withings U-Scan Reader which contains dozens of test pods composed of chemical reagents which can detect the level of various human biomarkers in urine. Cartridge dimensions are ⌀ 62.55 x 15 mm, and weight is 15 grams
What connectivity is required to use U-Scan?
The Withings U-Scan Reader is equipped with BLE and Wi-Fi connectivity. The test results are transmitted by Wi-Fi, as a result U-Scan cannot be used without a functional wifi connection. A BLE-ready smartphone with iOS 14 or Android 8 or higher is required to install the device.
How long does the U-Scan battery last?
The U-Scan battery is designed to last for up to 3 months, and each cartridge is also designed to last for 3 months.
Is my toilet compatible with U-Scan?
U-Scan is designed to be compatible with most Western-style toilets. The device can be mounted within the toilet bowl thanks to an included fixation arm. The product includes several fixation arm sizes making it able to adapt to most toilet shapes.
How does the U-Scan device stay clean within the toilet?
U-Scan was specifically designed to live in the toilet environment.
When closed, the product is splash and water resistant, urine or toilet pollutants cannot penetrate to the inside.
U-Scan is made with a glass-fiber reinforced material that can resist the toilet environment.
The product's surface is designed to be rinsed with each toilet flush, just like the ceramic of the toilet bowl.
How much does U-Scan cost?
Users will be able to buy U-Scan Cycle Sync or Nutri Balance starter kit for €499.95 to get one U-Scan reader and one cartridge that provides 3 months of testing. Users will then have a choice to subscribe to automatic refills and in-app coaching for an estimated monthly amount of (€29.95 monthly subscription) or buy standalone cartridges on withings.com.
How do you change your cartridge or charge the device?
If already installed, you simply remove U-Scan from your toilet via the fixation arm and follow cleansing instructions.
Open the device by unscrewing the front case to access the inside of the product. Remove the cartridge if already inserted, and insert the new cartridge. Then go to the Withings App to follow the installation procedure.
While open, plug the USB-C charging cable to the reader's port and a power source. Once charged, remove the charging cable and close up the front case.
How many parameters can be analyzed in a cartridge?
Each cartridge includes more than 100 parameters results, which is designed to provide up to 3 months of testing when following the recommended measurement plan in the Withings App.
Still have questions? Visit our Help Center.