BPM Connect
Clinically validated
Upgrade your blood pressure monitor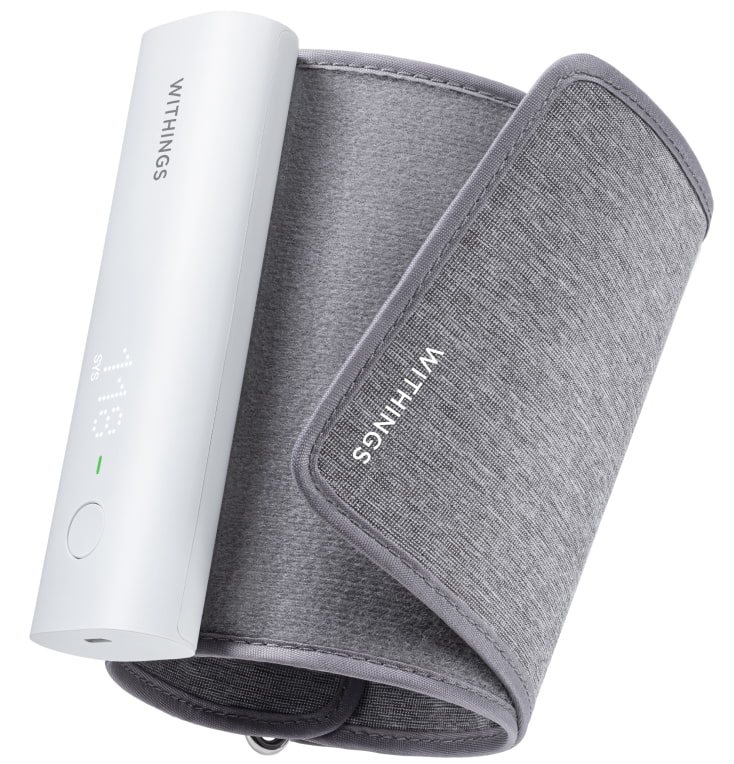 accuracy
Developed with experts
BPM Connect was developed with the help of leading cardiologists and has been thoroughly tested against several reference devices to ensure best-in-class blood pressure accuracy.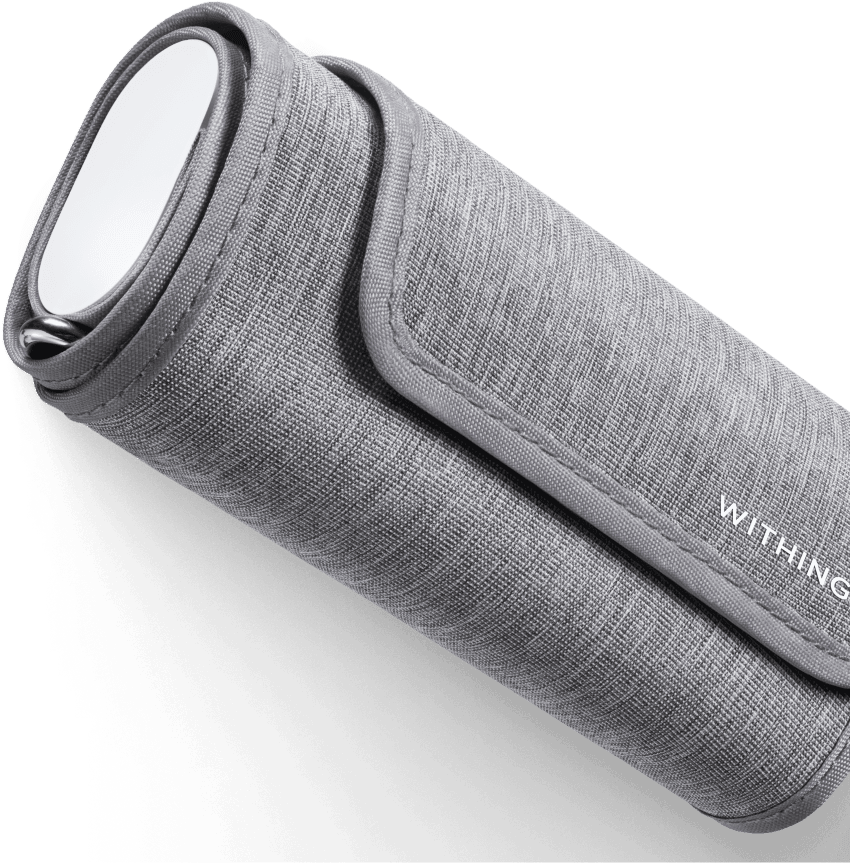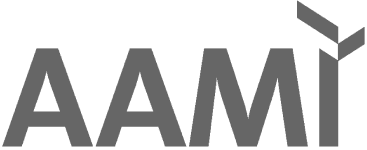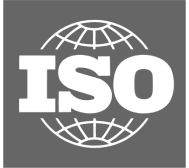 Thoroughly validated
To validate the performance of the device a clinical study was conducted that followed a protocol developed by the European Society of Hypertension, the Association for the Advancement of Medical Instrumentation in the United States, and the International Organization for Standardization.
Easy does it
Exceptional design
Easy to operate
After downloading the Withings app, you just have to push the only button of your device to pair it—once for good. Once paired, just press the button to take a measurement.
Easy to understand
Unlike most blood pressure monitor screens that are overloaded with information, BPM Connect displays readings with large and simply-lit LED lights. Color-coded indicators also make it easy to understand blood pressure numbers.
Easy to pack
This smart blood pressure monitor consists of only one piece, and its soft cuff allows for quick and effortless transport.
Easy to love
Designed in Paris, the device is modern and minimalist, and made of premium soft fabric to ensure a perfect fit and comfortable measurements when inflated.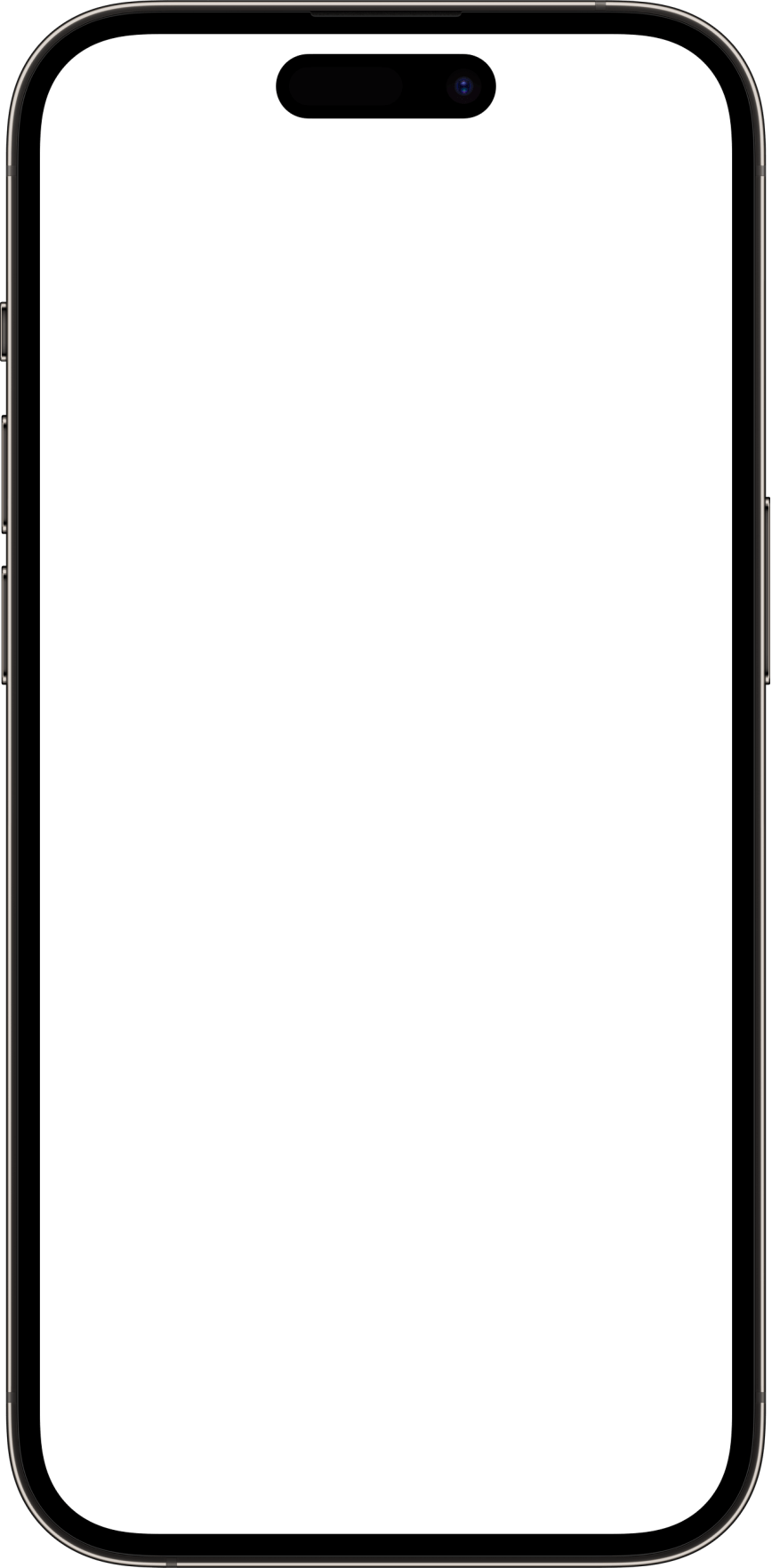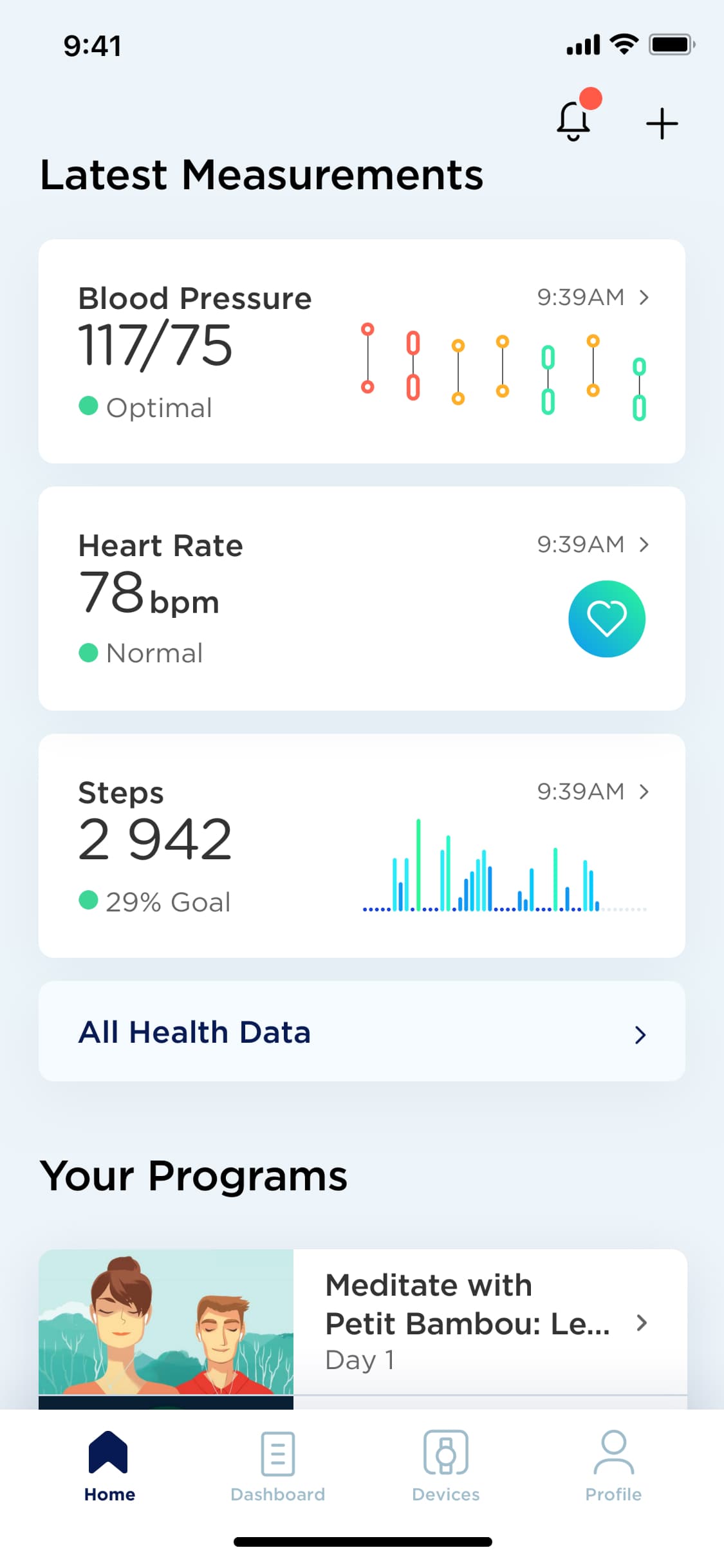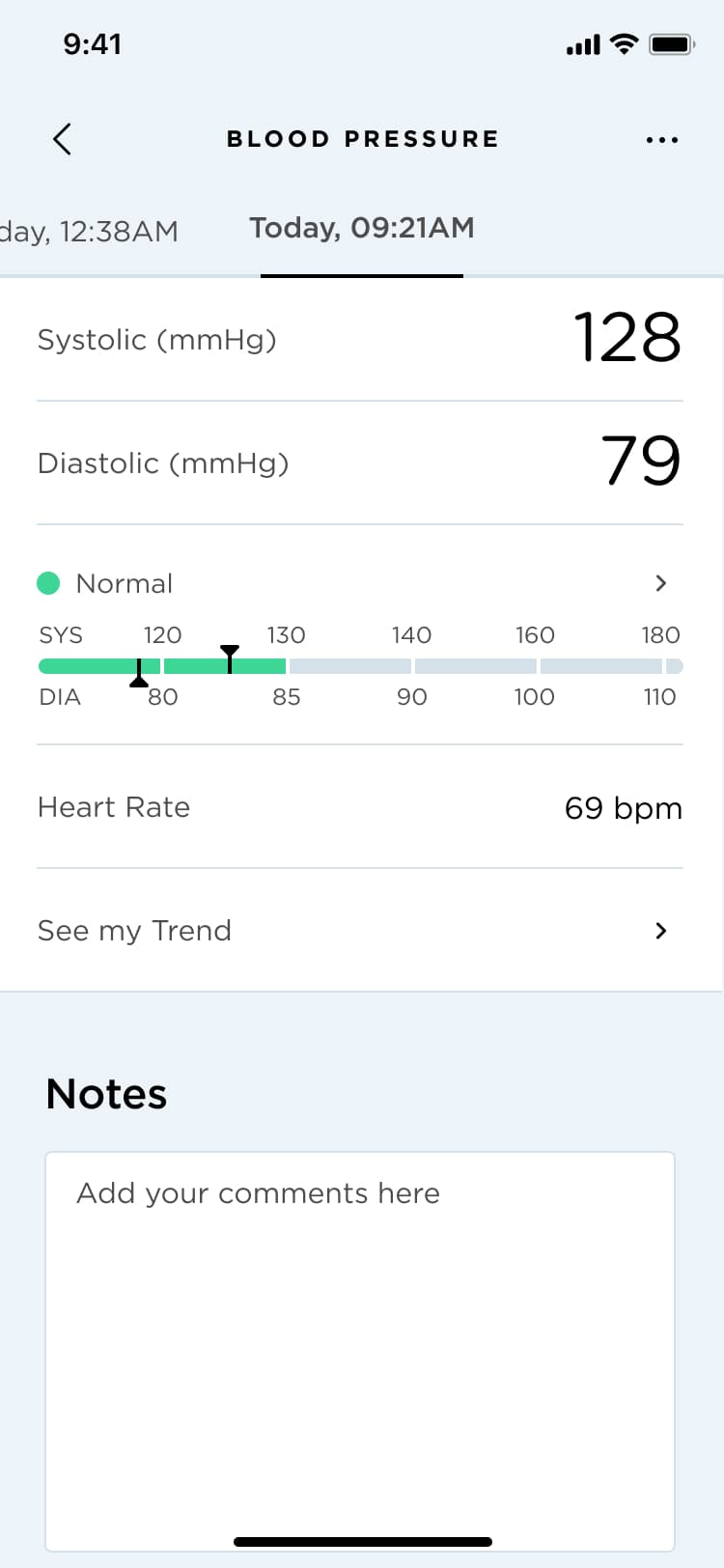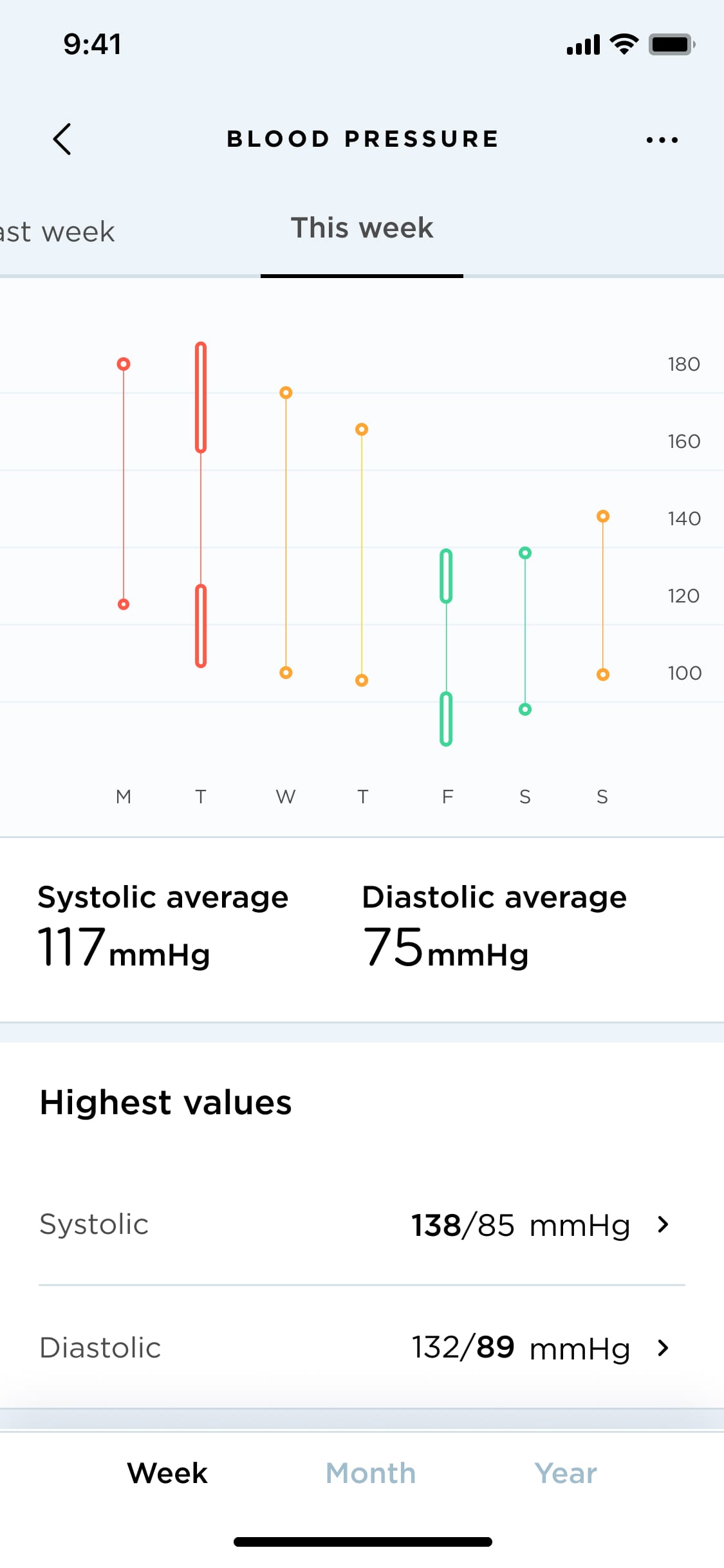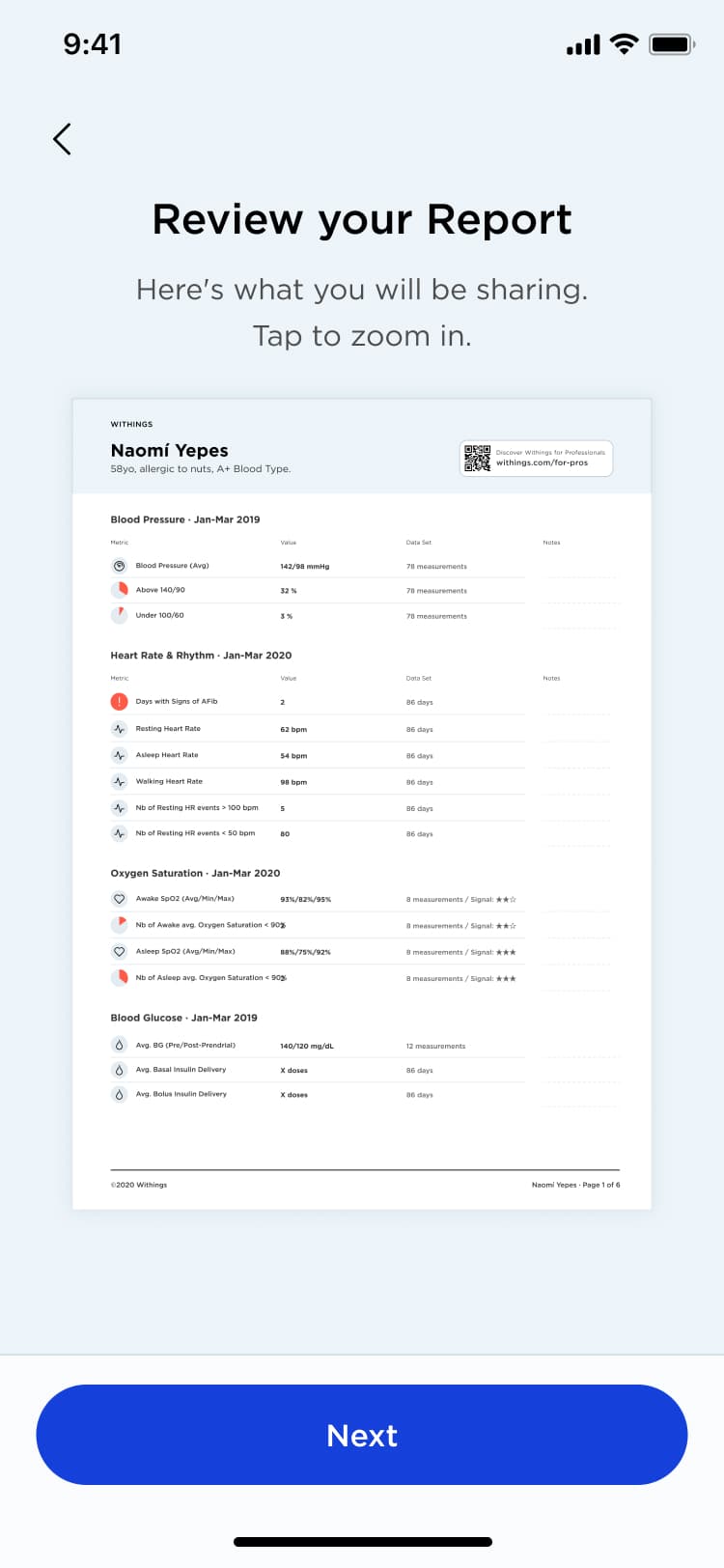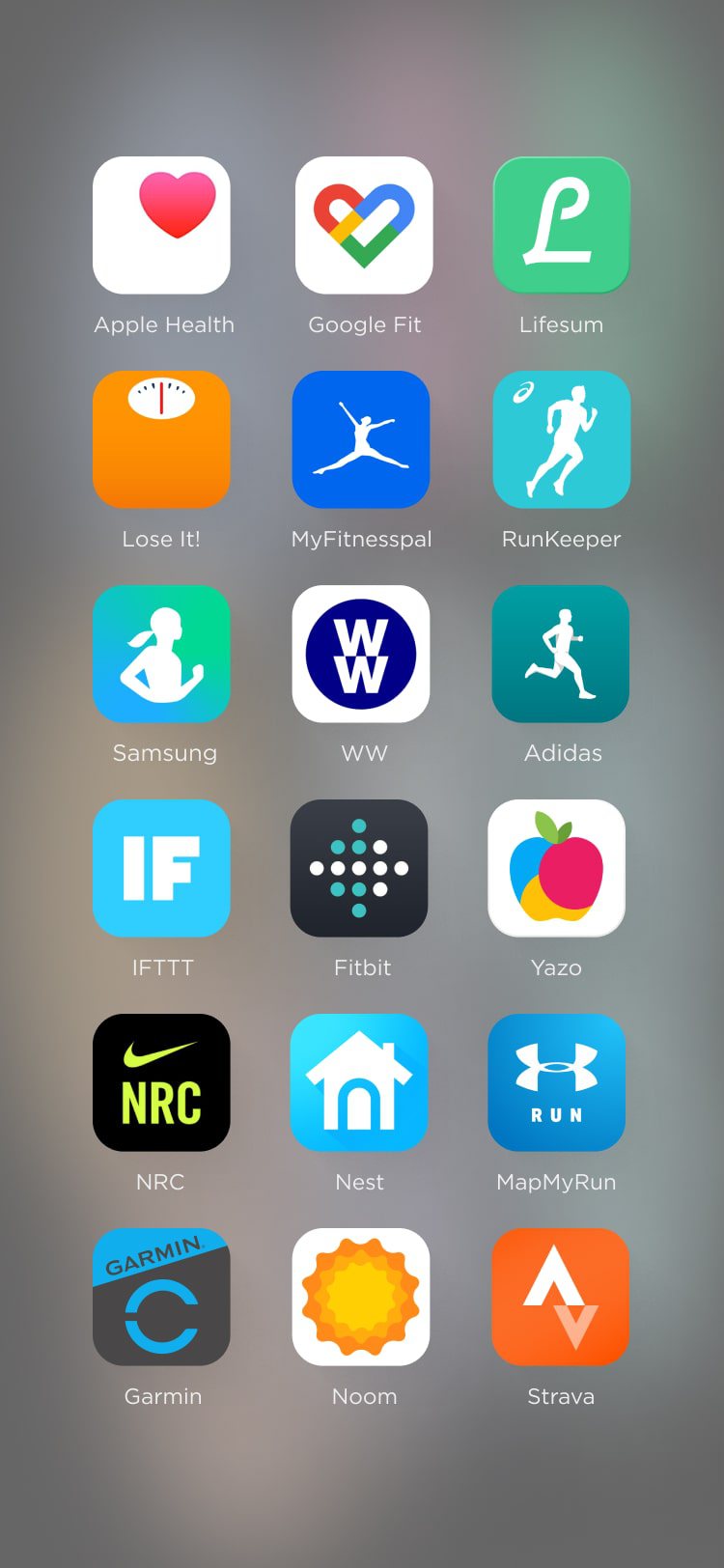 Data at your fingertips
BPM Connect syncs via Wi-Fi & Bluetooth with the free Withings App, available for iOS or Android.
Technology you can trust
Withings launched the world's first connected blood pressure monitor in 2011. More than 10 years of development, user feedback, and advanced research have enabled us to offer a blood pressure monitor of exceptional reliability and longevity.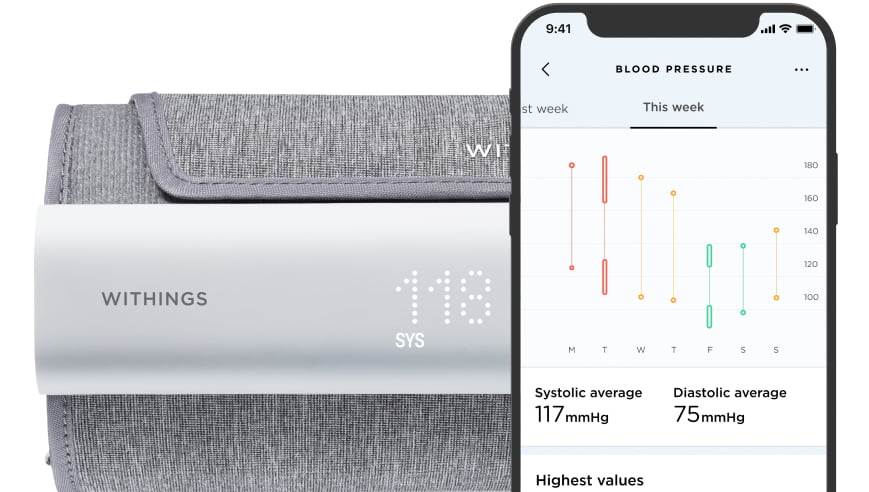 Why Wi-Fi matters
BPM Connect's Wi-Fi capability means that you don't need to have your phone with you when taking a measurement as readings are synched automatically via a home Wi-Fi network. Compare this to many other blood pressure monitors which only offer Bluetooth connection.
Incorrect measurement indication
To guarantee measurements are as accurate as possible, BPM Connect will alert the wearer if the cuff is not tightened correctly, or if talking / movement has been detected.
BPM Connect charges via micro-USB and lasts for up to 6 months on a single charge.
One size fits all.: The cuff has been designed to fit arm circumferences ranging from 9 to 17" (22 cm - 42 cm) while providing accurate measurements.
BPM Connect is compact enough to fit in an overnight bag so you can make sure to check your blood pressure regularly no matter where you are.
We protect your health.
We also protect your data.
Withings processes your personal data in compliance with applicable privacy and personal data laws according to the European General Data Protection Regulation (GDPR).
Withings is committed to giving the utmost attention to the security and protection of your privacy. For more information on how we protect your data, consult our Privacy policy.
Withings BPM Connect
Smart Wi-Fi blood pressure & heart rate monitor
Connectivity
Requirements
BPM Connect can be installed on a smartphone or a tablet, via the Withings App available on iOS (iOS 14 and higher) and Android (10.0 and higher).
Cannot be set up from a computer
Device
Conditions of use
Pacemakers and implantable cardioverter defibrillators (ICD) can make BP measurements inconclusive.
Dimensions
50 x 65 x 155 mm (1.97 x 2.56 x 6.10 inches)
250 g
Arm circumference: 22 to 42 cm (9 to 17 in)
Storage and memory
Unlimited storage on Withings cloud
Up to 8 measurements on-device between synchronizations
Power supply
Rechargeable battery
Charge via micro-USB cable
Battery life: up to 6 months
Metrics tracked
Metrics
Blood pressure monitor
Systolic blood pressure
Diastolic blood pressure
Heart rate
The BPM Connect performance to measure blood pressure was validated in a clinical trial.
The results are within the margin of acceptance defined by the internationally recognized evaluation standard of blood pressure monitors ANSI/AAMI/ISO 81060-2:2013, EN ISO 81060-2:2014, developed by the European Society of Hypertension, British Hypertension Society and Association for the Advancement of Medical Instrumentation/American Heart Association.
Free shipping
30-day trial
Fiche produit relative aux qualités ou caractéristiques environnementales
Qualités ou caractéristiques environnementales de l'emballage :
Emballage comportant au moins 65% de matières recyclées
Emballage majoritairement recyclable
Qualités ou caractéristiques environnementales du produit :
Contient au moins 50 milligrammes de métaux précieux
Contient au moins 1690 milligrammes de terres rares