Sleep
スリープセンシング&ホームオートメーションパッド
夜のパターンを把握し
毎日をより快適に。
Withings Sleepは睡眠サイクル分析(深い、浅い、レム)、心拍数の追跡、そしていびきを検出し記録します。一度セットアップを行えば、あとはWi-Fiを使用し自動でHealth Mateアプリにデータを同期します。また、IFTTTと連携することでベッドに入ったら自動で消灯、起きた時に室温を変更などのシナリオを作成し使用できます。
先進の睡眠記録を体験
Sleepは、睡眠サイクル、心拍数、いびきを検知することで、睡眠質の詳細なレポートを自動でお届けします。
睡眠の重要指標を知る
睡眠時間、睡眠の深さ、夜中起きた回数、睡眠の規則性、寝るまでに掛かった時間、起きるまでに掛かった時間など睡眠質は多くの要素から成り立っています。朝起きたらHealth Mateアプリの睡眠スコアを確認し、これらの重要な指標の数値を確認してみましょう。
睡眠スコアの詳細を知る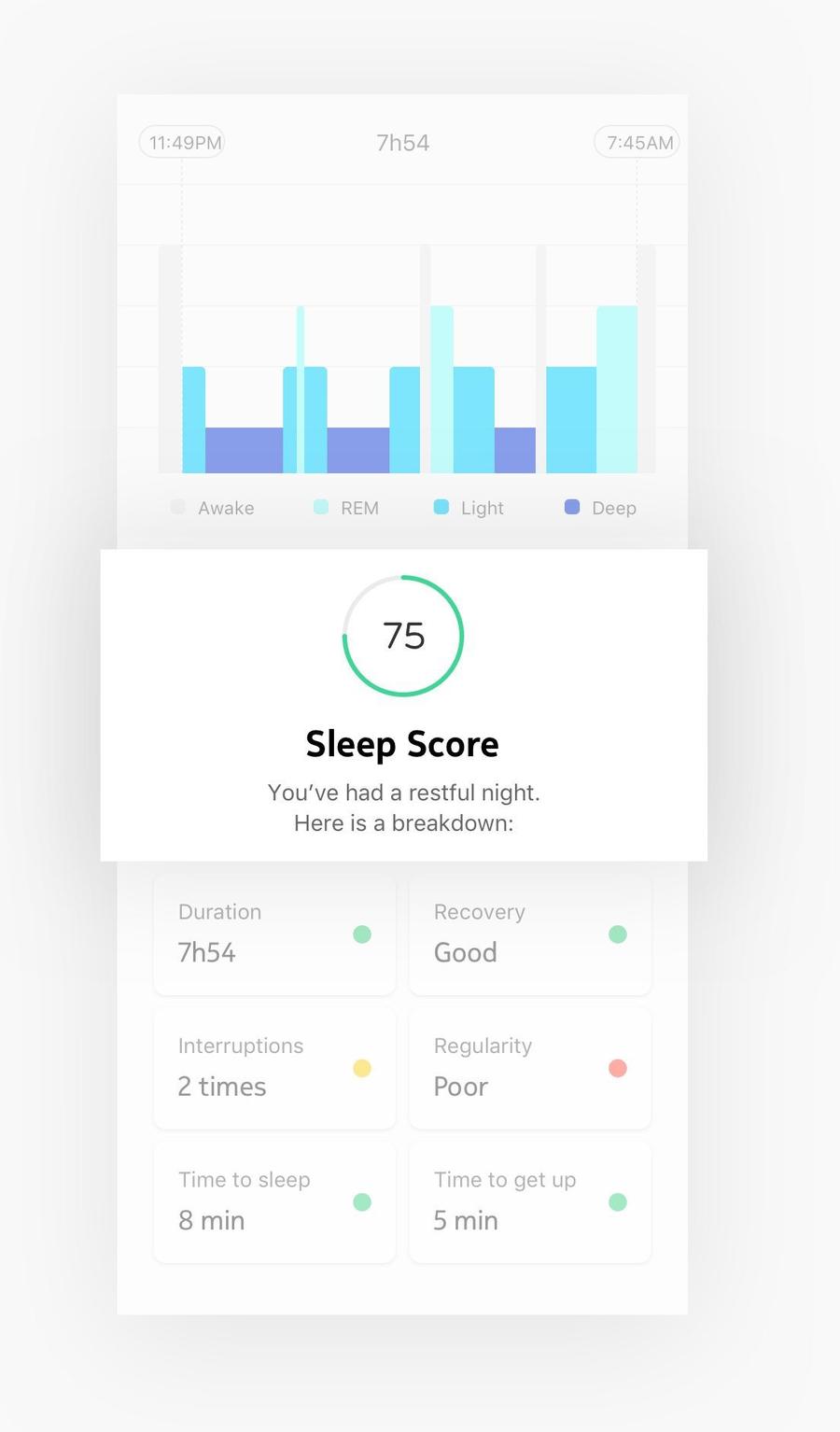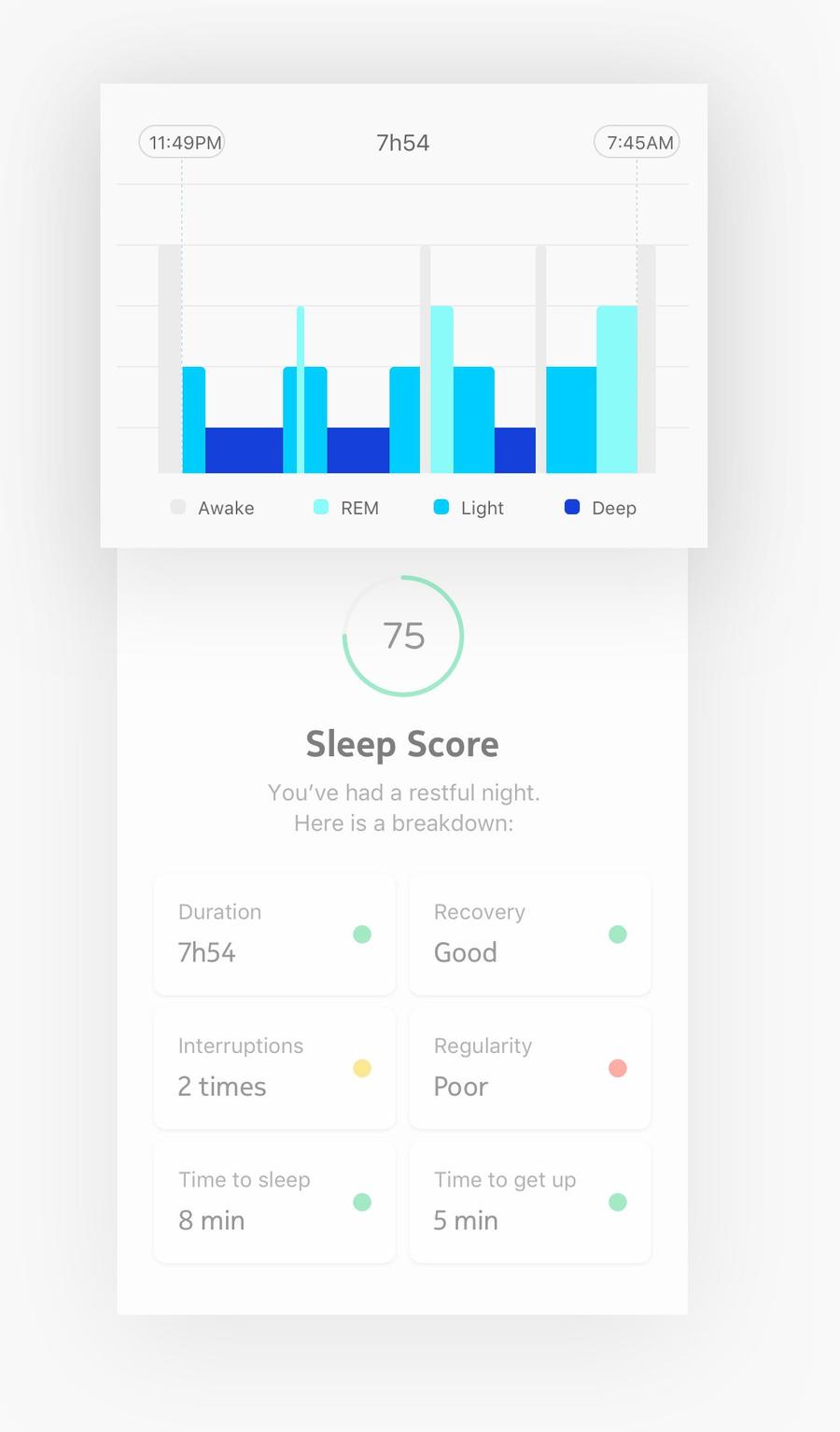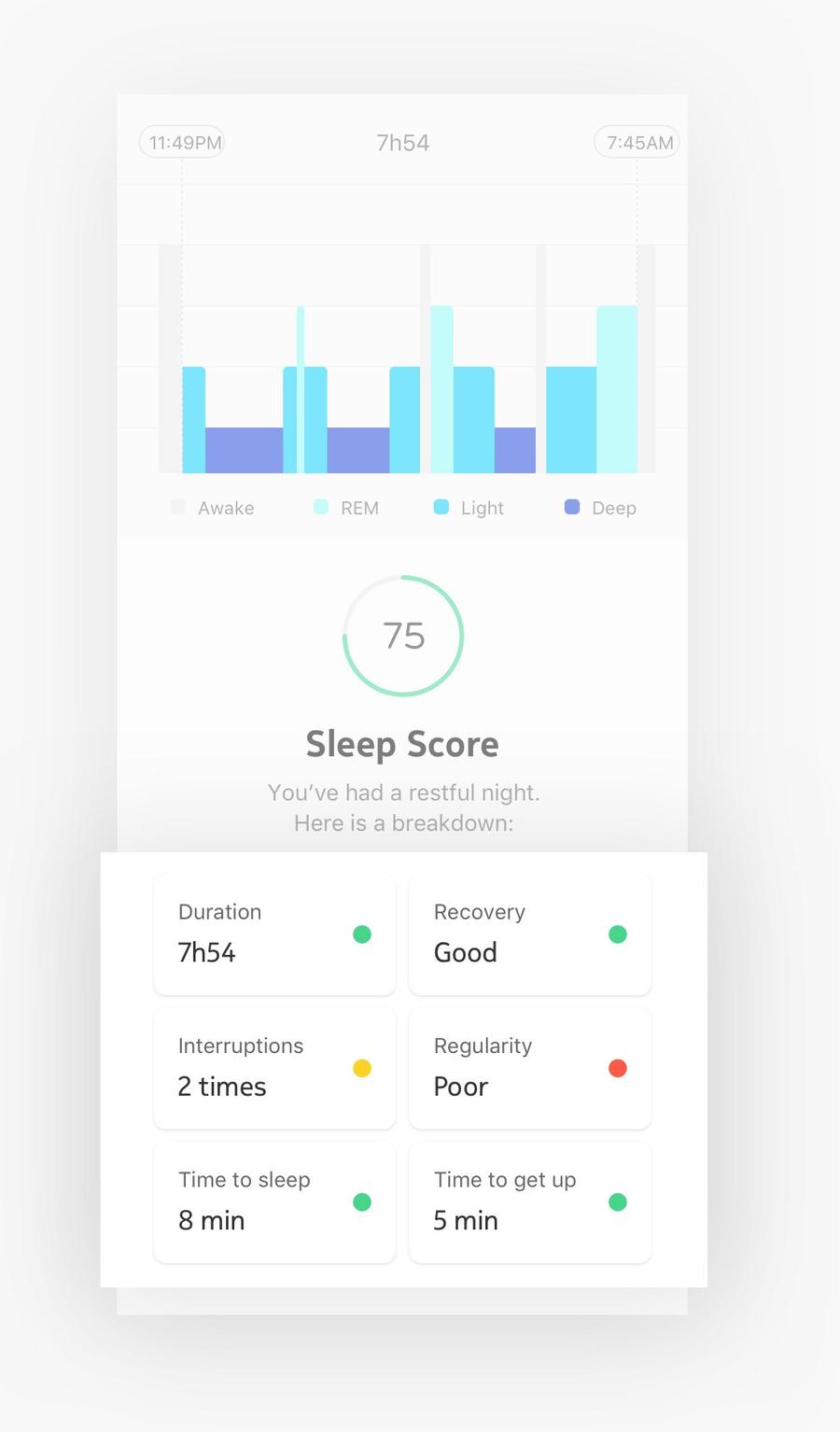 Detect breathing disturbances
呼吸の乱れを検知
新しい
Withings Sleep monitors the intensity of breathing disturbances, thanks to an algorithm that analyzes interruptions in breathing patterns that occur during the night. Get to know the intensity of these pauses to learn about the impact they have on your nights.
未来で目覚めたかの様な体験を
IFTTTと連携し、ベッドへの出入りをスイッチにすることでホームオートメーション機能を使用できます。寝るだけで自動で照明を切り替えたり、室温を変更する方法をご紹介します。
ただ寝るだけ
マットレスの下にSleepを設置し、一度セットアップするだけで準備は完了です。Wi-Fi経由で自動的に同期するので、毎日起床後にアプリでデータを見るだけで日々の睡眠内容を確認できます。
Sleep
スリープセンシング&ホームオートメーションパッド
Browse the latest user testimonials about Sleep.
Reviews
Finally, I can track my sleep whilst charging my smartwatch!
I don't know how it does it, but the sleep mat does appear to track my sleep well, uninhibited by people or pets who share the bed.
It's a pad under my mattress from Withings, it's cool!
Withings sleep app it's a pad that goes between my mattress and box spring. It's awesome.
One final positive is that I apparently only snored once in the last 2 weeks, which is likely to be accurate from what I already know about my silent sleeping.
It's the accuracy that gets Withings over the line - it tracks sleep really effectively and lets you know when you've not had a good night's sleep, so that you can try to rectify it.
Pocket Link
Pocket Link - The Best Sleep Tracker for 2020
Read more
Newsweek
Best Products of 2020 —This small, smart, sleep tracking pad is easily tucked between your mattress and box spring and is super simple to use.
Read more
Apparently that sleep is fairly high quality, too. Withings has a 'Sleep' rating that takes into account duration, regularity and interruptions, and most countries have seen an improvement of between two and three points along this scale.
Try a Withings sleep mat. I love my data and have bought them for friends and family with good results
Great but not flawless. I love my sleep tracker mats, we have two of them and they accurately pick up both our sleep habits. The sleep score is good and I can accurately correlate good recovery with good sleep. The only things holding me back from a 5-star review is a small bug that has the time-zone stuck on Pacific time - very annoying.
Very nice device, well made and operating. Health application combines excellently. Very happy about it overall. Good job Withings!
I bought this device because I was interested in what my sleep patterns were like.... I was amazed at how easy it was to set up basically and calibrated itself... I was amazed because I have a 14 inch mattress and this thing calibrated itself perfectly. It is incredibly accurate for sensing when I wake up when I go to sleep. It is just very interesting to me that I can track when I go to the rest room or answer the phone.... All this and be quite accurate through a 14 inch mattress. Like MAGIC!!! I use you scale and blood pressure cuff, all great product's... This device rounds out my health monitoring!! Thanks!!!
I was very surprised how well this device works. Has moved me from naps on the couch to naps on the bed. Amazing!
I love my Withings Sleep! Easy to set up, great app, SEAMLESS USE alongside the Withings scales (which I also highly recommend), no wearable, no batteries to worry about, effortless sleep tracking. Cannot recommend this enough if you're trying to monitor your sleep. Sleep scores are also great to motivate me to sleep better
My husband's been telling me for years that I snore, and I didn't believe him. This mat help track the snoring and how often and how long each night I do snore. Also shows the time of nights when I am restless or am interrupted. Crazy to be able to see how my sleep each night affects my mood and the day following. This has been really cool to see each day. But I didn't like having to admit my husband was right.
Knowing what went wrong and why you had a bad sleep experience is a powerful tool. Also it is an easiest way to solve issues. Now we have two devices to track our sleep. And I am satisfied that I have a full info about my rest
The key to changes is to measure the activity with a simple but complete tool. That is what the Sleep Tool is all about. Good in science, informative and easy to use.
I'm a big fan of this sleep tracker. It's very accurate, and I find myself checking it every day. I'm still waiting for the day where I score over a 90!
Stand alone device. No need to muss with phone to start the analysis. It is ready to detect someone on the mattress 24/7; so, it gets mid-day naps.The app is friendly and informative with a nice layout of the stats and ability to generate quarterly reports in pdf format on letter-sized paper.
Great accessory to Apple Watch to monitor sleep progress. Good integration with health data on iOS. Detects different amounts of sleep depth as opposed to just in sleep or in bed
追跡される指標
Sleep duration, sleep onset and time to wake
Sleep cycles: deep, light, REM phases
Continuous and average heart-rate
Snoring duration
Sleep Score
接続通信機能
インストールにはBluetooth 4.0が必要です。
Wi-Fi: Automatic Wi-Fi sync | 2.4 GHz b/g/n | WEP/WPA/WPA2
Sleep can be installed on a smartphone or a tablet, via the Health Mate app available on iOS (iOS 10 and higher) and Android (8.0 and higher).
パソコンからセットアップできません
端末
Length: 637mm (25")
Width: 190mm (7.5")
Thickness: 5mm (0.2")
Weight: 350 g (1.13 oz)
Pneumatic sensor: measures respiratory rate, heart beats via ballistocardiography and body movements across the mattress.
Sound sensor: identifies audio signals specific to snoring & cessation of breathing episodes.
Free and unlimited online data storage with a Withings account.
Local storage of data between syncs.
Power supply 5V 1A
USB power adapter included
あなたのニーズに合った商品を
見つけてください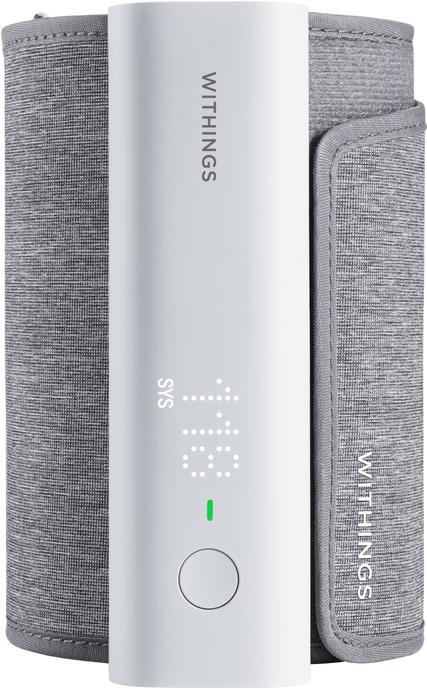 BPM Connect
使いやすく精密な機器で、お持ちのスマートフォンで心拍数と血圧をご自分で追跡できます。Health Mateの機能により、結果を医師と簡単に共有することができます。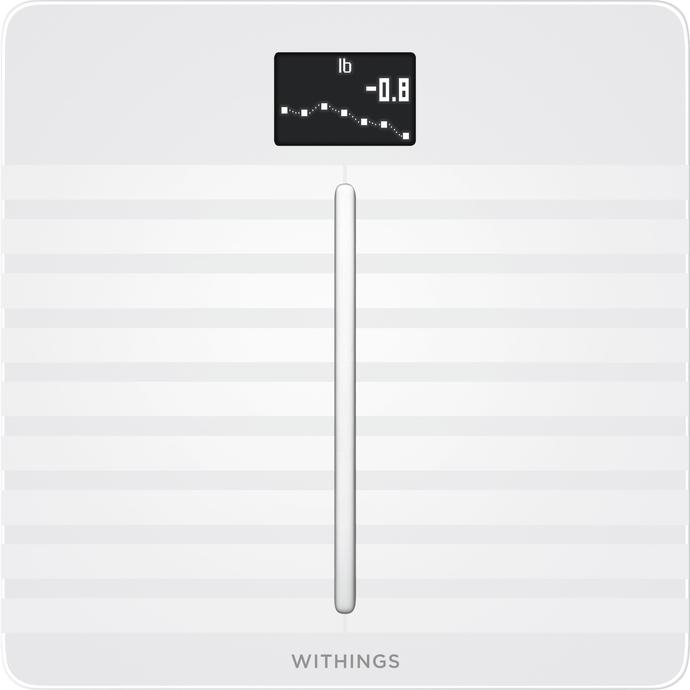 Body Cardio
全身組成と、心臓の健康指標の計測機能を搭載。Wi-Fiなどで常に計測データをHealth Mateアプリに同期する最上位スケールです。

Thermo
接触を必要とせず、高精度の体温をご提供し、最大8人のユーザー様を追跡するための専用アプリと自動的に同期する、革新的な温度計です。