Smart Scales
Meet our most advanced generation of smart scales.
Benefit from accurate personalized data to help guide your health journey.
Withings Precision Technology™
Cutting-edge technology, made for daily life.
We aim to shed light on the complexities of health—so you can see how your body is evolving, and make the best choices for you.
Multifrequency BIA. Body composition metrics, at the highest level of precision.
Accurate insights. Measurements to within 50g, thanks to additional sensors and patented Position ControlTM technology, that helps you center your weight on the scale using on-screen visual indicators.
Trustworthy tech. Guaranteed consistent measurements to within 50g via our patented technology.
Breakthrough metrics
Thanks to smart technology,
Withings offers you the chance to bring exclusive health metrics home.
Segmental Body Composition. Visualize fat and muscle mass distribution throughout your entire body.
6-Lead ECG & Vascular Age. Detect AFib and estimate the age of your arteries.
Nerve Health Score. Detect signs of peripheral autonomic neuropathies, often linked to diabetes*.
Make better health part of daily life
We've integrated our innovative technology
into a full range of elegant and durable Wi-Fi connected products. Plus, we're always working to improve and update our devices—so you can track your health long-term, without even thinking about it.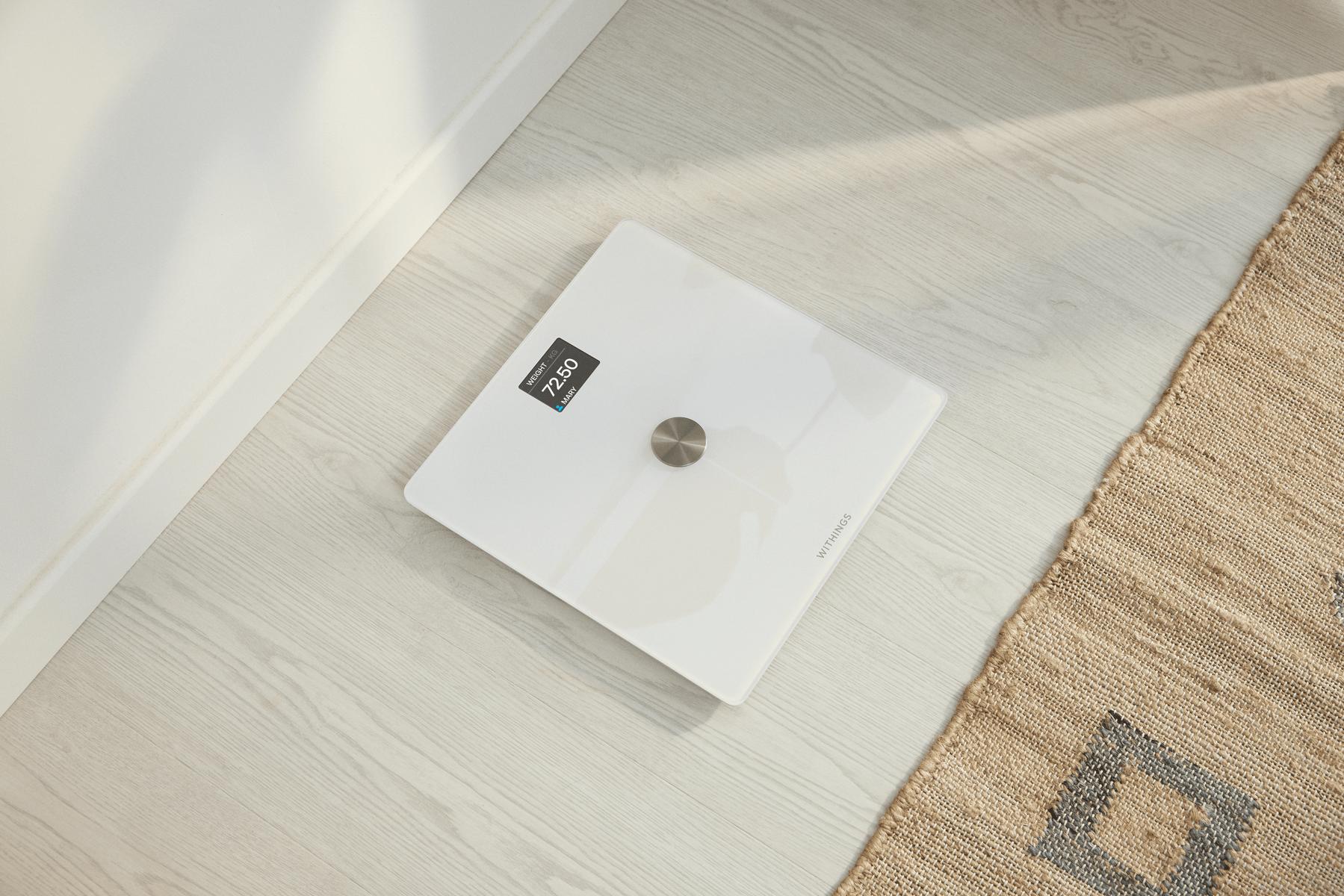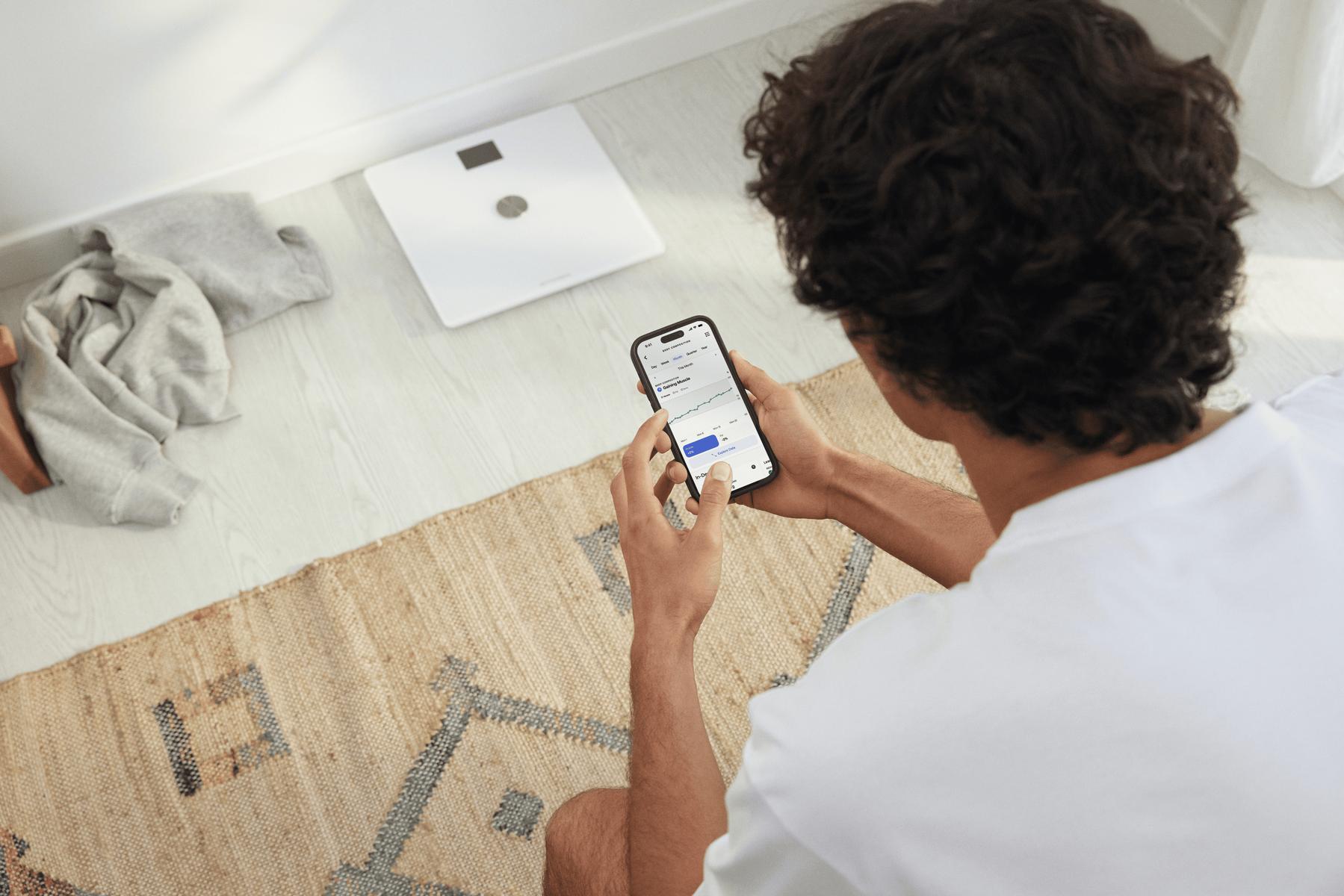 Always with you
See it all in the

free Withings app
Check your health metrics everyday in the Withings app, where you can securely view your trends, track your progress and browse a library of inspiring content—all in one place.
Discover Withings app
Innovative measurements

Get the most out of your health data

Withings has a complete ecosystem of devices that delivers comprehensive insights—to give you the most well-rounded view of your health. Plus, it's compatible with all your favorite apps.

Best-in-class privacy

Security guaranteed

Withings upholds the highest standards of privacy, including GDPR compliance and additional security measures to protect all of your health data.

Application

Withings+

Withings+ takes health tracking to the next level—with in-depth analysis of your measurements, personalized guidance based on your data, and a variety of programs to help you build better habits.

Connects to all your favorite apps

Withings products can easily be connected to Apple Watch, Apple Health, Google Fit, or other health and fitness apps.
Features for
everyone
Share your Withings scale with multiple users, no matter where they are on their health journey.
Detect up to 8 users
Automatically recognizes and assigns measurements for multiple users
Baby Mode
Get an accurate weight for the smallest member of your family, just by holding them in your arms
Athlete Mode
Adapts measurement algorithms to your unique body composition
Pregnancy Mode
Opt in for helpful tips and easily track your progress throughout your entire pregnancy
Eyes-Closed Mode
Hide the numbers from your scale screen at weigh-ins, and see motivational messages instead
Why Withings
Proven Innovation
We invented the original smart scale—and have only gotten better since then. We're known for our advanced technology, seamless user experience, and ever-expanding offering of actionable health insights.
Which Withings scale is right for you?
Withings
Precision Technology™
Segmental Body Composition
Via BIA multifrequency technology
Fat & muscle mass distribution in 5 body segments
Atrial Fibrillation detection
Electrodermal Activity Score
Battery life up to 1 year
3,2" High-res color screen
Withings
Precision Technology™
Advanced Body Composition
Via BIA multifrequency technology
Electrodermal Activity Score
Battery life up to 15 months
2,8" High-res color screen
Withings
Precision Technology™
Advanced Body Composition
Via BIA multifrequency technology
Battery life up to 15 months
2,8" High-res color screen
Battery life up to 15 months
2,4" black & white screen
Body Composition
Via BIA technology
Battery life up to 1 year
2,4" black & white screen
Body Composition
Via BIA technology
Battery life up to 15 months
2,4" black & white screen
1Via ECG Monitor available on Body Scan
Advanced heart & body composition smart scales by Withings.
Award-winning Withings smart scales are #1 worldwide. If you're looking to buy the best bathroom scale, look no further than Withings. Withings invented the smart scale, and nearly 15 years later we continue to innovate. Withings is known globally for award-winning design and for durable, innovative, easy-to-use digital scales that help people reach their healthy weight and body composition goals. All Withings scales feature Wi-Fi connectivity, but if you don't have Wi-Fi, all offer Bluetooth as a fallback option.* From weight loss and management to helping people achieve their lean body mass target, Withings bathroom scales provide advanced features including body mass index (BMI), full body composition (body fat percentage, body water, bone mass, muscle mass), and heart rate. Data from every weigh-in automatically syncs to your smartphone via the free Withings app, available for iOS and Android. Also equipped with position control, Withings Wi-Fi scales use bioelectrical impedance analysis (BIA) or multi-frequency BIA for the most accurate scale technology to estimate your fat-free mass and full body composition. Some Withings scales can assess visceral fat, and Withings Body Scan also offers segmental body composition via the handle, to assess different body parts individually. Some Withings scales can even assess the function of the sweat glands in your feet when you step on, to help you understand another part of your health. Special modes on Withings smart scales can also help you with healthy weight gain and tracking during pregnancy. There's also a Baby Mode, to help after delivery: with Baby Mode, the scale can help any caretaker easily track the baby's weight just by holding them in their arms. There's even a mode for Athletes to better track body composition, and a mode for people who want to track their weight, but don't want to see their number on the scale when they step on: it's called Eyes Closed Mode. Withings scales also provide life-friendly features. Thanks to Wi-Fi, you can get a daily local weather report every time you step on it, plus the previous day's step count and even local air quality results. The newest model scales, Body Smart, Body Comp, and Body Scan, now all offer high-resolution color screens. With many Withings scales you can go beyond weight loss management and take control of your heart health with heart rate information anytime you weigh in. Body Cardio was the first, and now Body Comp and Body Scan also provide a Vascular Age metric to help you know the health of your arteries. Depending on your region, you might also have Pulse Wave Velocity metrics, which is what Vascular Age is based on. Body Scan is another Withings scale and also provides a 6-lead ECG during weigh-in via the handle. In the highly-rated Withings app, smart scale users can set goals, find motivation, join programs, and more while enjoying unlimited storage of their health metrics. The Withings app also allows wireless scale users to connect to hundreds of partner apps including Apple Health, Google Fit, Weight Watchers, LoseIt, and Runkeeper to get the most out of your training and help you reach your goals. Withings+ also provides a way for Withings app users to go further with their data, via an optional paid subscription to access missions, videos, and a vast library of content to get the most out of your training and help you reach your goals. Note: From June 2017 to September 2018 Withings smart scales were sold under the Nokia brand. *Some Withings scales offer a cellular connection when offered through Withings Health Solutions.