Better way to take temperature
体温を測る、よりカンタンで優れた方法です。
Thermoは従来のやり方を一変させる機器です。今や、高速かつシンプルで、接触する必要のないジェスチャーが可能な限り最も正確な体温を読み取り、専用アプリとの自動同期により体温の測定値を追跡することができ、リマインダーを取得し、スマートフォンで即座に関連症状/薬を入力することができます。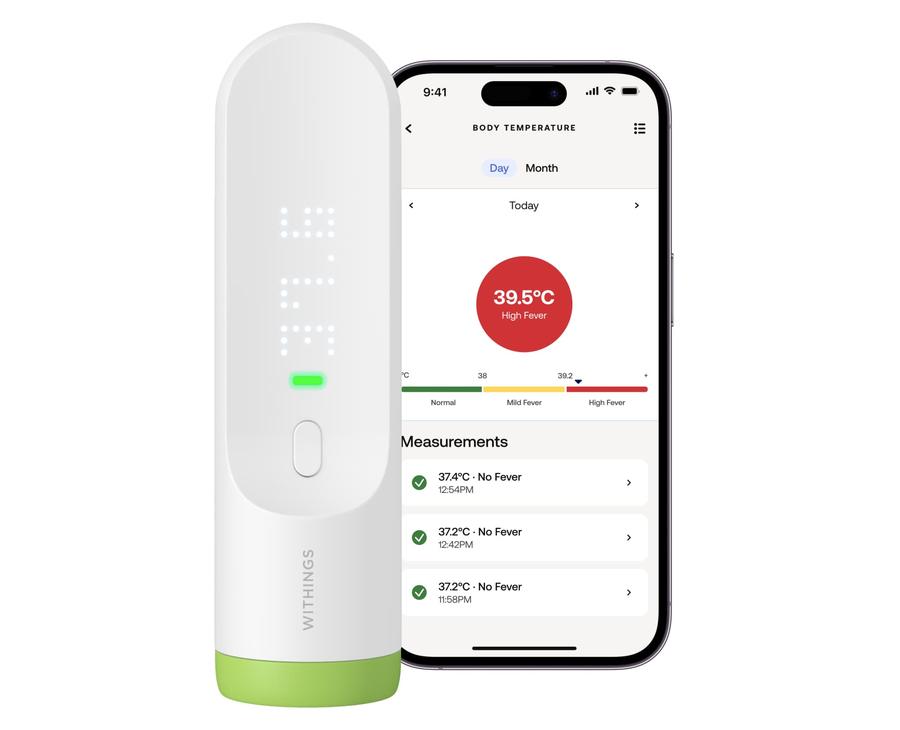 Highly accurate
高精度
Thermoは、側頭動脈を循環する血液は体の中心から来ているため、温度変化を検出する最良の場所と考えられている側頭動脈から温度を測定します。
16個の赤外線センサーが4000回以上の測定を行います。これは革新的な進歩であり、当社がHotSpot Sensorテクノロジーと呼ぶものです。
No contact with skin
No contact with skin required
Enjoy a contactless scan up to 1 cm from the forehead. Unlike other thermometers, Thermo does not need to come into contact with any body fluids, such as saliva, perspiration, or earwax. It is the most hygienic way to take anyone's temperature, as Thermo does not need to be cleaned between each measurement.
Instant feedback
インスタントフィードバック
測定値は、色分けされたLEDインジケーターとともに端末で明るくなって表示され、ユーザー様の年齢に基づいて体温が正常であるか、上昇したか、高いかを伝えます。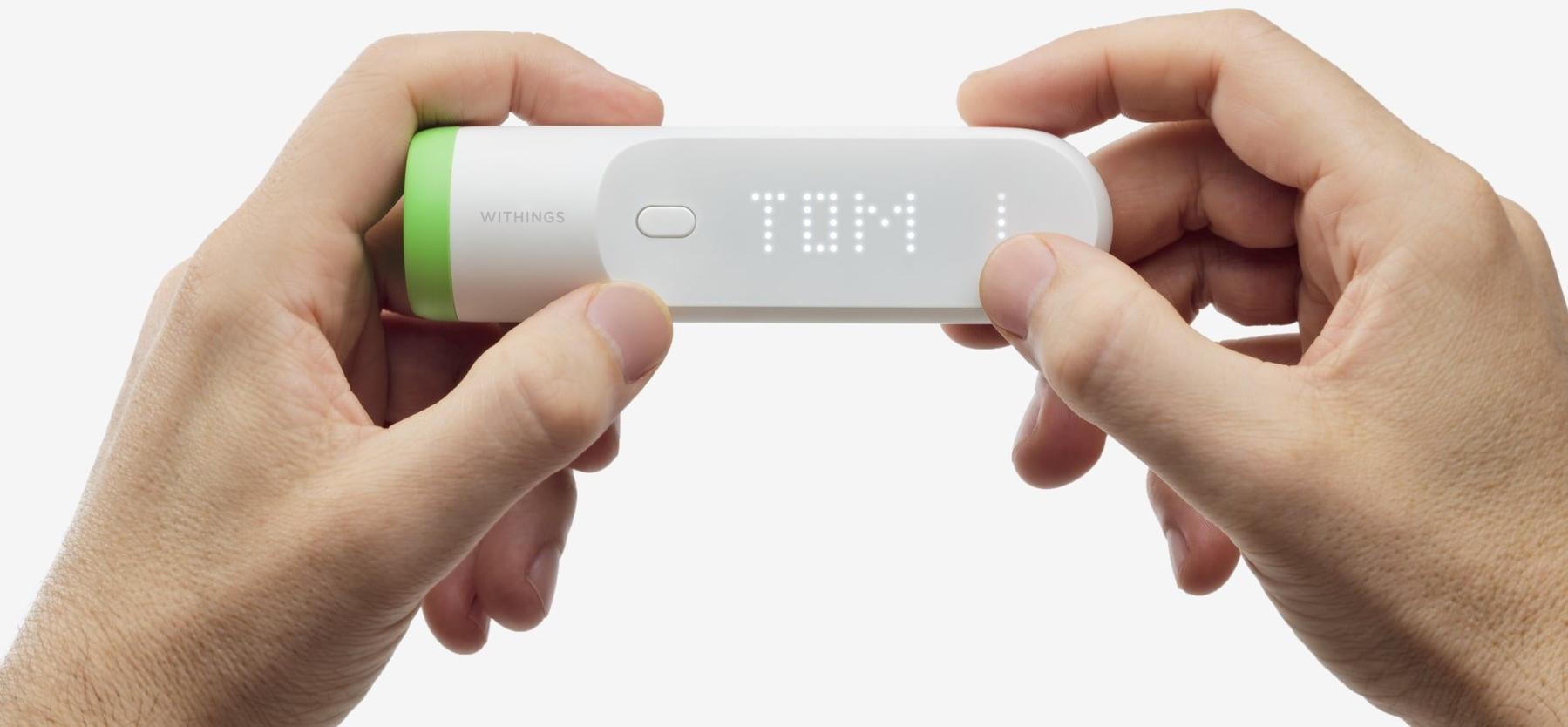 Comprehensive Health Journal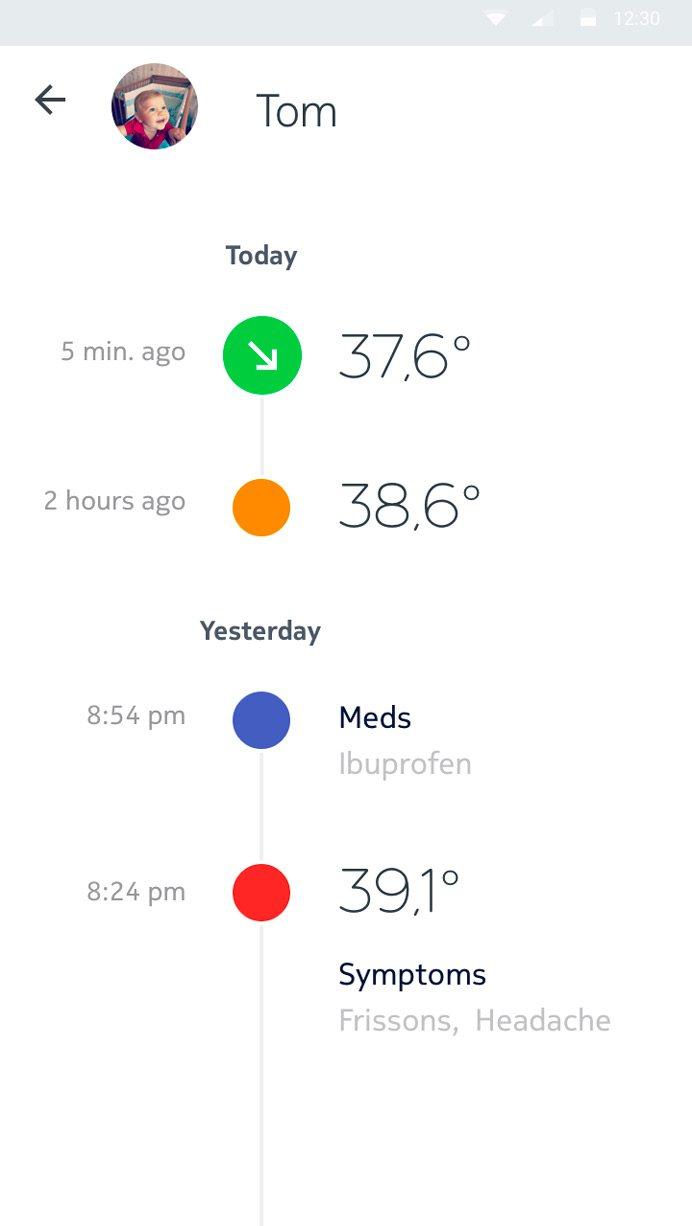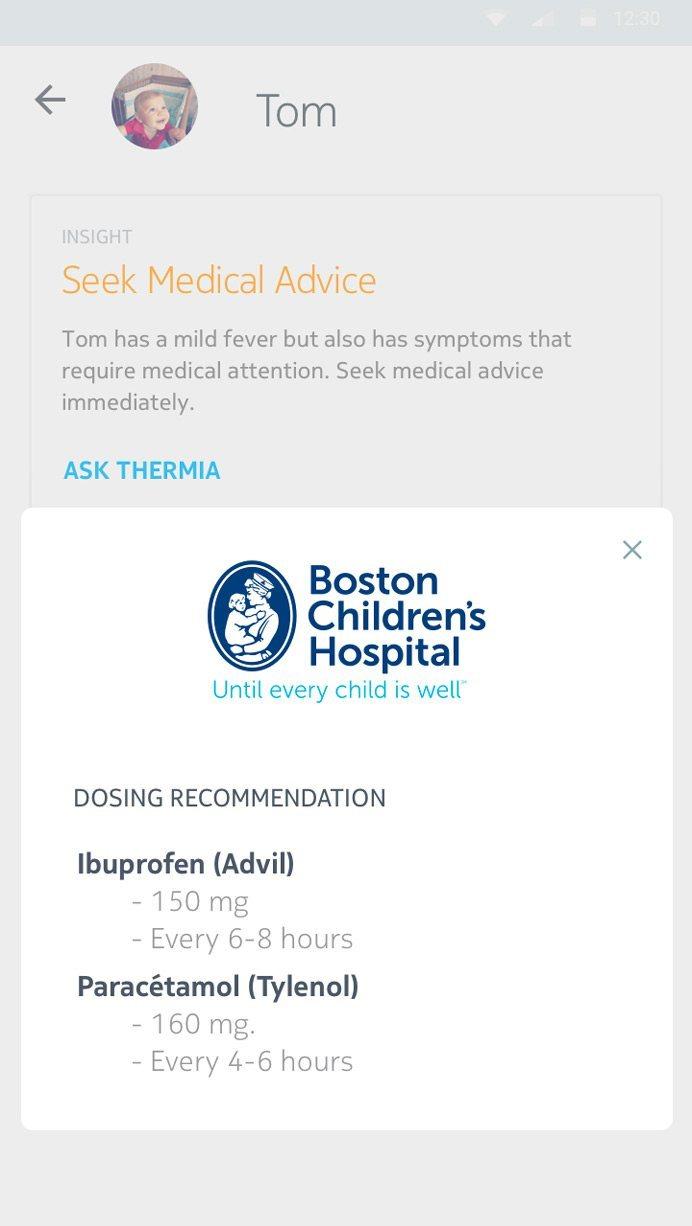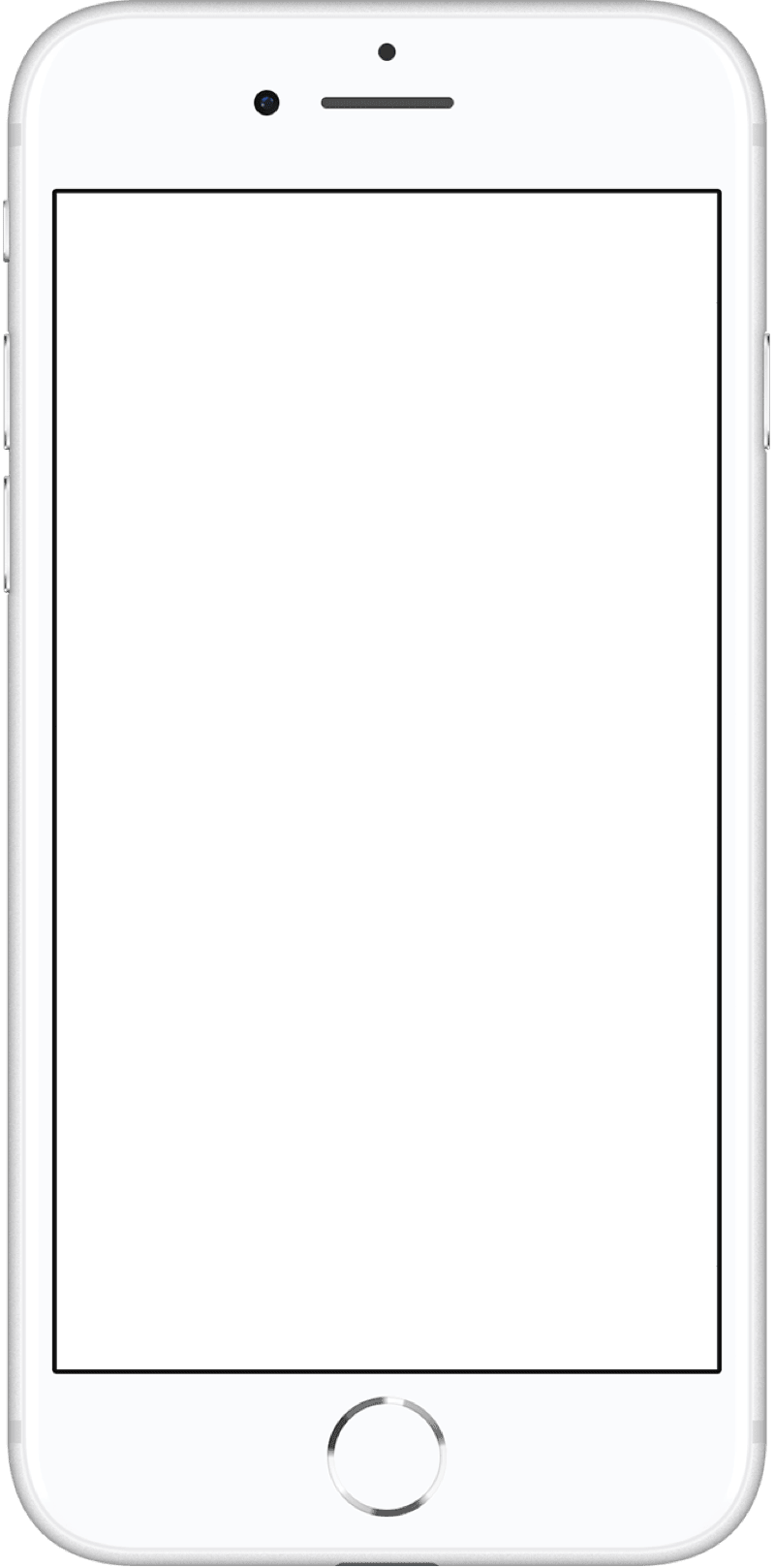 総合ヘルスジャーナル
体温と症状を追跡することに加えて、任意のユーザープロファイルにコメント、医薬品、さらに写真を入力することができます。これは、治療が効果的かどうかを確認し、完全な病歴を医師と共有するのに役立ちます。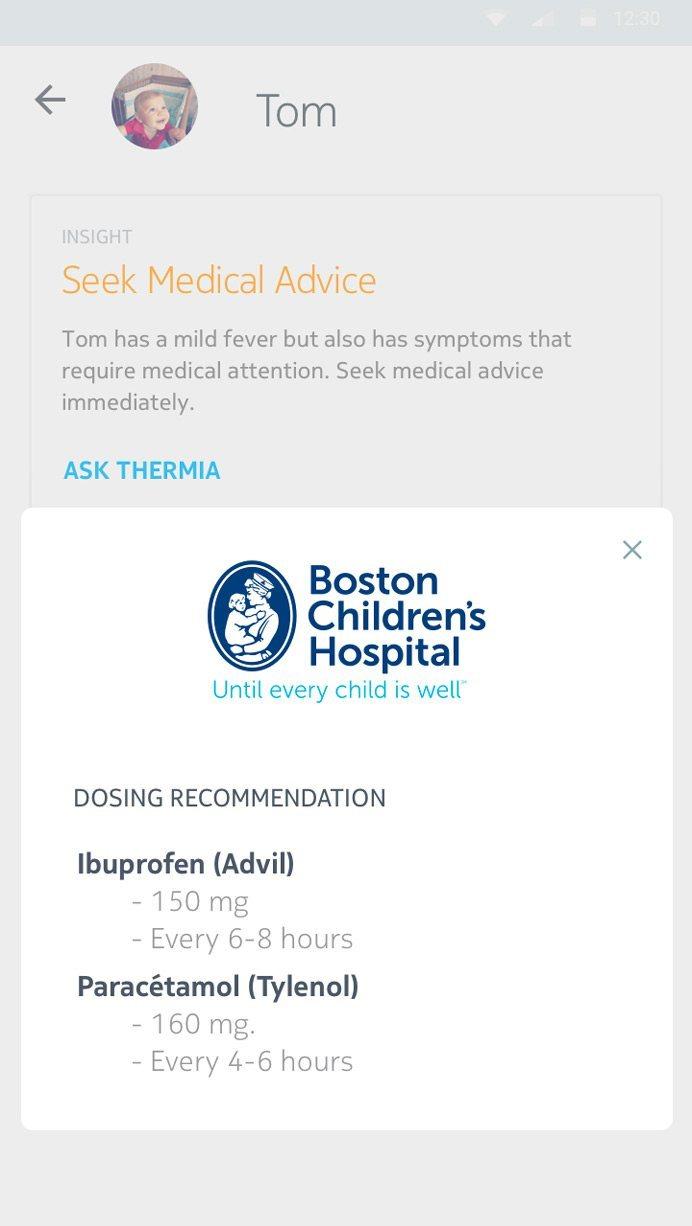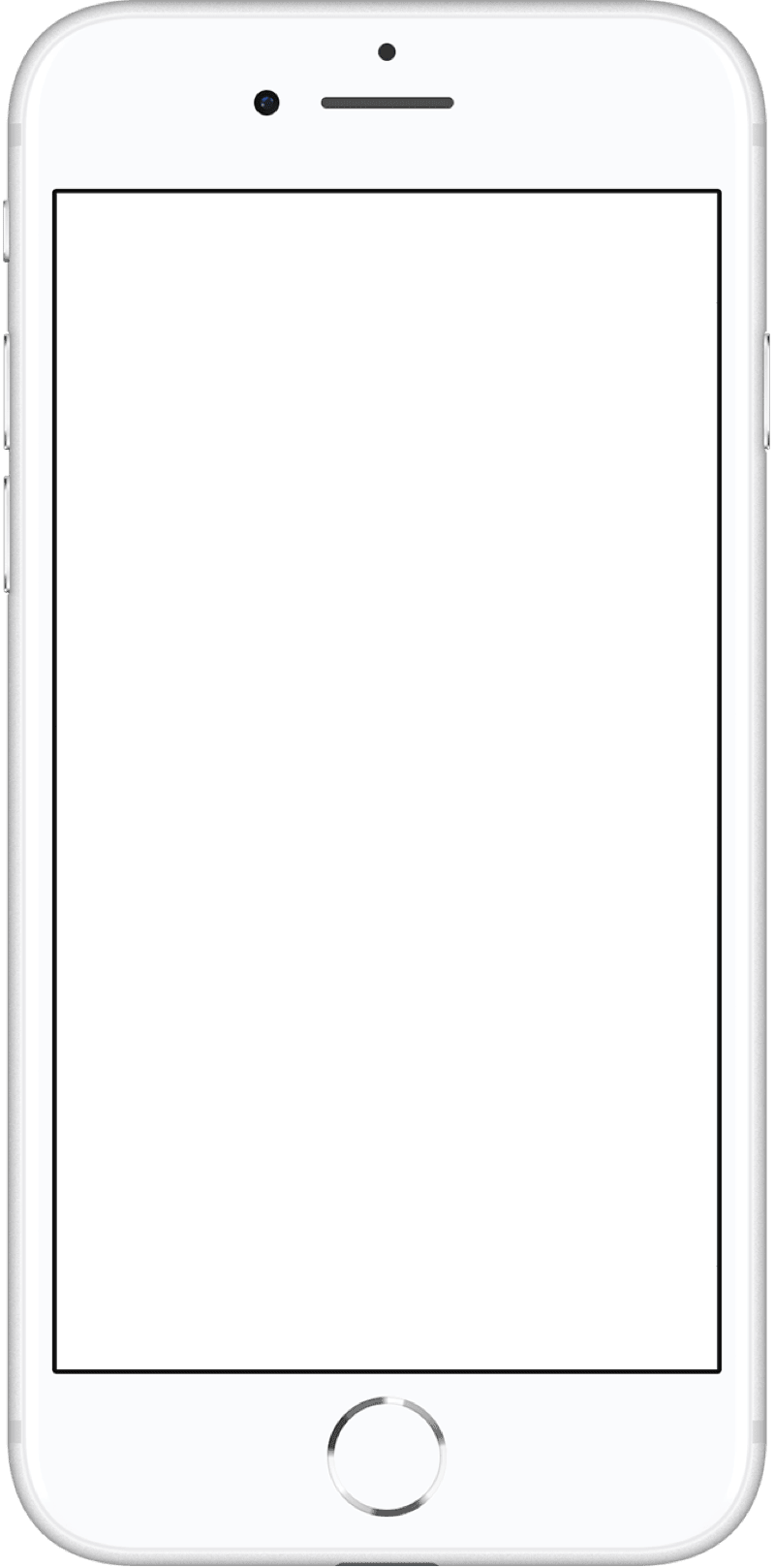 行動を起こすべき時を知ります
各測定値はお持ちのスマートフォンと自動同期します。年齢、発熱歴、症状に基づいて、Thermoアプリは高度な健康アドバイスを提供いたします。また、ボストン小児病院(Boston Children's Hospital)ではThermia™、つまり、適切な投薬や投薬量に関する教育情報を提供しています。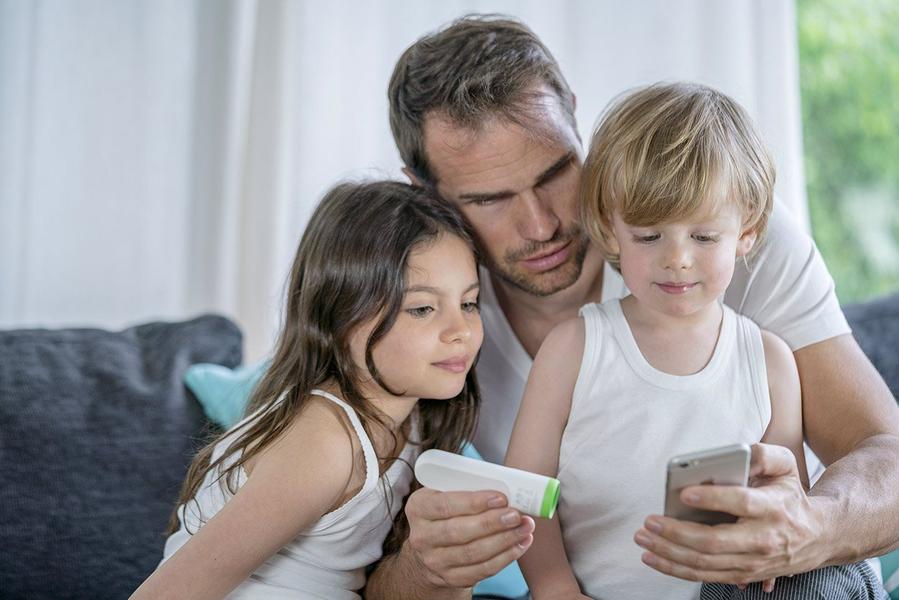 常に快適
従来の方法とは異なり、服を脱がせる必要はなく、赤ちゃんは何も感じません。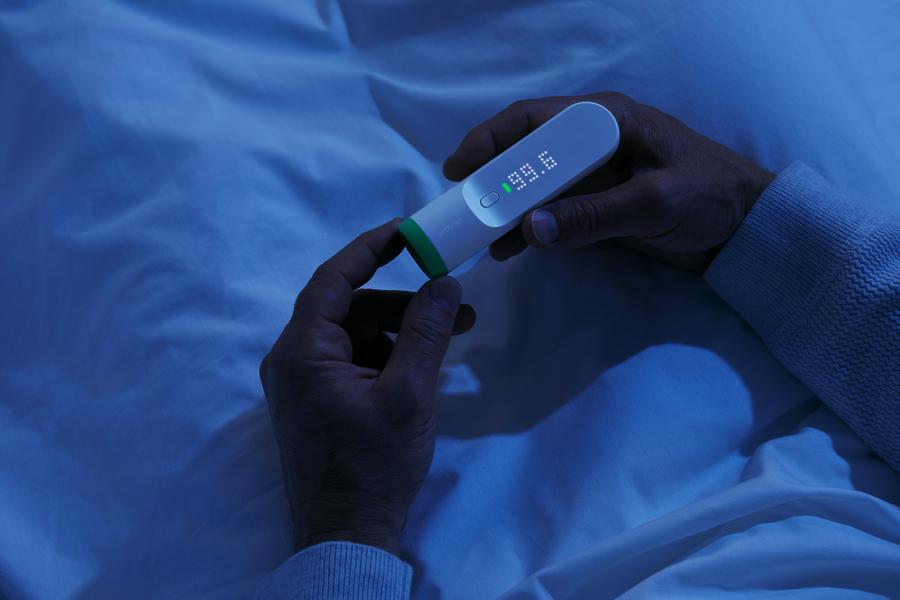 夜に読める
ライトオフ測定により、熱を監視しながらお子様は眠ることができます。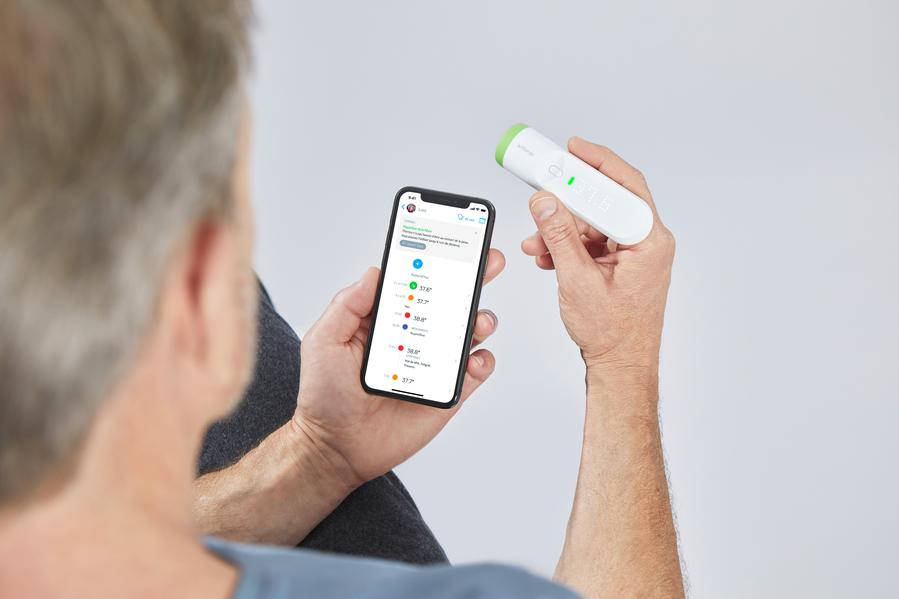 自己測定
カンタンに体温を測定し、測定が完了すると2回振動します。
接続通信機能
Bluetooth Smart Ready
Wi-Fi b/g/n 2.4 Ghz (WEP, WPA, WPA2-personal encryptions)
Thermo can be installed on a smartphone or a tablet, via the Health Mate app available on iOS (iOS 10 and higher) and Android (6.0 and higher).
Cannot be set up from a computer
端末
20x5 LEDs matrix display
Button and touch sensitive slider
Length: 116 mm (4.57 in.)
Diameter: 33.2 mm (1.31 in.)
Weight: 75g (0.165 lbs), including batteries weight
Temperature: 10°C - 40°C (50°F - 104°F)
Humidity: Between 15% and 95%
Temperature: -25°C to +55°C (-13°F to 131°F)
Humidity: Between 15% and 95%
Metrics tracked
Clinical accuracy: ±0.2°C (±0.4°F) | Display of rectal equivalent temperature
Temperature range: 35°C - 43.2°C (95°F - 109.8°F)
Resolution: 0.1°C / 0.1°F