Steel HR
Clinically tested
生活に溶け込み、運動量、睡眠 & 心拍を見守る
#1
Worldwide
Withingsが世界で初めて
ハイブリッド・スマートウォッチを作りました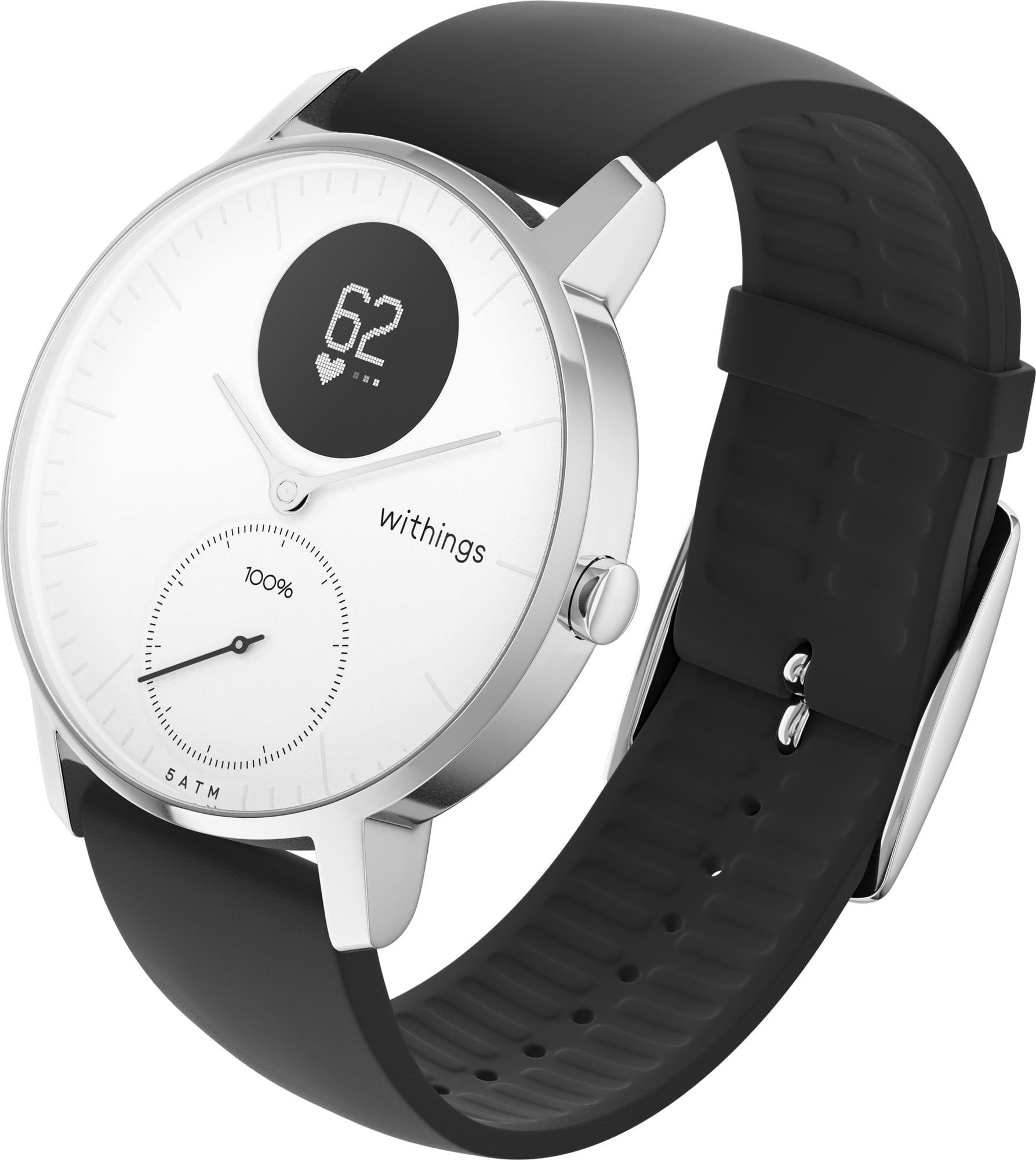 Watch your health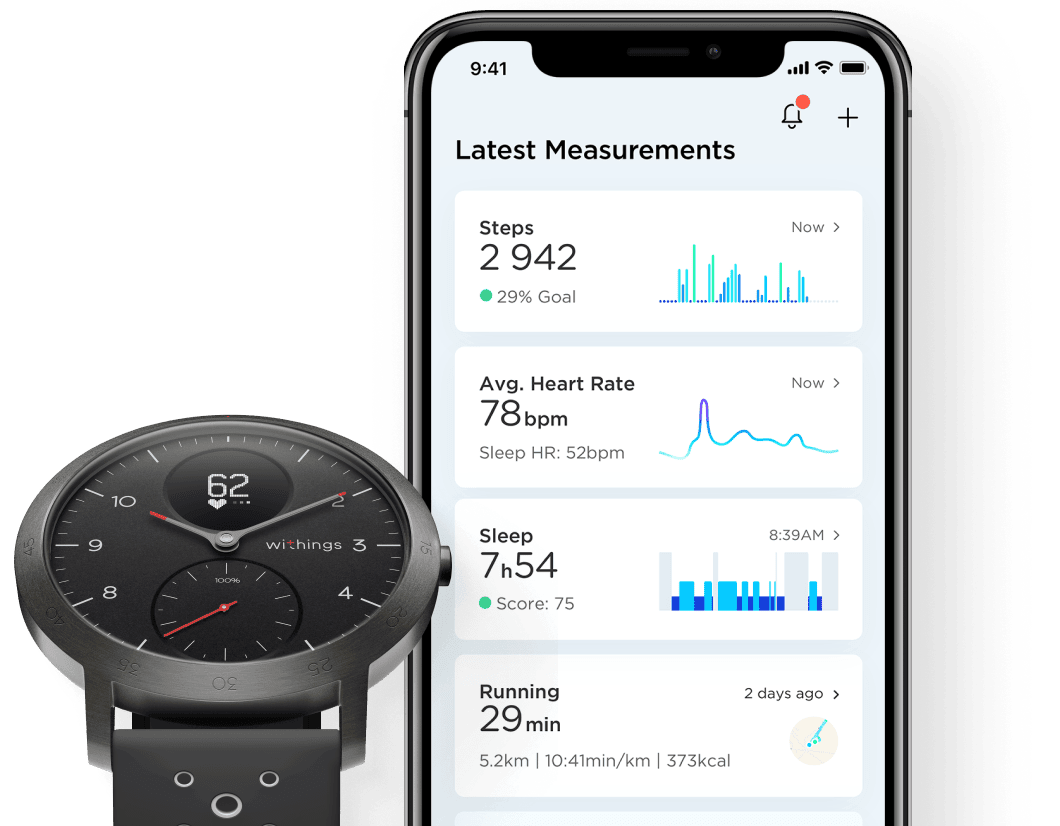 Watch your health
Keep on top of your personal goals day and night with the hybrid smartwatch that delivers a detailed overview right to the companion app.
心拍数追跡
活動量をトラッキング
Daily heart rate
心拍を24時間記録
Steel HRには25日間連続稼働するバッテリーがあるため夜間に充電する必要がなく、就寝中の心拍も記録できます。また、ワークアウトモードを使用すると途切れることなく心拍を記録することもできます。
睡眠を知ることの大切さ
In most cases, a lower heart rate is the result of better cardiovascular fitness. Track the evolution of your heart rate over time and use it to improve overall health.
どのように測定しているのか
Steel HR collects data on heart rate using photoplethysmography (PPG). Unlike other trackers, the HR sensor is protected by a scratch-proof sapphire glass to ensure accurate measurements over the long term. In order to optimize energy consumption, Steel HR will monitor heart rate at a varying frequency, according to your real-time activity.
Dismiss -
Daily activity tracking
運動量を自動的に記録
Steel HRは自動で歩数を記録。また、ウォーキング、ランニング、サイクリング、水泳などの運動と睡眠を自動で検知して記録します。防水は最大50mです。
Total Calories
2,113 kcal
詳細
睡眠を知ることの大切さ
Setting a step goal is generally associated with an increase of physical activity which can help you hit your target weight, strengthen your heart, and get a better night's sleep.
どのように測定しているのか
To guarantee the viability of the data in all situations, our proprietary step tracking algorithm has been calibrated using a large set of diverse people moving on various terrains to account for different walking styles.
Dismiss -
睡眠を記録
睡眠を検知し記録
Steel HRを着けて就寝すると、睡眠の深さ、サイクル、時間などを自動で記録し睡眠の質をスコアで表示してくれます。またスマート・アラームには睡眠のサイクルに合わせて一番起きやすいタイミングでバイブレーション・アラームを起動してくれる機能もあります。
睡眠を知ることの大切さ
睡眠を記録し続けることで、何を行えば睡眠の質が高くなるかを知ることができます。研究結果によると睡眠の質が高い人は、減量効果や血圧の低下がみられます。さらに心臓血管に関する病気に掛かるリスクが下がっていることも判明しています。
どのように測定しているのか
加速度計と心拍のデータを合わせることで就寝状態の分析を行います。Withingsが特許を取得しているAIは既にドイツやフランスの病院で睡眠の研究にも使用されており、今後世界中で睡眠分析のスタンダードになると言われています。
睡眠スコア
睡眠時間、眠りの深さ、規則性、夜起きた回数などに基づき算出される睡眠スコアで、夜の間にどれくらい休息が取れているかを毎日確認できます。
詳細なレポート
Health Mateアプリで、浅い睡眠と深い睡眠のサイクル、夜間の心拍数をご確認いただけます。
スマート・アラーム機能
睡眠サイクル上の最適なポイントでバイブレーションアラームを起動、穏やかに目覚めることができます。
Sport & Fitness
運動をモニタリング
時計を操作することで簡単に運動モードを起動させ、30以上のスポーツを選択することができます。このモードではタイマー、心拍の継続記録、GPS接続機能がオンになります。運動終了後にHealth Mateアプリで運動時間、距離、トレーニングを行ったルートなどが確認できます。
どのように測定しているのか
Steel HRには自動で運動を検知する機能があるため記録忘れがありません。特許取得の人工知能があなたの運動の特徴を学習、使用するたびに運動検知機能の精度が上がります。
badminton
baseball
basketball
bike
bmx
bodyboard
boxing
climbing
custom
dance
elliptical
fencing
fitness
football
frisbee
golf
handball
hike
hiphop
hockey
horseriding
icehockey
iceskate
kitesurf
martialarts
muaythai
pilates
pingpong
rowing
rugby
run
ski
sleep
snowboard
soccer
squash
surfing
swim
tennis
volley
walk
waterpolo
weightlifting
windsurf
wrestling
yoga
zumba
GPS接続機能
ランニングなど移動しながら運動を行う場合は、Steel HRがスマートフォンのGPS機能にアクセスしルートの記録を行います。
Easily connect to your favorite partner apps, including Strava, to automatically send your workout data into their app.
詳細
フィットネス・レベル評価
Steel HR Sport can assess your Fitness Level when you run or walk based on the maximal oxygen consumption (VO2 Max) estimation.
詳細
A key indicator of fitness
VO2 max is defined as the maximum amount of oxygen an individual consumes over one minute during intense physical effort. The more oxygen consumed, the harder muscles can work, and therefore the higher the VO2 max level.
どのように測定しているのか
The algorithm to calculate VO2 max has been developed by Firstbeat, a company which is the reference on the market. It is proven to be 95% accurate compared to laboratory measurements.
Dismiss -
Battery Life
スマートフォン通知
驚異的なバッテリー持ち
驚異的なバッテリー持ち
最長25日間持続する充電式バッテリーを搭載。充電頻度は少なく、より長い時間歩数や心拍、運動量を記録することができます。
スマートフォン通知
通知機能
スマートフォンに届いた通知を時計の文字盤にあるディスプレイで確認できます。スマートフォンにインストールされているアプリの中から通知を受け取りたいものを選択することができます。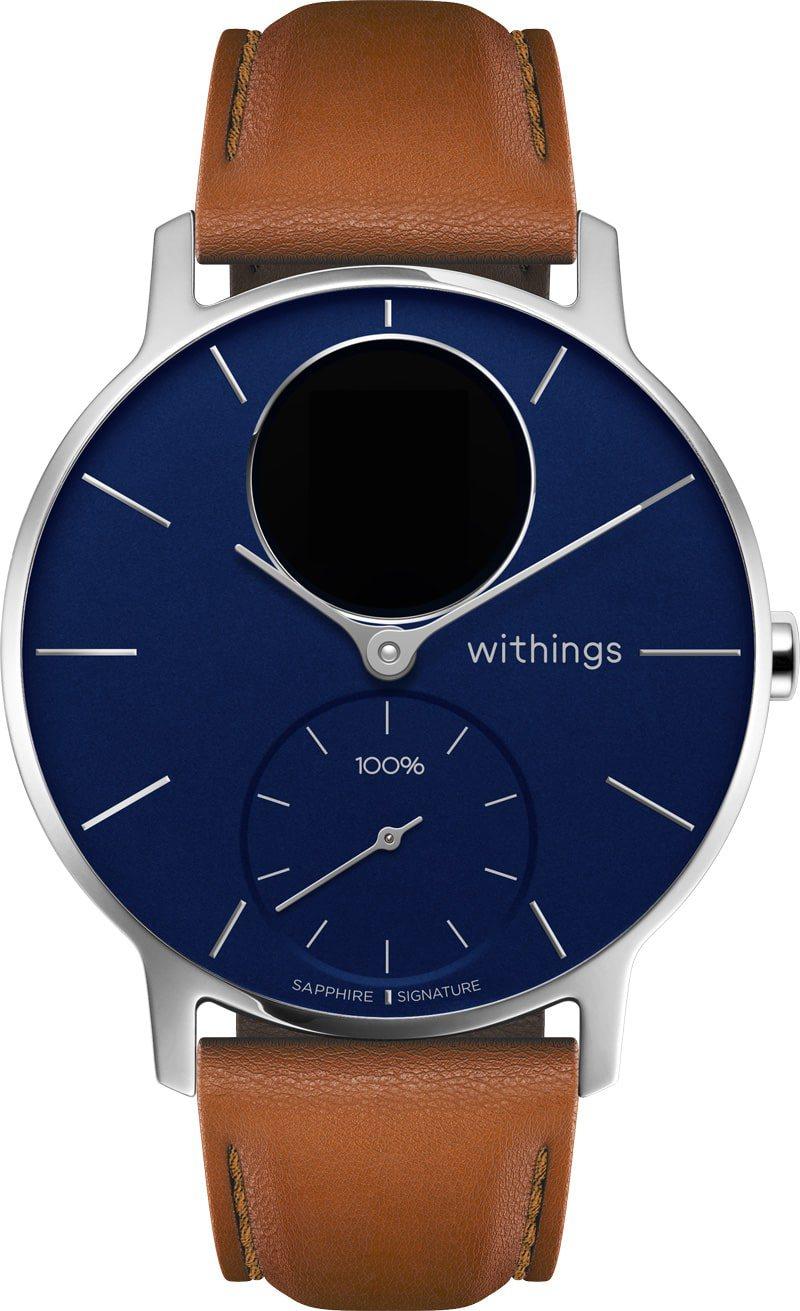 簡単に交換できるバンド
工具なしで簡単にバンドが交換できます。気分に合わせてバンドをチョイス。
無料データストレージ
記録されるデータの保存量に制限はなく、無料でお使いいただけます。
Appleヘルスケアに対応
Appleヘルスケアや100以上のパートナーアプリのデータを受け取ったり送ったりすることができます。
Models & Collections
斬新なデザイン
Steel HRには様々なサイズやカラーが用意されています。ご自分に一番合うデザインを見つけてみてください。
Sport

Extra Metrics
+フィットネス・レベル評価機能
Steel HR
心拍数 & アクティビティ・モニター
追跡される指標
Heart rate: Beats per minute
Steps: Based on user's motion
Distance : Based on the user's profile for high precision
Calories: Health Mate app widget displays active & metabolic calories, as well as the total caloric expenditure
Running: Automatically detected
In-app daily recap of duration and distance
Swimming: Automatically detected | Duration and calories
Sleep: Time it takes to fall asleep | Duration | Sleep cycles (light and deep sleep) | Sleep interruptions
Fitness Level assessment (Steel HR Sport only): Via VO2 Max estimation
接続通信機能
Bluetooth Low Energy - to sync with Health Mate
Bluetooth connection with location settings permission must be enabled to use the Connected GPS feature
Steel HR can be installed on a smartphone or a tablet, via the Health Mate app available on iOS (iOS 10 and higher) and Android (6.0 and higher).
パソコンからセットアップできません
端末
36mm model: 36.3mm diameter (1.4''), 13mm thickness (0.51''), 18mm wristband width (0.71''), 39g (watch only)
40mm model: 39.5mm diameter (1.6''), 13mm thickness (0.51''), 20mm wristband width (0.79''), 49g (watch only)
Stainless steel case featuring chrome indexes and a soft silicone wristband.
Water resistant up to 165 feet deep (50 m, 5 ATM)
Operating temperature: -10°C to 45°C (14°F to 113°)
Storage temperature: -20°C to 85°C (4°F to 185°)
あらかじめ設定した時間に目を覚ますためのサイレントバイブレーション。
Heart rate infrared sensor
Day & Night motion sensor
High precision MEMS 3-axis accelerometer
Low power consumption
Up to 25 days in normal use
Up to 5 days in workout mode
+ 20 additional days in power reserve mode (time and activity tracking only)