Sleep
Sleep Tracking Mat
Know your nights.
Master your days.
Withings Sleep offers sleep cycles analysis (deep, light and REM), heart rate tracking and snore detection. Easy one-time setup and automatic sync to the Health Mate app via Wi-Fi. Also features IFTTT integration for scenarios such as dimming lights when you go to bed, or turning up your thermostat when you get up.
Experience advanced sleep tracking
Sleep provides an in-depth look at your nights by monitoring sleep cycles, tracking heart rate and detecting snoring.
Learn what matters
Every day, wake to your sleep score in the Health Mate app, and learn about the parameters that impact your sleep quality including sleep duration, sleep depth, interruptions, your sleep schedule, plus the time it takes to fall asleep and wake up.
Learn more about Sleep Score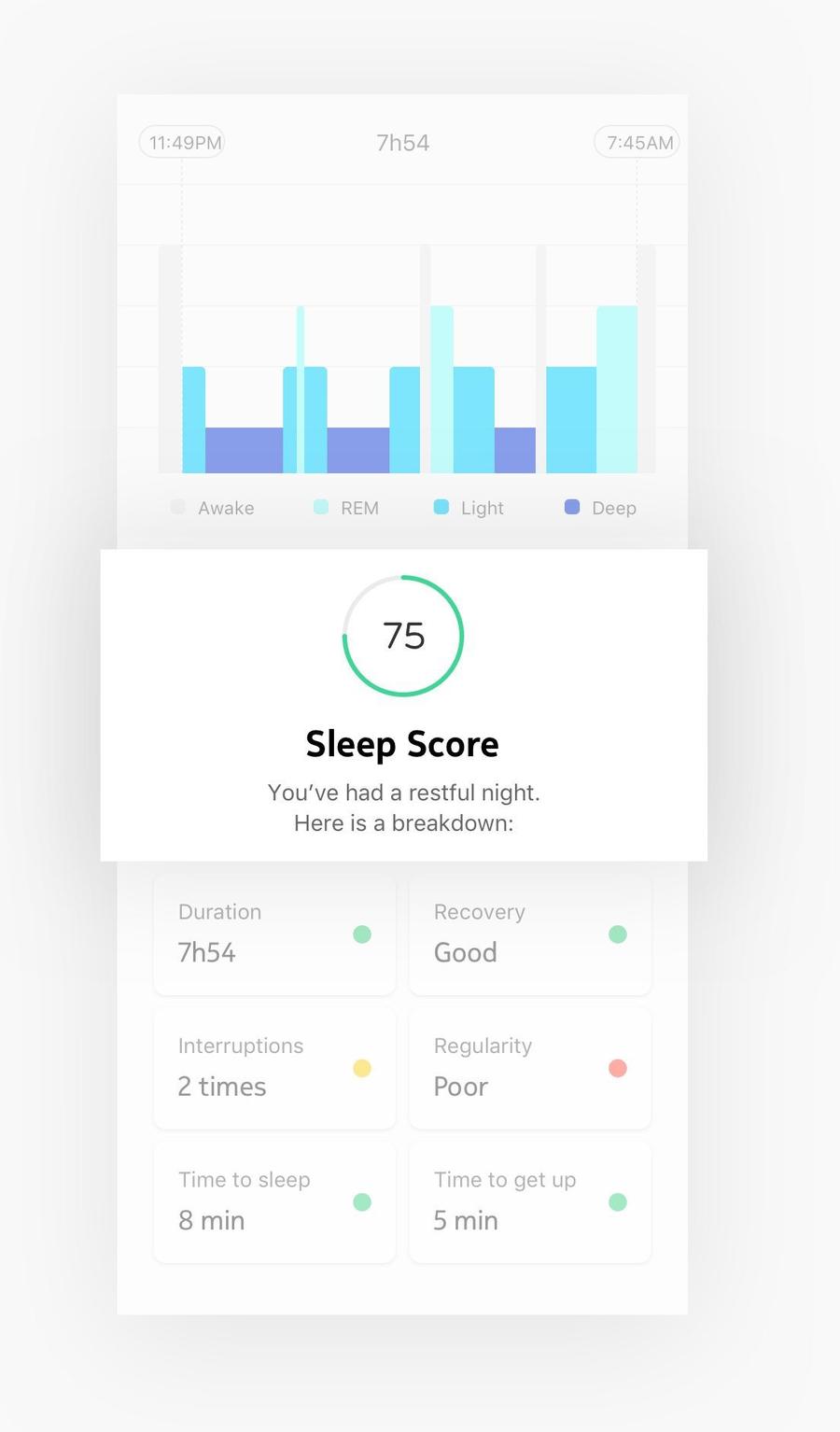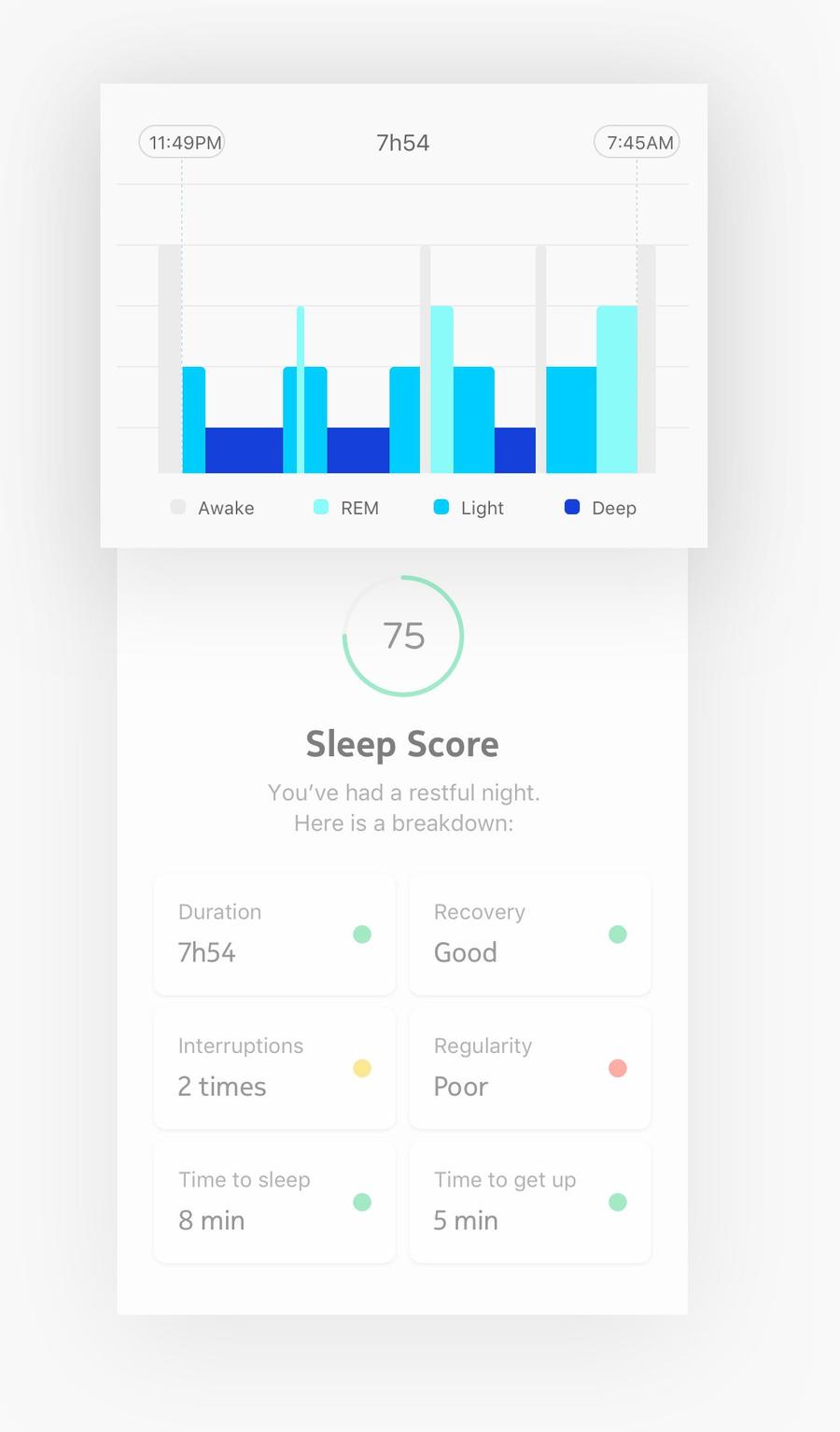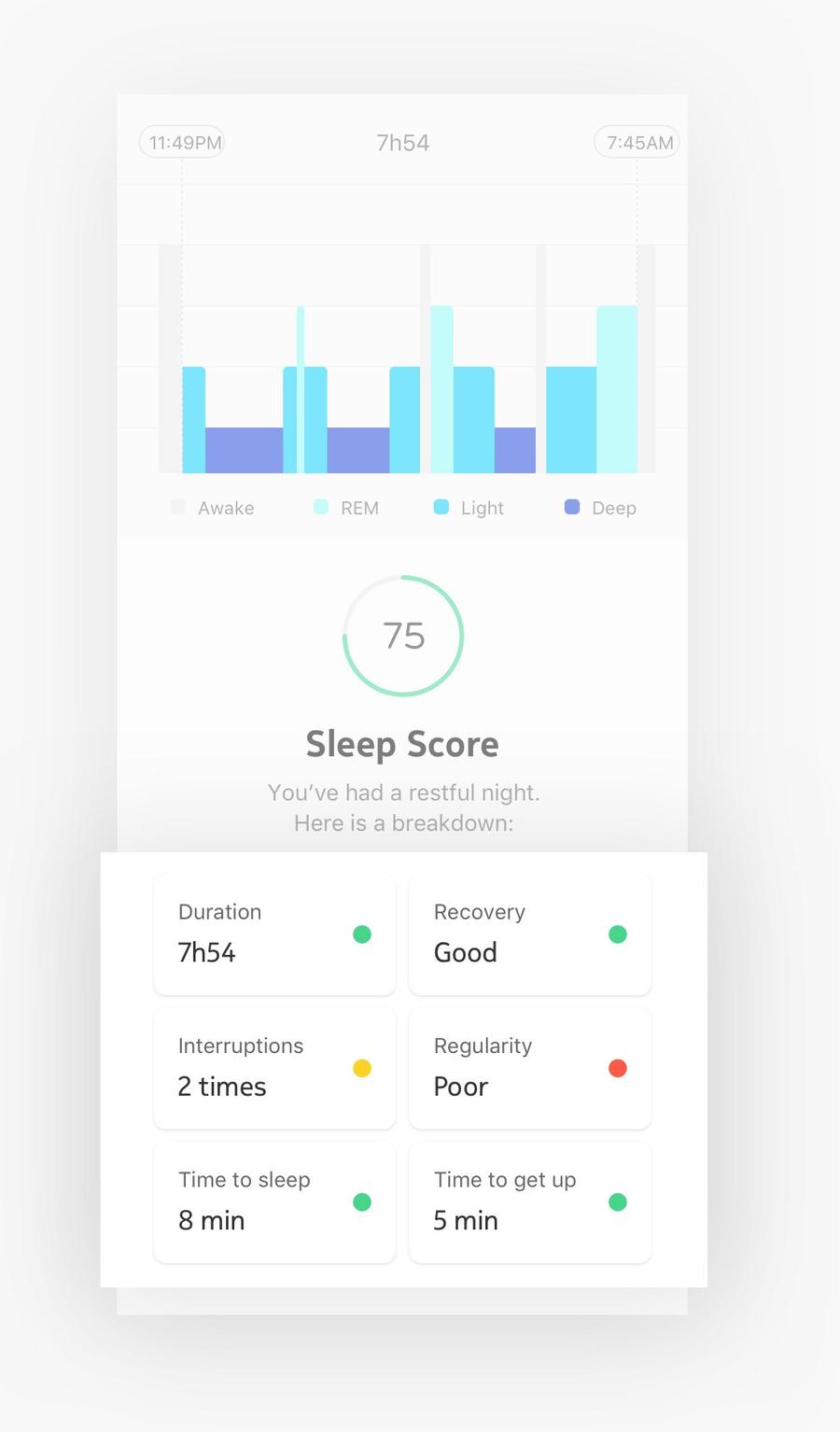 Reinvent your morning & evening routines
Create home automation scenarios with IFTTT just by getting in and out of bed. See how Sleep can act as a switch to control lights, the temperature and more..
Nothing to wear
Easy one-time setup under the mattress makes Sleep fit seamlessly into your life. Plus with automatic sync via Wi-Fi, there's nothing you need to do but sleep and then wake to find all data in the app.
Metrics tracked
Metrics
Sleep duration, sleep onset and time to wake
Sleep cycles: deep, light, REM phases
Continuous and average heart-rate
Snoring duration
Sleep Score
Connectivity
Wireless Sync
Bluetooth 4.0 required for installation
Wi-Fi: Automatic Wi-Fi sync | 2.4 GHz b/g/n | WEP/WPA/WPA2
Requirements
Sleep can be installed on a smartphone or a tablet, via the Health Mate app available on iOS (iOS 14 and higher) and Android (10.0 and higher).
Cannot be set up from a computer
Device
Dimensions and weight
Length: 637mm (25")
Width: 190mm (7.5")
Thickness: 5mm (0.2")
Weight: 350 g (1.13 oz)
Sensors
Pneumatic sensor: measures respiratory rate, heart beats via ballistocardiography and body movements across the mattress.
Sound sensor: identifies audio signals specific to snoring & cessation of breathing episodes.
Data storage & sync
Free and unlimited online data storage with a Withings account.
Local storage of data between syncs.
Power supply
Power supply 5V 1A
USB power adapter included
Free shipping
30-day trial
Environmental features
Quis excepteur laboris ut dolor anim do adipisicing cillum eu ipsum nisi. Nisi
Deserunt laborum ex quis do est.
Nostrud fugiat officia ullamco aute sit eu eiusmod ad eiusmod.
Sint commodo ad consectetur occaecat nulla quis dolore anim anim esse nisi.
Cillum ullamco minim laborum duis incididunt ut ex elit excepteur commodo consectetur esse.
Excepteur sunt deserunt tempor officia nostrud cupidatat pariatur eiusmod irure ullamco.
Velit magna reprehenderit deserunt aliquip reprehenderit do ea deserunt qui consequat.
Qui excepteur cillum in Lorem cupidatat occaecat consectetur labore cillum.