Home
The latest technology
A crystal clear video stream, day and night
Thanks to the perfect combination of best-in-class video technologies, Home offers an HD video feed of exceptional quality, while keeping lags to a minimum.
---
Wifi, 3G and 4G
High quality stream accessible from your office in WiFi or from outside in 3G/4G.
High quality video
The 5MP CMOS sensor enables Home to deliver a detail-rich image quality
No dropped frames
Home misses nothing as it uses the latest low latency real-time communication web protocol (WebRTC)
See 135° - the widest angle view on the market
Bye bye fisheye! Automatic dewarping means no more eerie motorized cameras and distorting lenses.
Compare Home's view with other cameras to clearly see the benefits it provides:
iPhone 6 camera
Basic Wi-Fi camera
Withings Home
See in the dark
High quality night vision thanks to the powerful infrared LED and mechanical filter.


—


Iphone streaming baby's room during night
x12 zoom with auto enhancement
Home's ePTZ- patented technology lets you pan, tilt and zoom in and out of the HD video feed. Home automatically enhances images immediately after movement to show you the smallest details.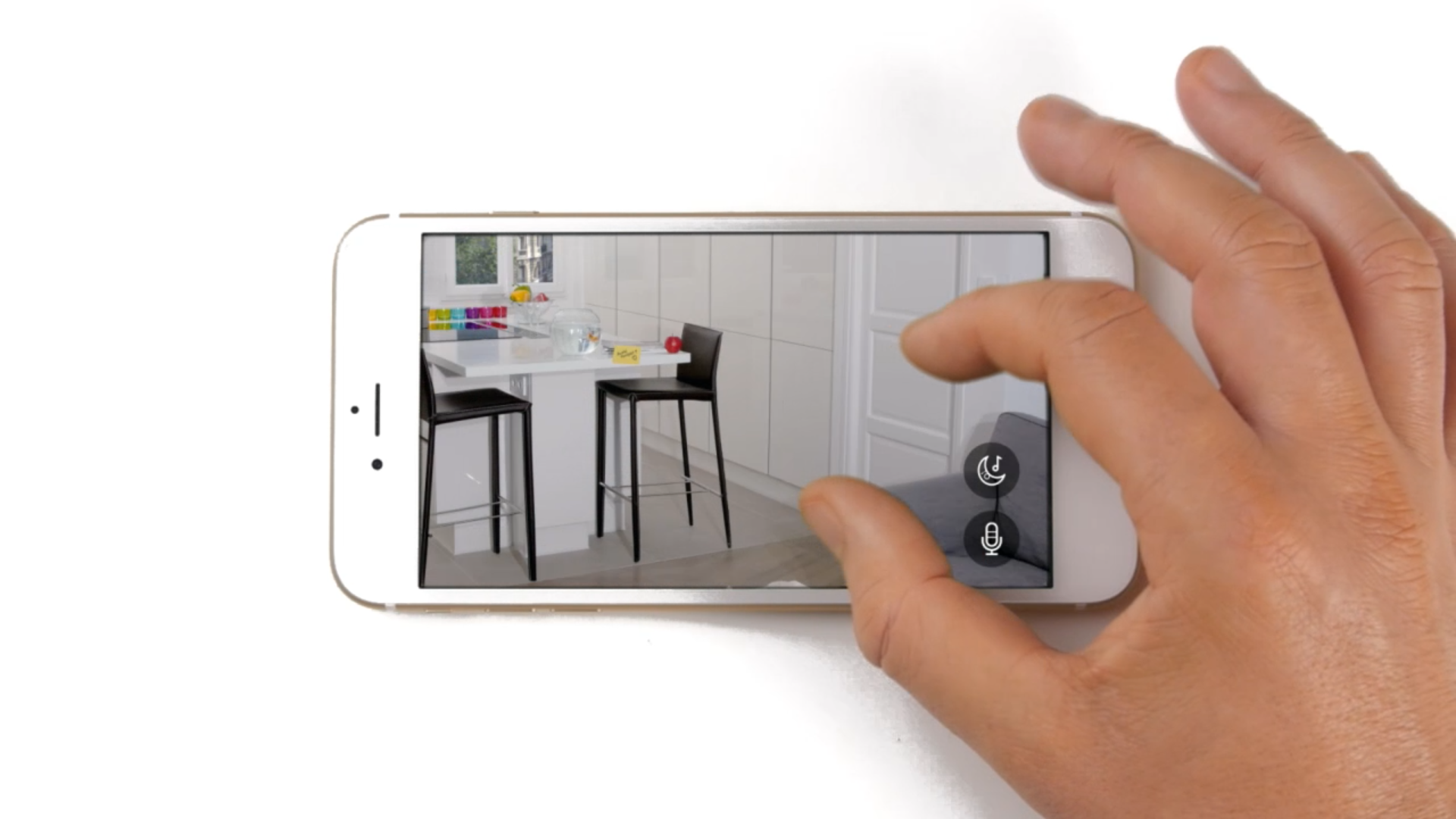 Crystal clear interactions
Roger that! The Withings Home can both transmit and receive simultaneously, while delivering the clearest possible sound.
1. High Quality 2W speaker with a 22 mm diaphragm, covering frequencies from 300 to 16,000 Hz
2. With audio echo cancellation and noise reduction technologies
Sensors
5 MegaPixel CMOS Sensor
Night vision with IR mechanical filter
135° (diagonal) field of view - no fish eye
VOC sensor
Connectivity
Compatibility
iOS : iPhone, Apple TV,
Apple Watch, iPad
Android device with 4.4 minimum configuration
Power
Power supply via micro USB 5V 2A
Power local adaptors included
No battery