Get fit with a tracker that's more than a bit smarter
Activity tracking helps you move more, feel better, and sleep better — but only if the tracker doesn't get in the way of your life. We conceived Steel to be with you for the long haul. You can run, walk, swim, or dance the night away without your phone. There's no charging and no button to press — Steel automatically tracks everything via our patented Connected Movement™ Technology and syncs the info to your app to give you in-depth metrics, personal coaching and more. That is our vision of a smartwatch.
Knowledge is power
Steel automatically synchronizes with the Health Mate app so you can get a detailed picture of your days and nights via clear color-coded graphs that show all your moves — from sleep cycle analysis to calories burned.
Learn more about the Health Mate app
Works with you.
Works for you.
Automatic activity recognition. No charging. No changing gear. From the pool to the track to the boardroom — Steel is ready to go wherever life takes you.
The ultimate coach
The highly-rated Health Mate app rewards achievements, offers advice and lets you challenge friends to help keep you motivated and push you further.
Sleep smarts
Steel automatically detects when you're asleep and delivers a complete picture of your nights and naps: View deep and light sleep, wake ups, and sleep duration. The silent alarm feature is ready to wake you with gentle vibration.
Time Zone Smarts
Frequent fliers rejoice: Connected to your smartphone, Steel will automatically set itself to the correct local time.
Smart Wake-Up™
Steel helps you wake up at the optimal point in your sleep cycle. Simply set a window of time before your alarm, and Steel will wake you via a silent vibrating alarm during your lightest sleep stage within this time range.
8 month battery
Studies show many people abandon activity trackers because charging them is a hassle. That's why we made Steel work on a simple button cell that lasts up to 8 months. No cord, no need to recharge = no stopping you.
Collector Watchboxes
Save €30
Get the Withings watch of your choice, plus two premium bands, in an impressive, highly giftable package.
Browse options
Technical Specifications
Connectivity
Metrics tracked
Device
In the box
iOS compatibility (iOS 8 and higher)
iPhone 4S and more recent
iPod touch 5th generation and more recent
iPad 3rd generation and more recent
Android compatibility (5.0 and higher)
Requires a Bluetooth Low Energy device
Bluetooth connectivity
Bluetooth Low Energy needed.
"The most stylish fitness tracker around"
DigitalSpy
It's something you'd actually want to strap on your wrist.
Verge
"Blends activity tracking and luxury design (...) making it ideal for any situation"
Trusted Reviews
Find the perfect product for all your needs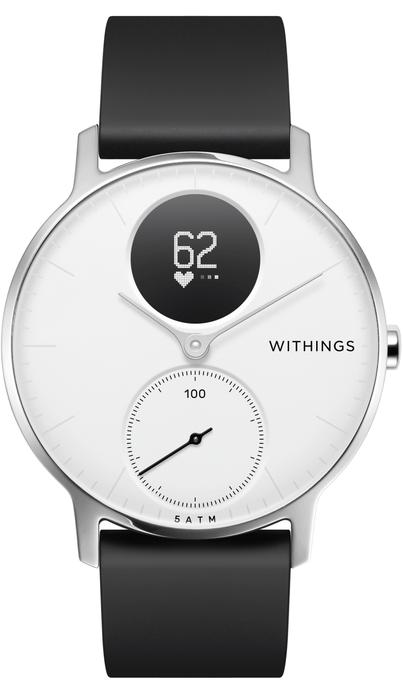 Steel HR
The watch that tracks activity, sleep, and heart rate for up to 25 days.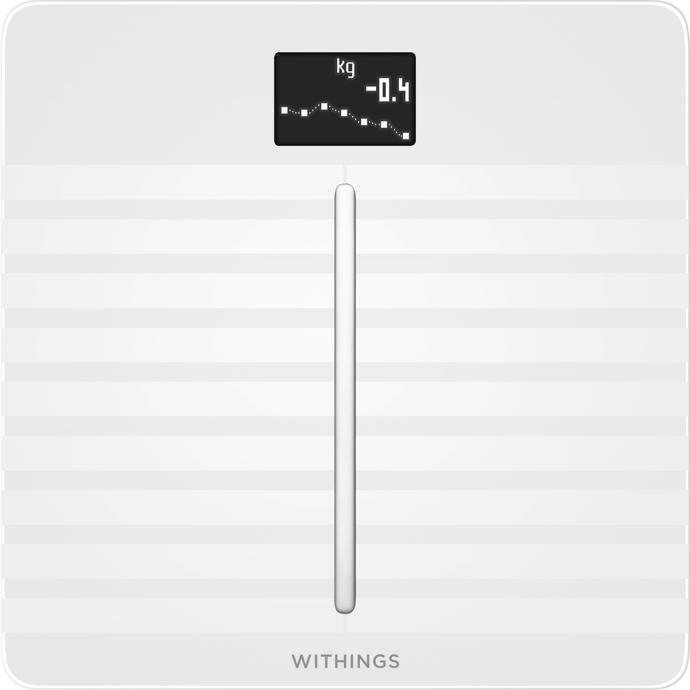 Body Cardio
An advanced Wi-Fi scale that delivers full body composition, exclusive heart health metrics, and seamless tracking in the Health Mate app.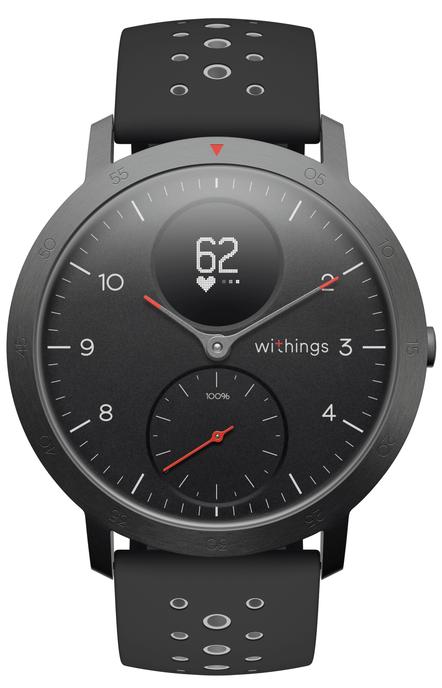 Steel HR Sport
A hybrid smartwatch specifically designed for your workout, featuring heart rate monitoring, multi-sport tracking, connected GPS and a Fitness Level assessment via V02 Max estimation.